Happy last day of February! I can't believe how fast this month zipped by. I felt very overwhelmed for much of the month, and I'm waiting for a time when my life will slow down and get boring again, but I'm not sure if that's going to happen! (What happened to my plan-free weekends? Whimper.) In any event, I'm here to talk about the good things that happened in February, right? Here's what I loved this month:
1) Pops' successful back surgery. Early in February, Pops had surgery to take care of a bulging disc in his back. He's been in chronic pain with it for years and he finally decided to do the surgery, even though he's nearly 76 and there were a lot of warnings about undergoing such a major surgery at his age. But I think it just shows how much more life Pops wants to live; he doesn't see himself slowing down anytime soon. And, thankfully, the surgery went great and he should be pain-free from here on out!
2) Helping Pops. Before Pops had his back surgery, the surgeon told us he should only need to be in the hospital for two days to recover. Well, that turned out to be a gross underestimate. He wound up staying in the hospital for more than two weeks, eleven of those days in a rehab facility. He was in a ton of pain following his surgery, and it was hard to see my usually strong and fearless Pops in such pain. He was also having trouble walking, due to the pain, but once he got to the rehab facility, things started progressing much faster since he was able to do more physical therapy. (He looked forward to his PT sessions, and gladly completed any exercises they asked of him. He's a badass, my Pops.) I tried to spend as much time as I could with Pops, knowing that he would need his family supporting him more than ever before. He was the one who took care of Grandma during all of her cancer battles – from shuffling her to chemo appointments to cleaning around the house – and I was grateful I was able to give back to him in this small way. At the end of the day, I just wanted him to know that even though Grandma is gone, he's not alone and we'll be there for him whenever he needs us.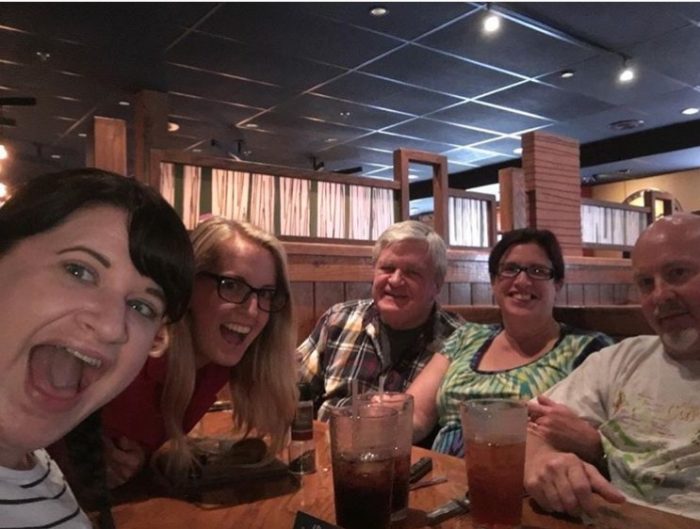 3) Buying myself fresh flowers. After a brief hiatus from buying fresh flowers, I started doing so again this month just to give my home a little sprucing up. One week, I got myself some orange tulips and another week, I went for sunflowers. There's just something so nice about having a vase full of flowers to greet me every time I walk through the door.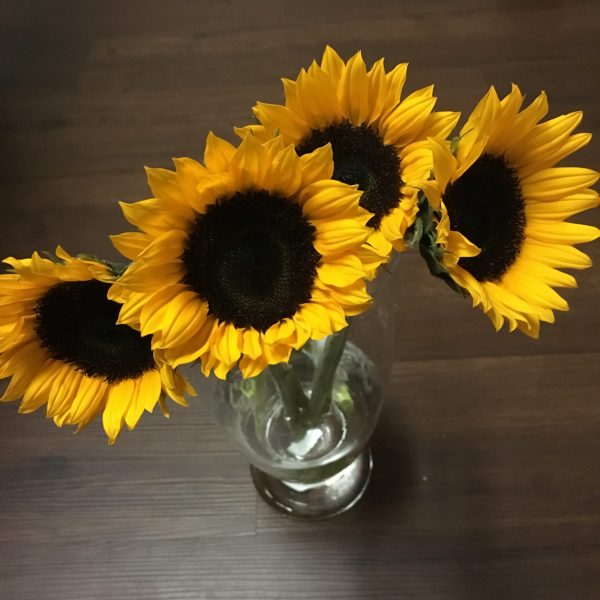 4) Getting my taxes done. Taxes are filed and my return was accepted by the IRS! Woohoo! I'm also getting a nice, ole refund, which will be solely used to pay off my credit card. (Christmas + my birthday cruise + vet bills = a hit to my credit card.) I used H&R Block to file my taxes because I wasn't sure how to appropriately declare freelance earnings (I didn't make a crazy amount of money freelancing last year, but it was enough that I needed to report it.) I am used to using the free TurboTax system to file my taxes, so paying $275 for H&R Block was… unpleasant… but better to shell out some money and make sure they are done right, you know? Plus, the service I received from H&R Block was outstanding. They were so friendly and accommodating, and didn't make me feel like a total dunce. And look at what my tax specialist wrote on my packet! How sweet!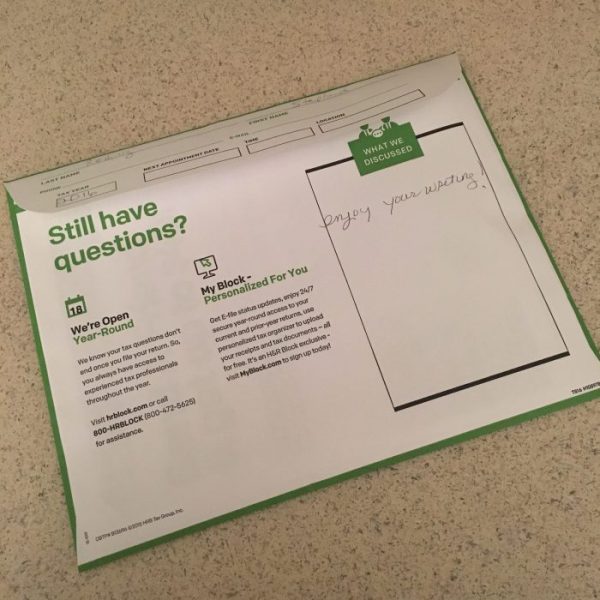 5) Pod Save America. This podcast is saving my life right now. If you haven't heard of it, it's four former Obama staffers who talk about what's going on in politics and how to stay sane when the world has gone to shit. I have developed a ridiculous crush on Jon Lovett and find their ad spots to be hilarious ("let's say you sold your soul to the devil and are having trouble looking yourself in the mirror…"). Give it a listen if you're having trouble finding hope in Trump's America.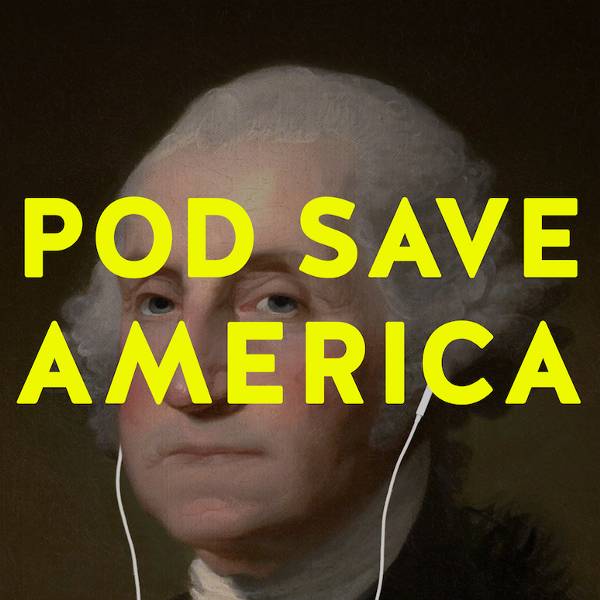 6) Amazon Prime. I signed up for Amazon Prime back in December, but only really used it to order Christmas presents and get that fab, two-day delivery. I didn't use it again until this month and realized how joyous it is to run out of something I use often, order it through Amazon from the comfort of my home, and have it delivered to me within two days. No more rushing out to Target! It's well worth the $11 a month. (Plus, free Kindle books! I downloaded 1984 for free last week!)
7) Mini golfing with book club. This year, my book club (which, really, I should just call it "my friends" because we are truly so much more than your average women's book club) decided to think outside the box when it comes to our meetings and try new things. In February, we met for breakfast at a cute coffee shop down by the beach and then played a game of mini golf. I love mini golfing. It is one of my favorite activities and I don't do it nearly enough. I ended up tying with my friend, L., and came in second place. Woohoo! It was such a fun afternoon with some of my favorite ladies.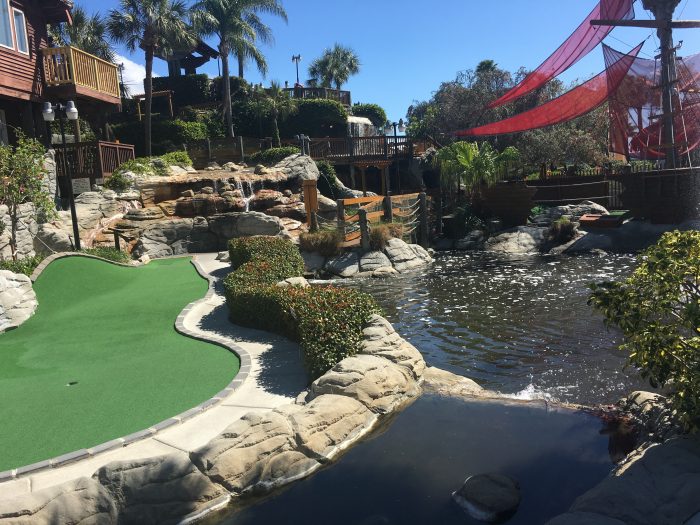 8) Dominic's 2nd birthday party. My little nephew Dominic turned 2 years old this month and we celebrated with a get-together at a local park. The theme was Mickey Mouse, since he's obsessed with him, and one of my SIL's friends made this adorable "photobooth" to take pictures with. The bright spot of the party was that Pops was able to come and spend time with the family. It was so nice to see him up and about!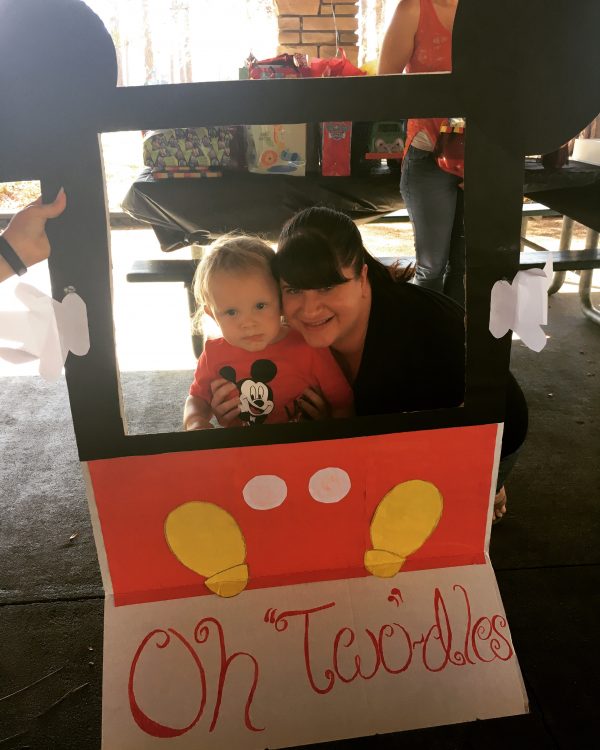 9) Resistance meetings. I'm part of a group of women who are active in the resistance efforts and we had our first meeting since the inauguration early in February. It was a large group of 12 women and as we went around the room introducing ourselves and saying the issue we are most concerned with, it was frightening that we each had a different, huge issue that was scaring us (for me, it was the potential of censorship of the media). We talked about how we can get involved and started writing postcards to our congresspeople. My friend, A., drove me home after the meeting and we spent the 25-minute drive venting about politics, so it was a healing night on all accounts.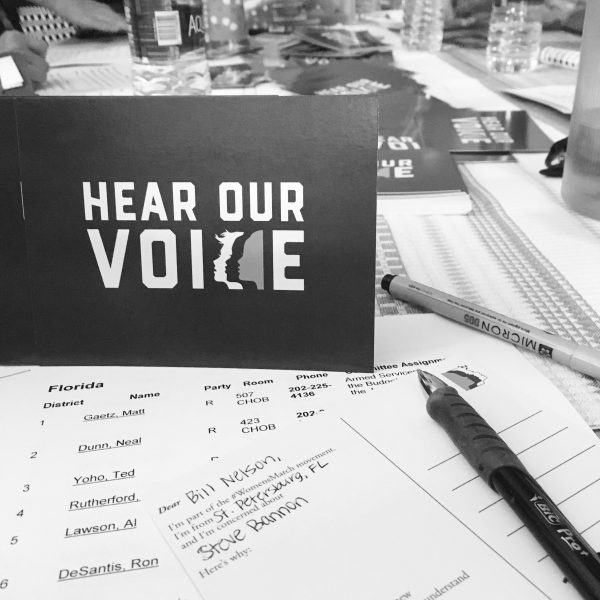 10) Lady dates. My former roommate, B., and I have maintained our weekly "lady date night" ritual since our moves back in September. It was definitely a lot easier to coordinate our date nights when we lived together, but we still make it work! This month, we had dinner at one of our favorite South Tampa restaurants, Bella's Italian Cafe; went for pedicures and then had pizookies at BJ's Brewhouse; and enjoyed happy hour drinks and disgustingly good burgers at Doc B's.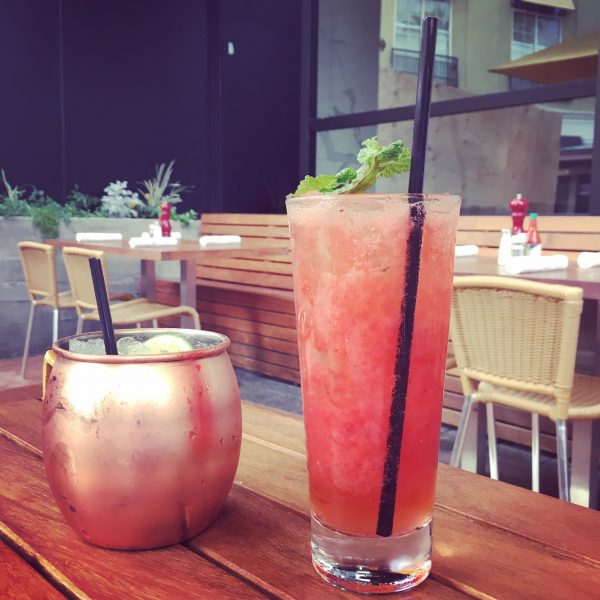 Goals for February
I set a few goals in February, my biggest one being not eating pizza for the entire month. While I did end up eating pizza once, it was a celebratory dinner where my mom picked up a pizza for Pops once he was out of the rehab facility. (Pops was not a fan of the food in there, haha!) I ate a few slices with him and don't consider my pizza fast a fail. Life happens, you know? It's the only time I ate it and mostly, I felt really good about not eating pizza and don't even crave it. I'm sure I'll eat pizza again, but I'm also feeling good about being very selective about when I do eat it. For my other goals, I finally finished updating my "Work With Me" page and added a "Portfolio" page to my blog. I didn't adhere to my 9:30 bedtime, work out three times a week, or write 10,000 words in my novel. What can I say? Life was crazier than normal in February!
Here's what I hope to accomplish in March:
Join a gym. It's time to finally bite the bullet and join a gym. I am more than ready for this.
Go to bed at 9:30pm. Seriously, Steph. Do it! You will feel so much better!
No more Starbucks breakfast. The unhealthy eating habit I'm trying to kick in March will be Starbucks breakfast. (I'm cutting out one unhealthy eating habit per month and seeing how it makes me feel. January was fast food, February was pizza.) Typically, I like to get a Frappuccino and a sausage, egg, and cheese breakfast sandwich, and I get this combo 1-2 times a week. (It's basically an entire day's worth of calories in one sitting.) I can't completely cut out Starbucks, since it's where my writing partner and I meet for our writing dates, but I'm going to make sure I eat breakfast at home beforehand and order a simple iced coffee when I'm there.
What were some of the highlights of February for you?