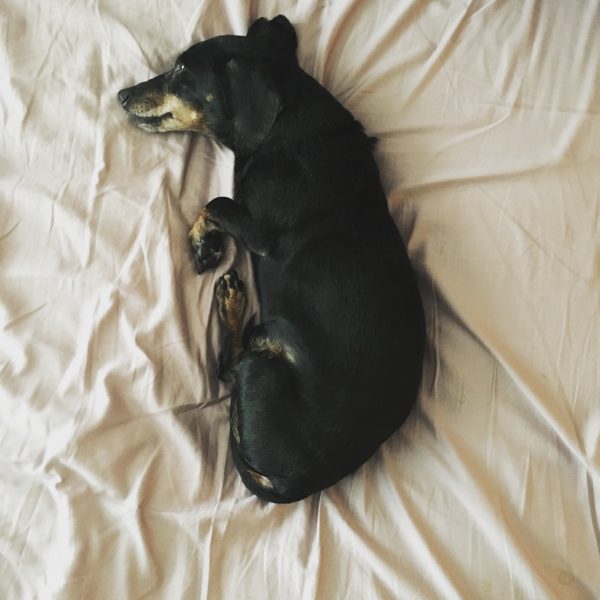 1) Freelancing. After a freelance slump for a few months, I picked up some writing gigs in June and it was so nice to get back into the swing of things. I enjoyed having a break from freelancing because it allowed me to focus more on my novel and gain back some free time, but it was a hit to my budget. My freelance income solely goes toward debt repayment and savings, so it's not like I use it for bills or anything like that, but it just feels like I'm able to get ahead a bit more when I have extra income coming in. I'm excited to be working with a new company writing short articles (2-5 a week), and one of my old clients contacted me for some content editing tasks. Hooray!
2) My mom joining my gym. My mom has been very anti-gym, preferring running as her main form of exercise. She hasn't been able to run lately because the mosquitoes are so bad now. My mom tends to be more prone to getting bit and she has tried everything under the sun to protect herself. She's just naturally sweet and the mosquitoes flock to her! She decided to join my gym because she just wasn't working out at the level she wanted to (she's not a fan of cardio machines, but loves doing exercise classes) on her own. So yay! I'm so happy to have a workout buddy.
3) Getting a massage that didn't hurt. This is huge for me, guys. I have been a firm believer that massages are just "not for me." I figured, due to being highly sensitive, my body just couldn't handle massages – even simple pressure hurt too much. But I was having some neck pain and I decided to get a massage and see if that released some of the tension I was experiencing. I asked the massage therapist for a light, relaxing massage and boy oh boy, did she make me a believer in the therapeutic benefits of massage. She was phenomenal and I felt so loose and relaxed and happy throughout the entire appointment. I was actually upset when our hour was up – usually, I'm watching the clock closely, praying for the hour to be over as quickly as possible. I'm going to try to make massages a quarterly part of my budget because the one I got this month was so beneficial, both physically and mentally.
4) A pool day with friends. Early in the month, a friend sent out an invite to a bunch of girls to come over to her place for a pool day. Unfortunately, the weather wasn't ideal (June was a crazy rainy month!), but it was fun to spend a few hours with my girlfriends, chowing down on guac and chips, teaching them how to use Instagram Stories, and laughing our butts off.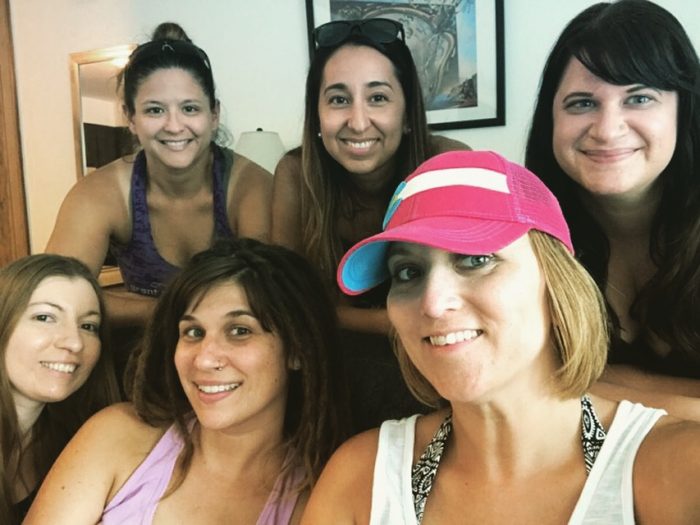 5) Getting tough with customer service. On my trip to Puerto Rico, the face of my Fitbit cracked. I don't even know how it happened! I just remember looking down at it when I was relaxing by the pool and seeing a huge crack down the middle of the screen. So, I googled and saw that there was a 50/50 chance Fitbit would replace my tracker for free. I took a chance and logged onto their online chat to see about getting my Fitbit replaced. At first, they didn't want to do anything about my issue, aside from giving me 25% off a new Fitbit (um, no). But I decided to channel my inner customer service badass and got tough with them, explaining that this was my first Fitbit and how unhappy I was that my screen just cracked for no reason and the only thing they wanted to do was give me a slight discount? Well, friends, getting tough worked because after all of that, Fitbit sent me a brand-new tracker free of charge! I'm not one to ever get tough with customer service reps (tough in a respectful and nice way!) because I'm the opposite of confrontational, but I wasn't taking no for an answer this time around – and it worked!
6) Going to a baseball game with my nephew. My mom's work regularly gets tickets to the Rays games, and when she got tickets for a recent game on a Monday night, she asked if I wanted to come with her and my older nephew, J. Of course I said yes! My nephew has suddenly morphed into this serious baseball fan who knows stats and players and trivia. It's so cool to see my nephew just fall in love with baseball. He thoroughly enjoyed himself at the game and made us stay until the last inning, even though the Rays were losing. I'm not someone who would ever call herself a baseball fan, but watching the game through the eyes of my eight-year-old nephew was pretty darn special.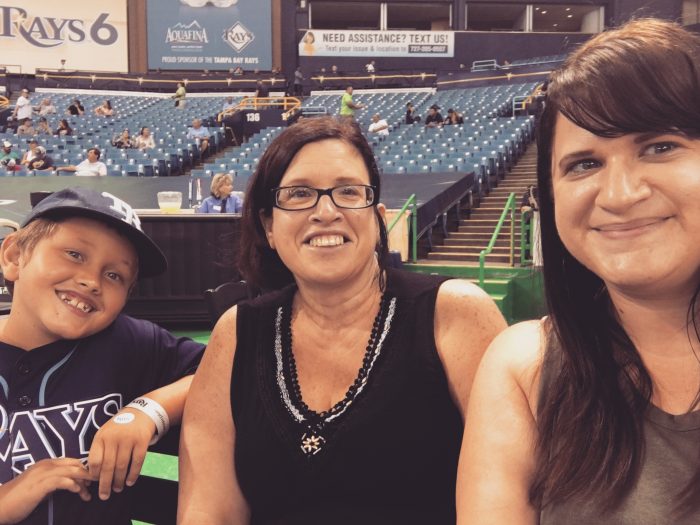 7) The revamped Stuff Mom Never Told You. I was really sad when Cristen and Caroline announced they were leaving Stuff Mom Never Told You. I honestly thought it was the end of the podcast, but in May, SMNTY came back with new hosts and a new look and feel! I am really, really enjoying Emilie and Bridget's viewpoints and they've talked about some really interesting topics, like Women and Pyramid Schemes and The Resistance Will Be Marketed. If you've never listened to SMNTY before, I encourage you to give it a try. It's such a wonderfully uplifting yet informational podcast.
8) Finally getting my tattoo. I finally did it! I've had people ask me why I decided to do it now, and I have to say that it was due to my friend, M., who made it happen. She just decided we were going to go for our consultation and then made the decision of us getting it done the following weekend. Since I've been dragging my feet about getting my tattoo for three years, I needed her to make me do it! The tattoo experience was so much more painful than I was expecting (apparently, I didn't reach the magical endorphin stage that happens with tattoos – mine only took 15 minutes), but it wasn't so bad that I'd never get another tattoo again. I'm really happy with my new tat, though, and it feels so perfectly me.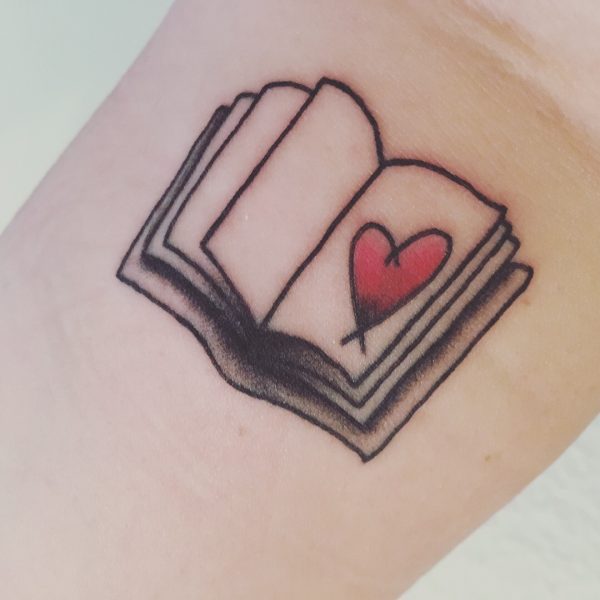 9) A bookish DIY event. Near the end of June, I got together with some of my friends for do-it-yourself book totes! It was the perfect event for me because it didn't require too much artsy creativity. All I had to do was mix up the paint color I wanted and then just dab it onto the tote through the stencil. All of our bags turned out so perfect and I'd do this event again in a heartbeat.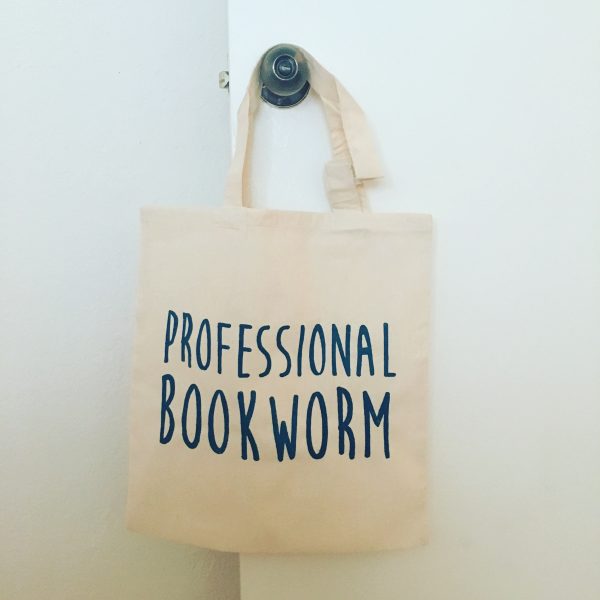 10) My first dental cleaning in over five years. Look, I'm not proud of this, but it is what it is. I am terrified of the dentist and once two years had passed without a dental cleaning, it was just easier to not go. I didn't want to be berated about not getting a cleaning (my last two dental hygienists had done that), so even though I've been paying for dental insurance for the past five years, I've never used it. Finally, though, I got it done. It took less than 30 minutes, it was so easy, and my teeth felt so damn clean afterward. The best part was that nobody even said a word about my lack of dental appointments. (WHEW!)And yes, my next appointment in six months is all scheduled and on the calendar. There's no reason for me to not get my twice-yearly cleanings done anymore!
What was the best thing that happened to you in June?