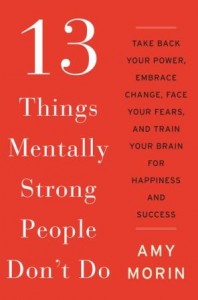 I recently finished the book 13 Things Mentally Strong People Don't Do by Amy Morin. The title of the book intrigued me because I'm always looking for ways to better strengthen myself mentally, and I was really excited to dive in and see what this book was really about.
Each chapter of the book announces one thing a mentally strong person doesn't do, and begins by talking about a case study of someone the author counseled that relates to the habit. Later in each chapter, she breaks down how a person might live out this habit (whether positively or negatively), how this habit can be hurtful to our mental strength, and what the benefits not doing this habit are.
So, instead of a full-on review of my thoughts of the book, I was asked to take one specific habit mentioned in the book and talk about how it is applicable to my own life.
I went back and forth on whether I should talk about one of the habits I struggle with or one of the habits I feel like I have a handle on. Many of the habits listed are things I struggle with. Like shying away from change. Or worrying about pleasing everyone. Or giving up after the first failure.
But there was one chapter that really stuck out to me and it was: "They don't fear alone time."
I really liked this chapter because if there's one thing I don't struggle with, it's scheduling time for myself. I am a pro at that. As an introvert and a highly sensitive person, alone time is my happy place. It's where I recharge. It's where I relax. It's where I find my center.
I'm okay with spending entire weekends by myself, where I don't see anyone and do very little. (Those are sometimes my favorite kinds of weekends.) I can turn down plans with friends if I know it's not something I really want to do, or if I know I need an evening to myself. I keep my weeknights relatively plan-free because work takes a lot of my mental energy.
I know that a lot of people struggle with scheduling alone time. Turning down plans with friends isn't fun. Turning down opportunities to grow or advance your career is scary. Being alone with just your thoughts to keep you company is uncomfortable.
But it is also essential. It is essential for us to be still, to quiet the noise, to step away and enjoy your own company.
Morin writes, "Although there's often a lot of emphasis on the importance of social skills, evidence suggests solitary skills may be equally important for health and well-being. The ability to tolerate alone time has been linked to increased happiness, life satisfaction, and improved stress management. People who enjoy alone time also experience less depression."
Does this mean you have to immediately start canceling the plans you set and turning down invitations you get? Absolutely not. For many people, time with loved ones and time spent socializing is essential to their well-being. It's also essential to introverts! We also need to be social, to spend time with friends. We don't hate parties and get-togethers. We just reach our breaking point while at them sooner than others.
What I mean is that we all need alone time. Some of us need more alone time than others, but we could all benefits from taking one to two nights a week for ourselves. A night where we turn off the TV, shut down the computer, and hide the phone. Where we do something just for us, be it as simple as taking a bubble bath and reading a book. Or taking yourself to the movies. Or going for a walk.
It may be uncomfortable at the beginning. It may not feel natural to silence the noise and be alone with just your thoughts. But I promise it's something you'll get used to. And you'll even begin to covet this time, to embrace it, to realize how necessary it is to your mental strength.
I'll leave you with one last quote from this chapter: "Don't be afraid of scheduling time alone. It's not selfish or a waste of time. Instead, it could be one of the most beneficial things you could ever do. It can improve your life in a multitude of ways and can help you learn how to enjoy every moment, instead of rushing from one task to the next without being tuned in to what's really going on around you."
You can purchase 13 Things Mentally Strong People Don't Do on Amazon, IndieBound, and Barnes & Noble. In addition, feel free to connect with Amy Morin on her website, Facebook, and/or Twitter. (And here's the Goodreads link, if you wish to add the book to your want-to-read list!)
Do you find it easy to schedule alone time, or is it an area you struggle with?
I received this book for free from TLC Book Tours in exchange for an honest review. All words and opinions, unless otherwise stated, are my own.
No affiliate links were used in this post.