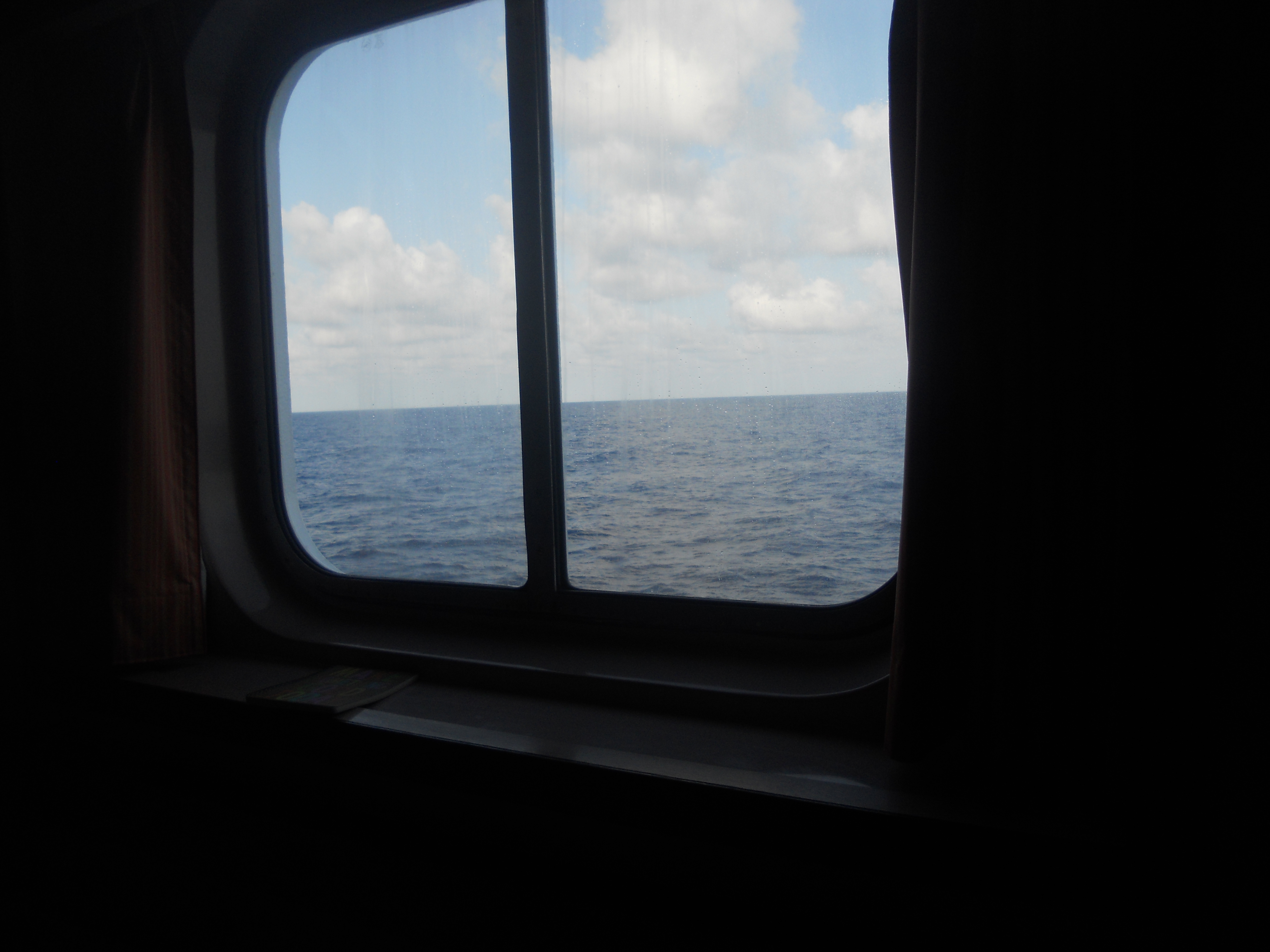 I woke up around 8:30 on our second day after such a great night of sleep. I haven't been sleeping well lately, so a good night of sleep was much needed.
I let myself wake up leisurely, which meant lounging around in bed for a good 45 minutes before finally getting up and getting ready for the day – which involved putting on my bathing suit, cover-up, and pulling my hair into a ponytail. Life on a cruise ship – so tough! My mom and I made our way down to Serenity around 9:30 where we were able to snag two deck chairs next to each other.
I went upstairs to the lido deck to get breakfast and brought it down to the deck to eat right in front of the ocean. Best view ever? Yes.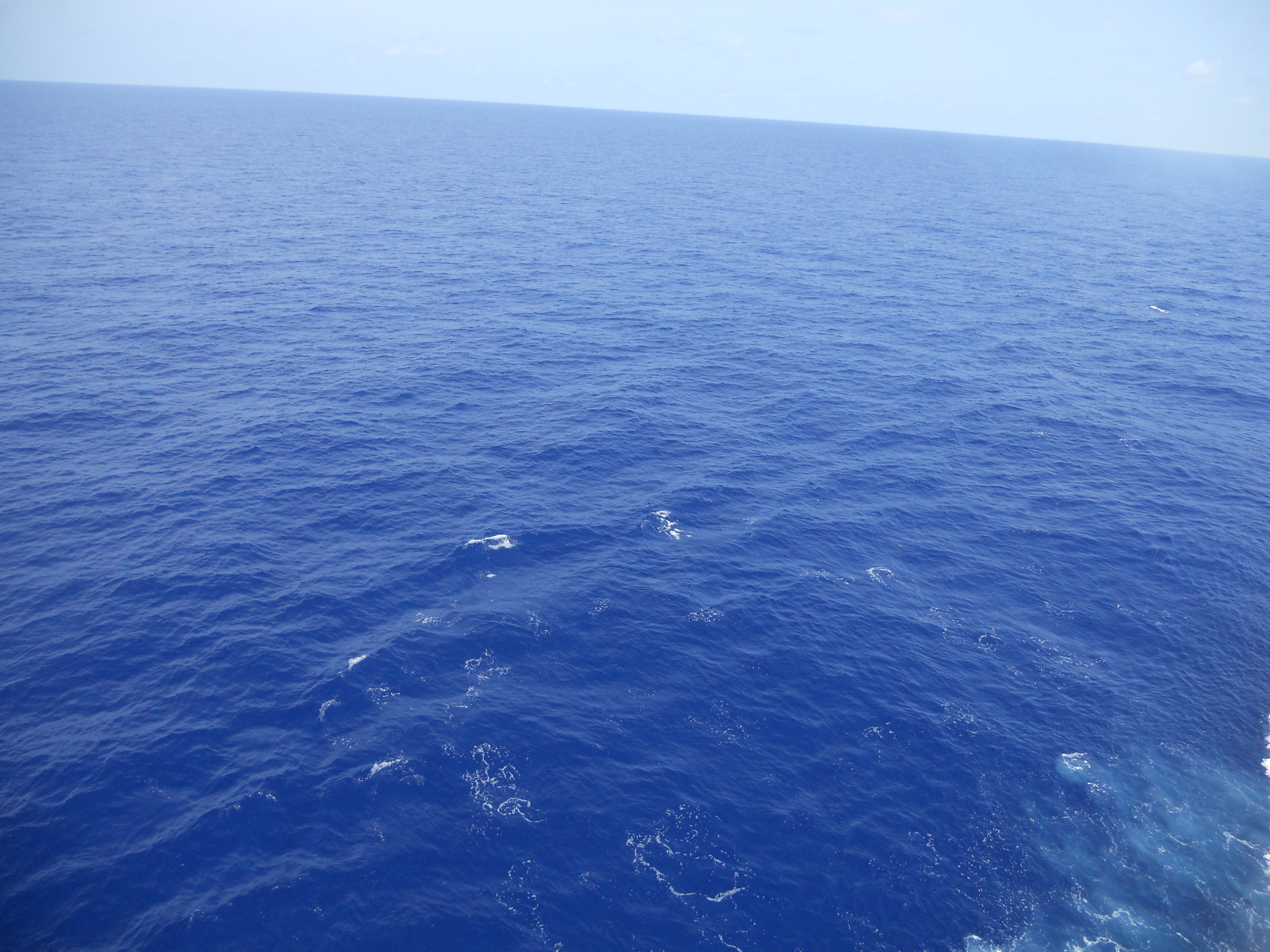 We spent a little over two hours on Serenity, sunbathing and reading and spending some time in the hot tub. It was relaxing and just perfection. Exactly what I needed! Unfortunately, it was hot, hot, hot and we were directly in the path of the sun with no shade so we finally packed up and went upstairs to find a table in the shade. We found the perfect location where we got the feel the cool sea breeze and also have a fabulous view of the ocean.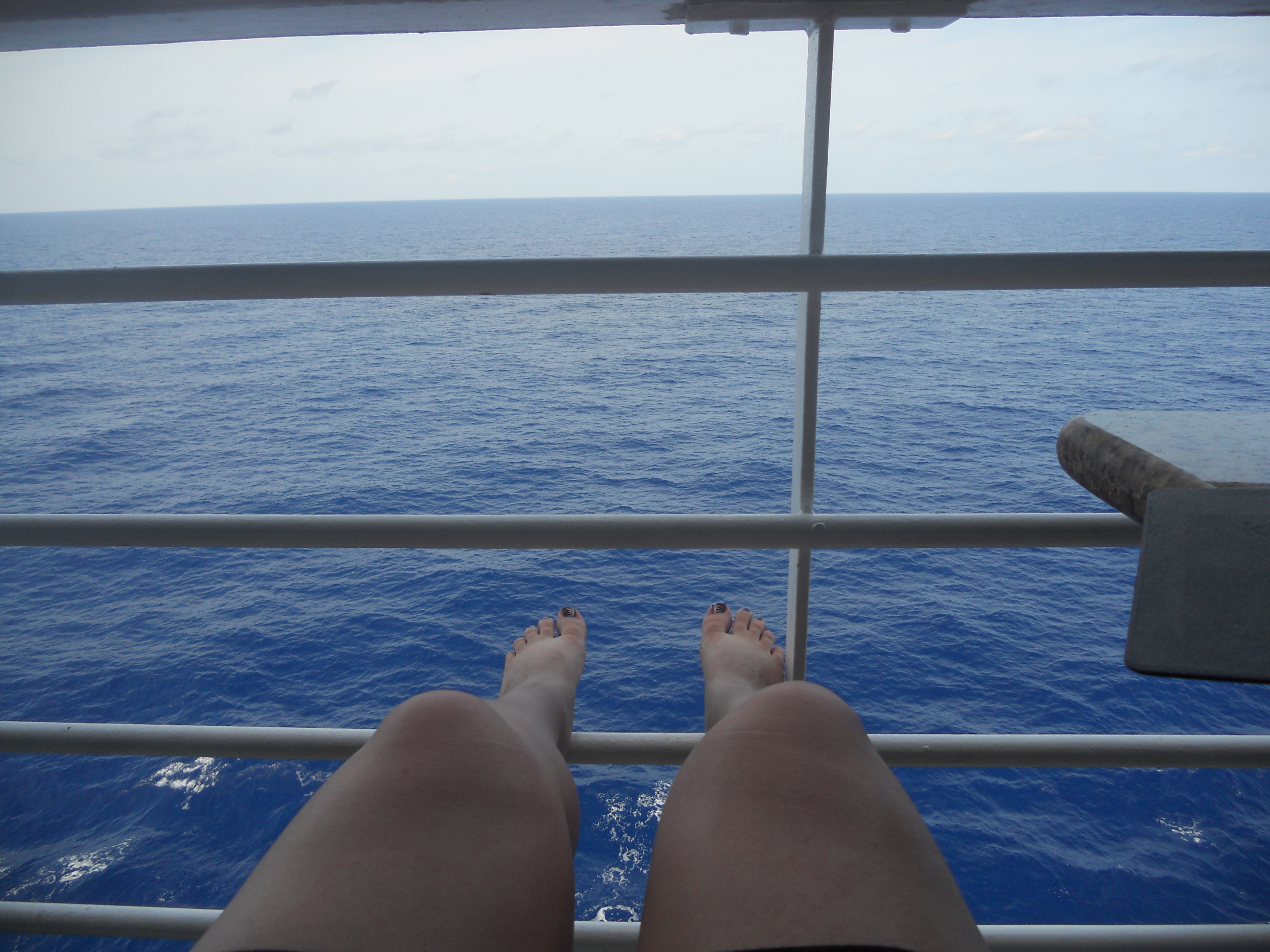 Around 12:45, we went inside. I must have drank a liter of water while I was outside so I wasn't hungry at all but just wanted to go back to the cabin to take a nap. I found that I couldn't take a nap while on the deck, because too much was going on (and I was terrified of falling asleep for hours and waking up with an awful sunburn) so my best naps happened in the comfort of my cabin. I took an epic three-hour nap and woke up around 3:45 famished.
We left our room to grab a very late lunch and then spend a few hours on the Serenity Deck. By this time, the crowds had thinned out immensely and the sun wasn't as intense so it just felt good to be outside. I sat back to read, people watch, and ocean watch. It was so nice, so relaxing (because, you know, I needed time to relax after such a long nap…) and honestly, just the absolute best.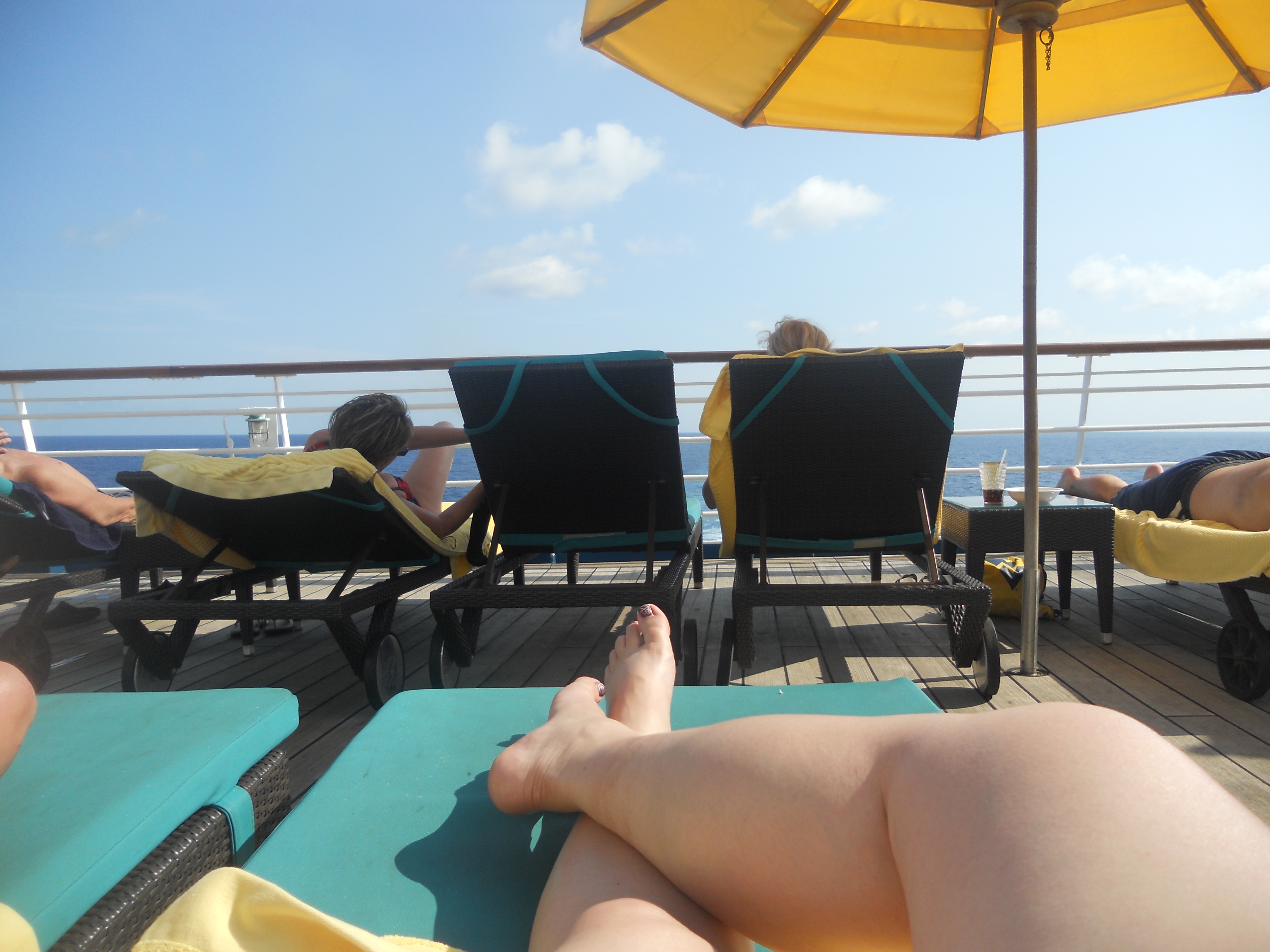 Tuesday's dinner was elegant night, which is something I used to stress about on past cruises. This time, I packed a dress I already had and really didn't stress about what to wear. On this cruise, I went super casual with most of my dinner outfits. Some people go super fancy every night with dresses and high heels and intense make-up. Me? I was in jeans, sandals, and a nice tee most nights. Carnival really isn't a stickler with their dress code. (I mean, you can't waltz into the dining room in your bathing suit or cut-off shorts, of course.)
Almost every night, a photographer comes by to take photos of you at dinner. Most of them turned out terrible but our formal night pictures turned out pretty nice. But they were $22 a piece and there were three we wanted, so I… um… may have taken photos of them with my phone as surreptitiously as possible. I have seen the photographers force people to delete the photos from their phone if they see them doing this but I somehow didn't get caught. BOOYA! (Also, kids, don't do this. It's wrong. I feel bad. But not bad enough not to keep the photos. Muahaha!)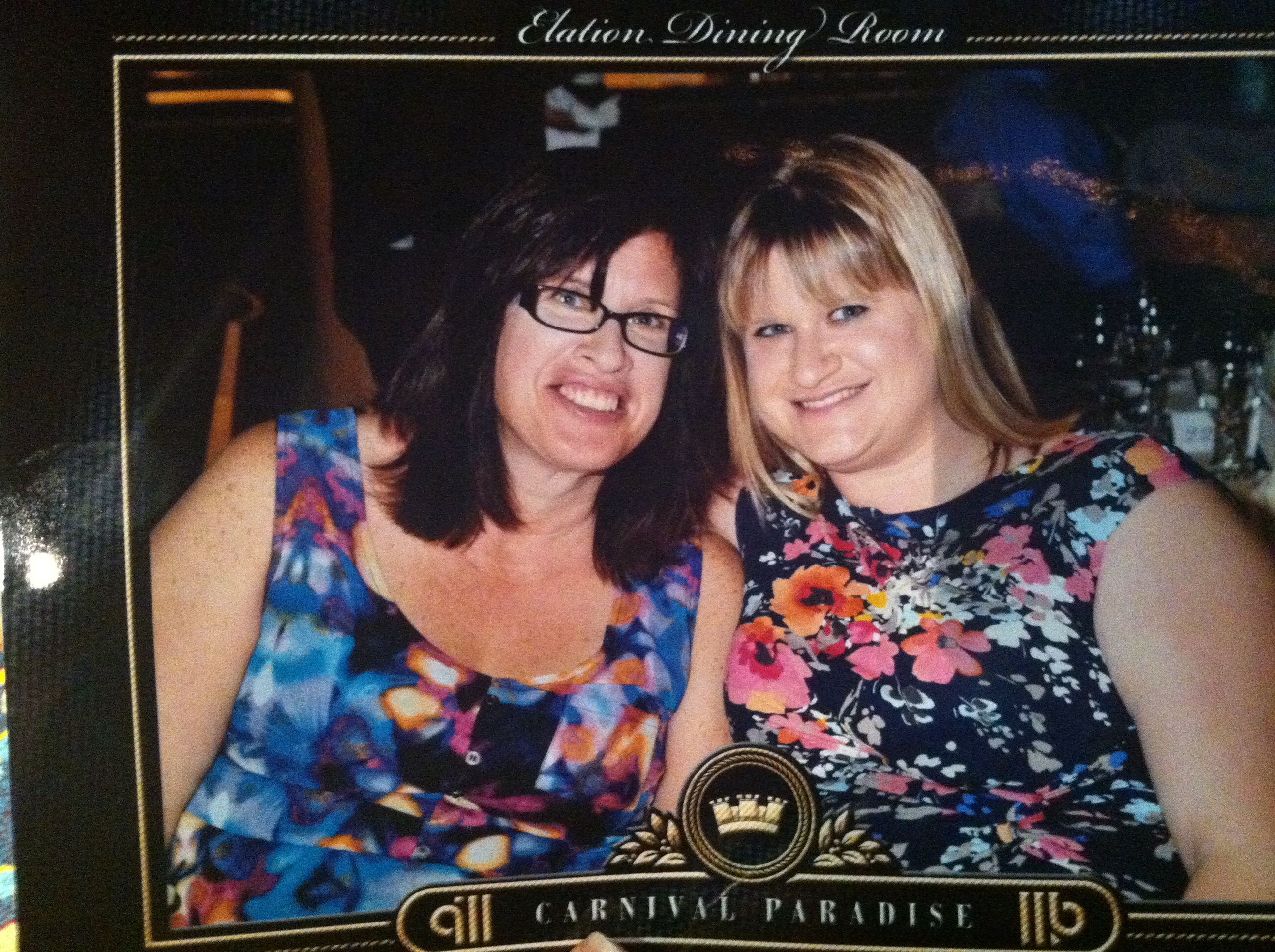 At dinner this night, we got to talking about what everyone would be doing in Grand Cayman the following day. My mom revealed to the table that we were going parasailing, which astounded the whole table. They thought we were absolutely crazy. (One of the guys even had a moment of silence for us at the end of the meal, in case something happened to us. It was cute, though it did make me a bit more apprehensive about parasailing.)
After dinner, we headed over to the Queen Mary Lounge for another adult-only comedy show, this time the female comic. Since the comedy the previous night had been good, we thought we would try out the female. I wasn't very impressed with the comic, though, and was pretty much over the adult comedy by then. There is so much more to comedy than sex jokes. Am I right? I think I am. At least for me. I want more from my comedy!
Anyway, after the show, we went back to our cabin since we had an early start to our morning. Next up: parasailing in Grand Cayman!