On Wednesday morning, I woke up to discover we were in Grand Cayman. I was super, ridiculously excited for what the day had in store for us: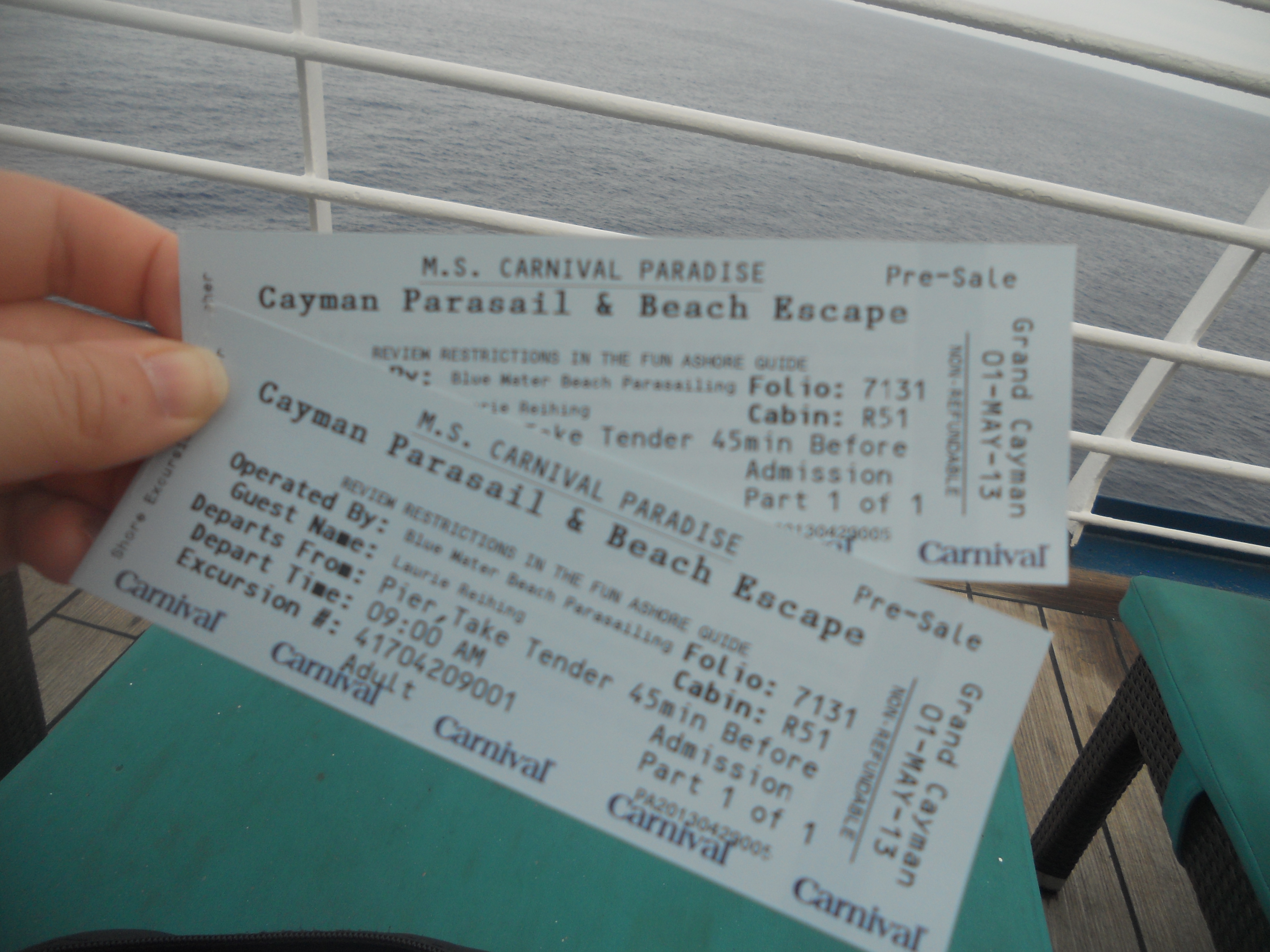 My alarm went off at 6am and I must say, it wasn't so hard to wake up from that alarm since it meant a fun day in Grand Cayman awaited me. Showers were had, bathing suits were put on, and a backpack was filled with necessities for the day. We grabbed a quick breakfast at the buffet and then headed downstairs to meet the tender boat.
I'm sure I've mentioned this before but the ship has to drop anchor in the middle of the ocean when stopping in Grand Cayman which means taking a tender to the port terminal. In most ports, you simply walk right off the ship and to the terminal but Cayman is different. So it's always a little more crazy since you have to factor in time taking the boat to the shore.
In any event, we were on one of the first boats to go over and soon enough: we were in Grand Cayman!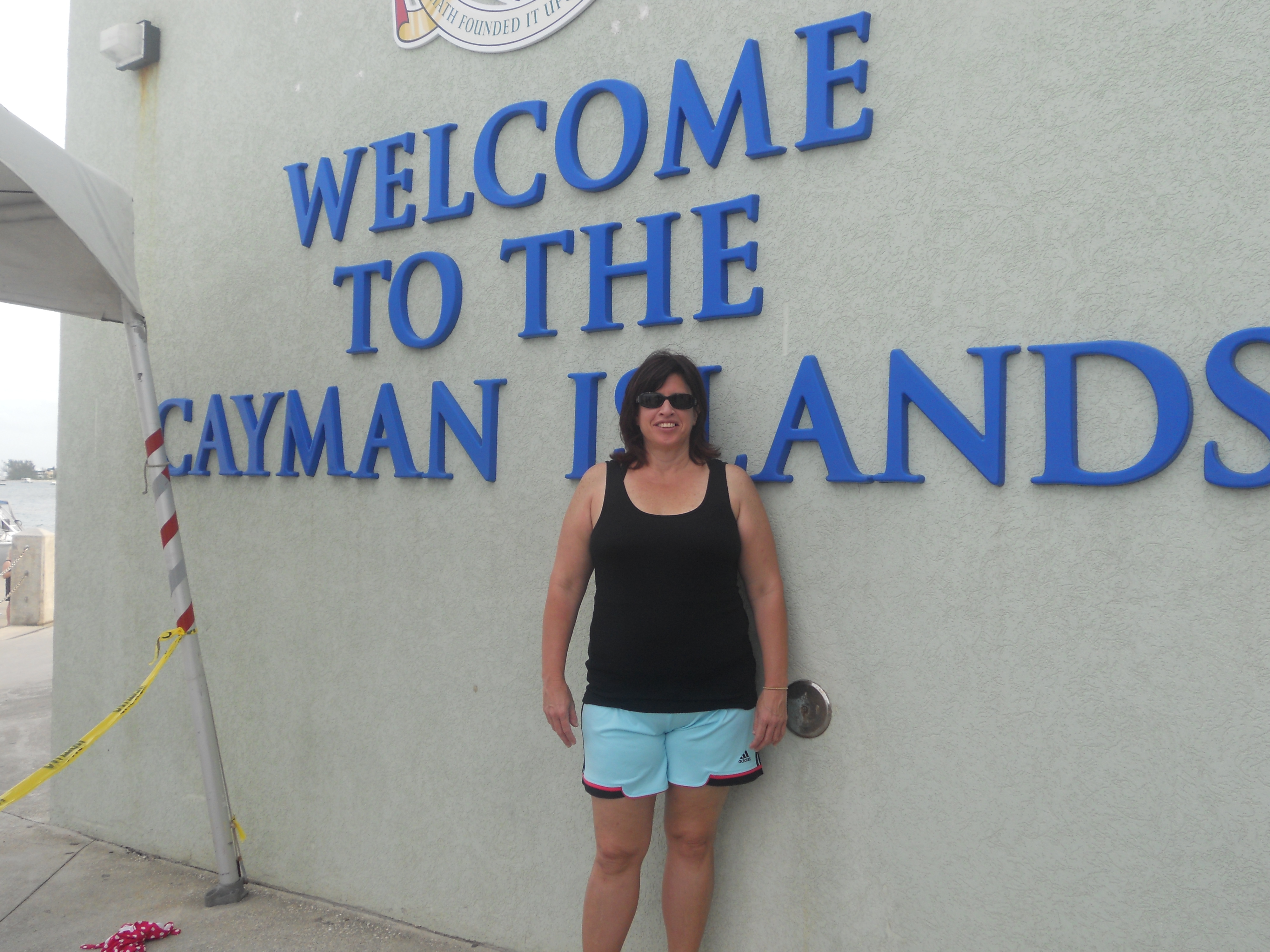 We found our excursion tour guide without any issue, signed our life away, and before we knew it, we were walking over to get on a boat that would take us parasailing!
In all the excursions I've done so far with Carnival, tour guides can easily make or break your experience. For the most part, we've had great tour guides but the guides for our parasailing adventure stand out as two of the best. They were young, cute, and had great accents. What's not to love? Oh, and they also made us feel completely comfortable and safe. We were basically putting our life into their hands!
We had 14 people in our group, including a 7-year-old girl. (Brave little thing!) It was a pretty great group of people, aside from one lone guy who talked too much. Once we were in the boat that would take us deeper into the Caribbean to go parasailing, it all started to feel real and I started getting super excited.
Obviously, the number one thing everyone was worried about was the worst-case scenario of the rope breaking and us crashing into the sea and possibly being eaten by a shark. We weren't deep enough to be in any shark-infested waters, obviously, and they assured us if the line did break, the parachute would slowly float down into the ocean and since we would all be wearing life vests, we would simply bob out in the water and they would circle back to pick us up. The likelihood of this happening was almost nil, but it was good to know what to do just in case.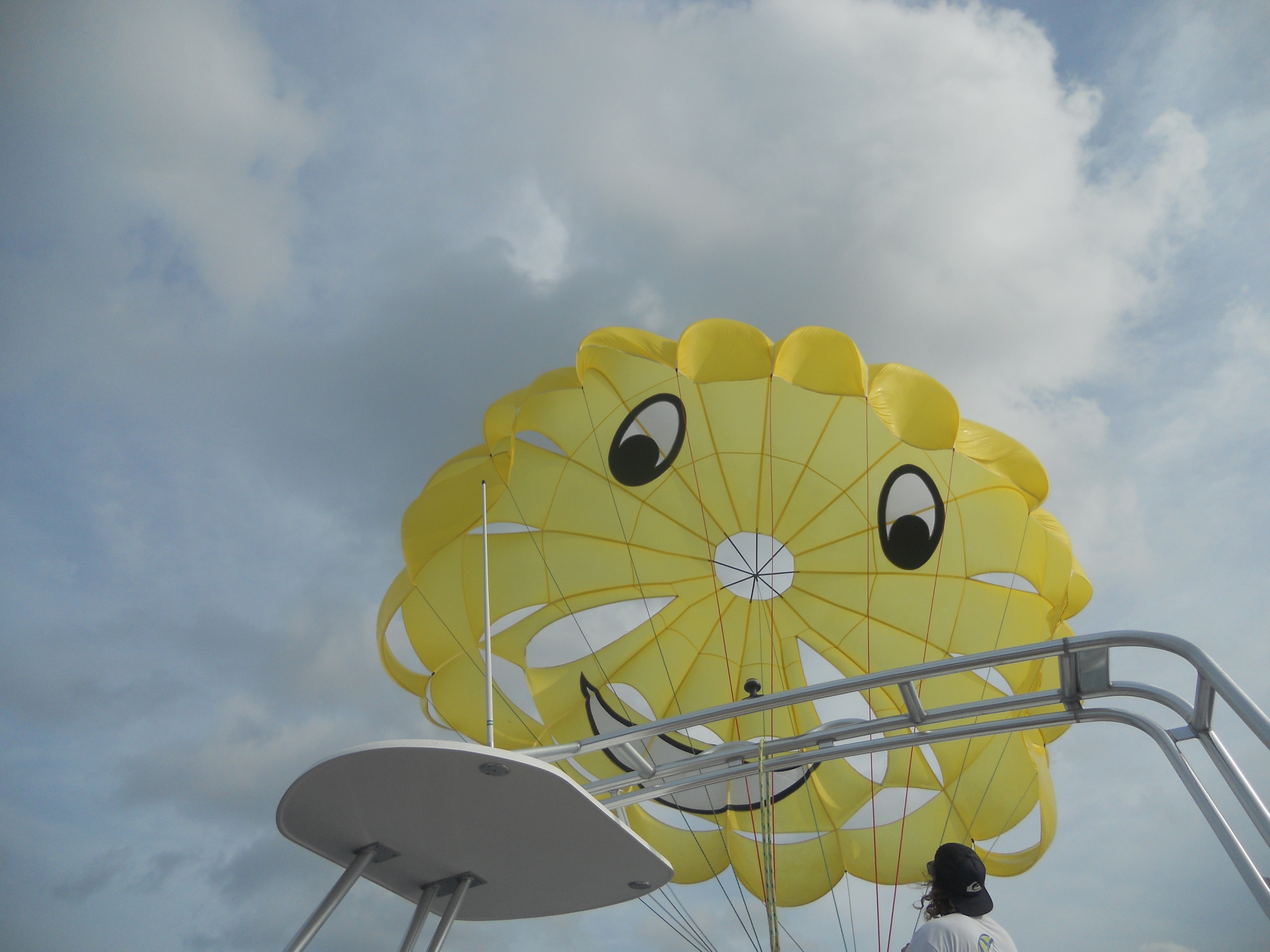 We were the fourth pair to go up and after seeing three couples go up together, I was so excited for my turn! Once the couple ahead of us was safely in the air, the guide started setting us up with the harness and life vest. The harness came up over my thighs and tied around my chest, creating what was essentially a seat so when we were hanging in the air, it felt like we were sitting. (It was very similar to a zip-lining harness.) When it was our turn, we walked to the front of the boat and sat down with our backs to the water. The guide locked us into a bar with clamps and soon enough, we were floating into the air!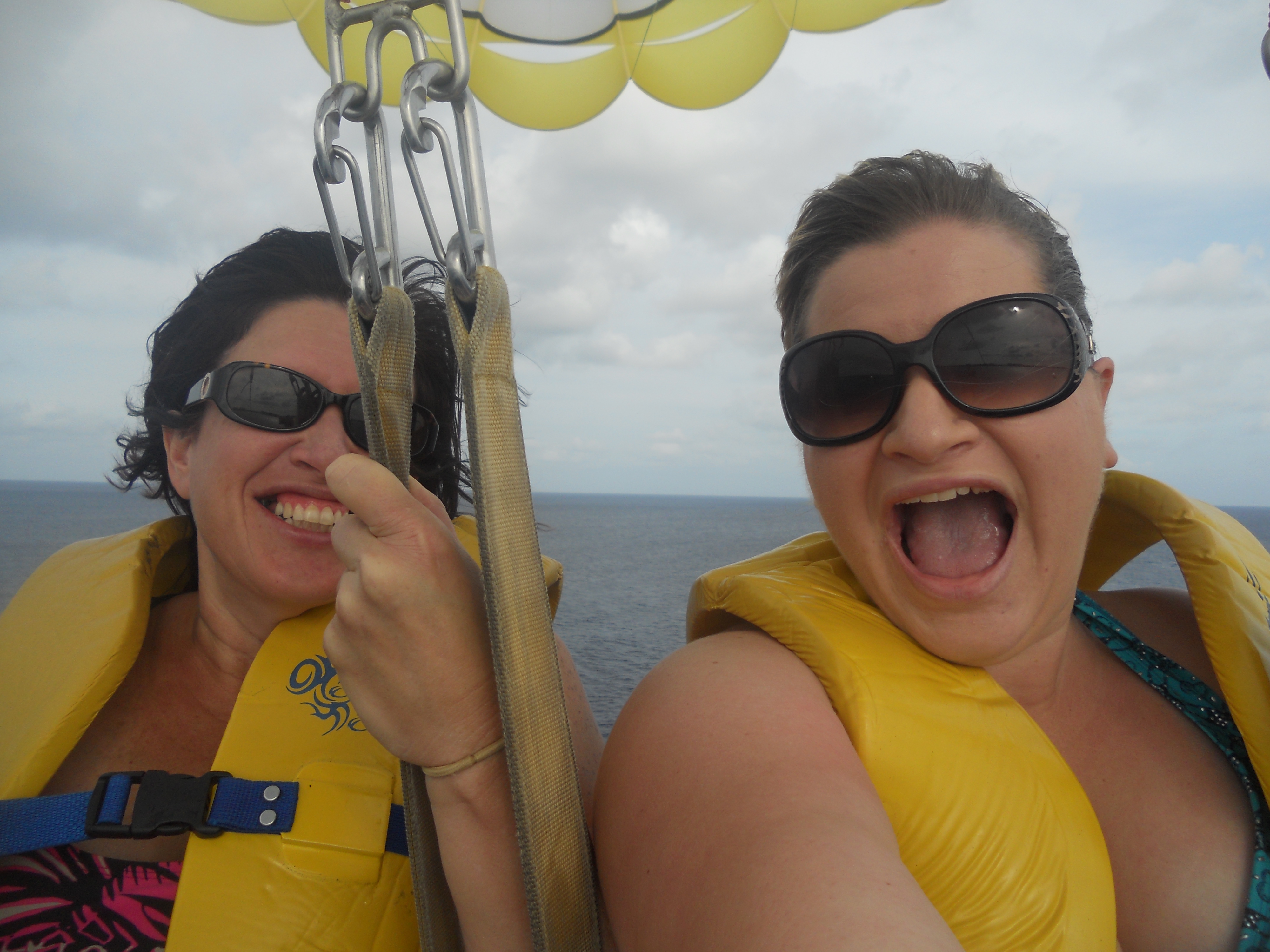 It was a slow climb into the air, but it took no longer than 30 seconds until we were flying.
We had a fairly long time up, around 6-7 minutes. It was the perfect length where it didn't feel too long or too short. It was enough time for me to take lots of pictures, take in the beautiful views, and drop my eyes a few times to realize, whoa, we are up really, really high. I could basically see all of Grand Cayman while we were up there, but I mainly kept my eyes on the water and how incredible it looked.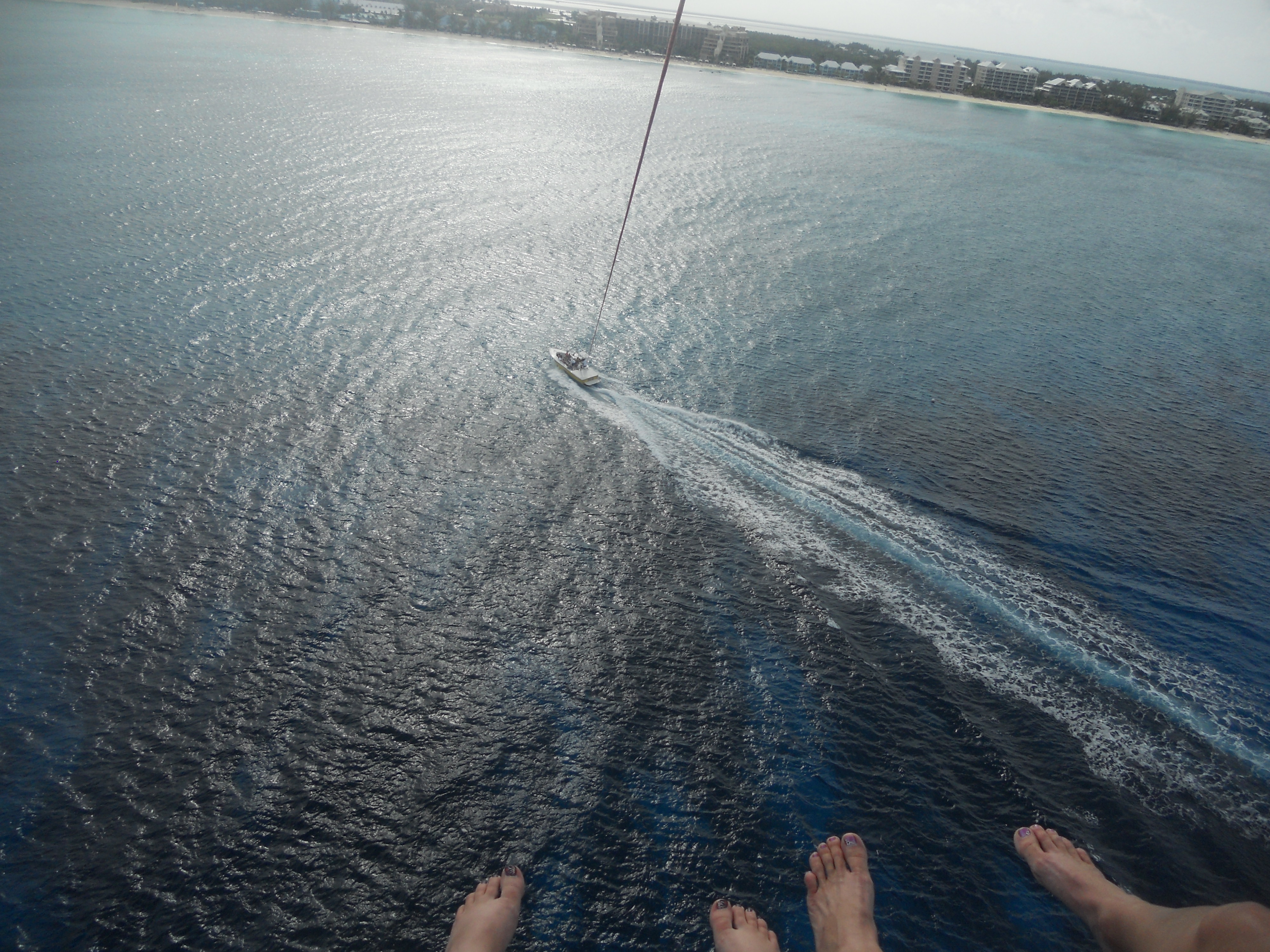 I won't lie, though, it was a bit scarier than I imagined. We were high. We were really, really high. My body was thrumming with adrenaline, but also a dose of fear. Which I think is natural. Even with the fear, it was still one of the most incredible experiences of my life. Flying through the air like that was something I will never, ever forget. I can see myself doing something like this again and again and again.
Towards the end of the ride, the driver in the boat started moving faster and faster, which was another thrill, though it didn't feel as fast in the air as it did on the boat.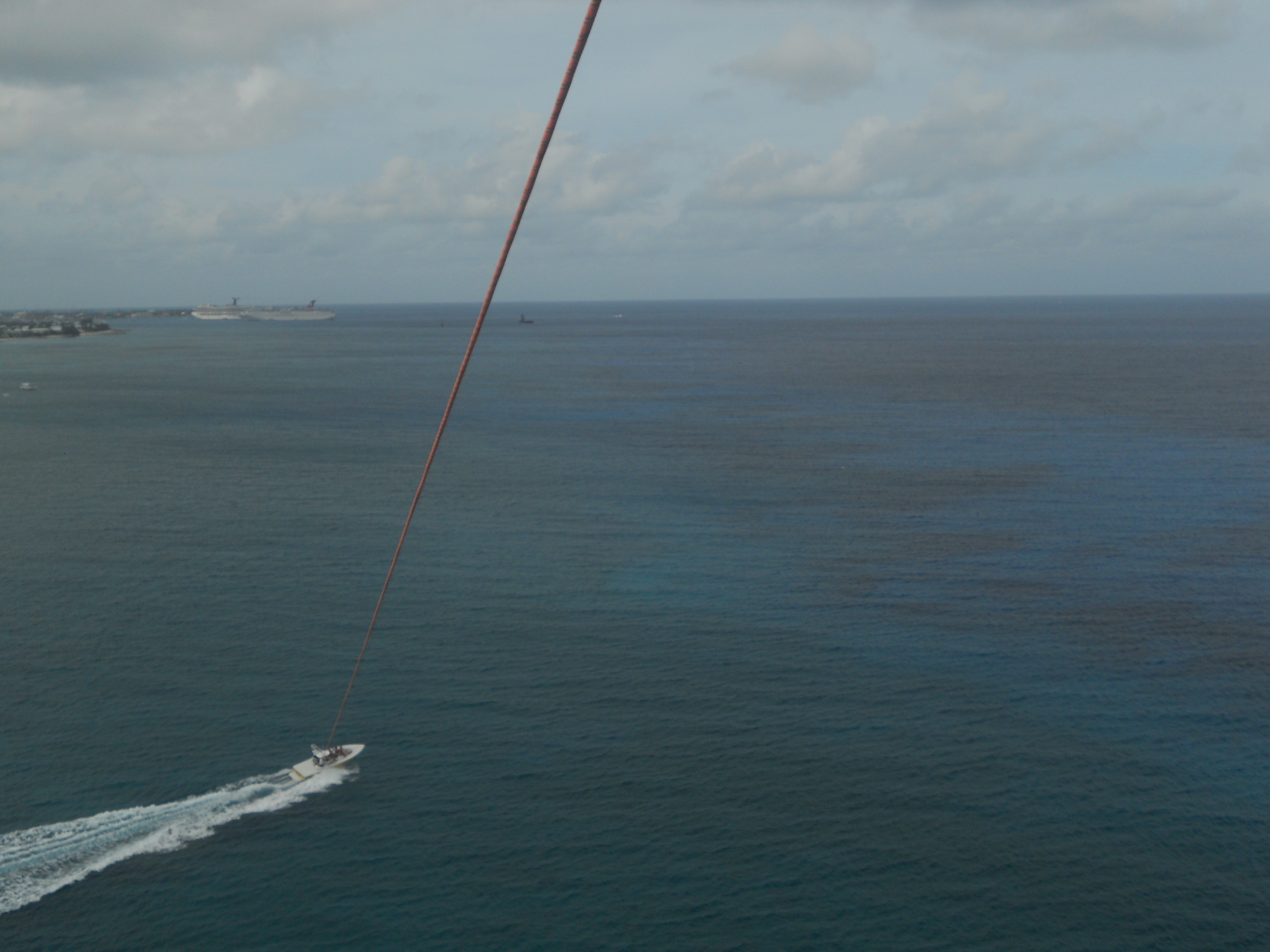 The guide slowly started lowering us down and then dipped us waist-deep into the water! Love. (I held my camera high above my head and it didn't get wet at all. I was very nervous about bringing my camera along, but it didn't prove to be much of an issue.)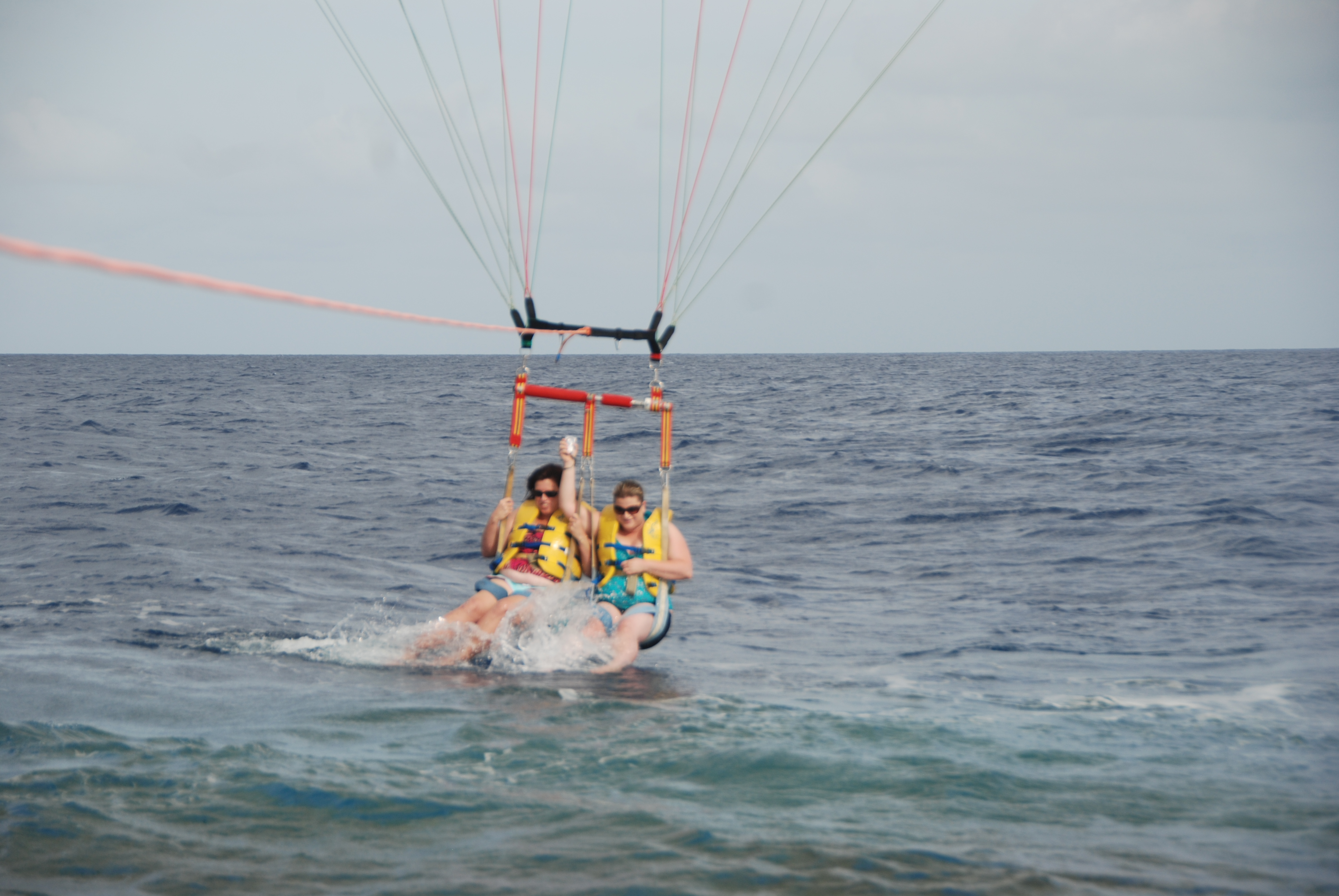 We were told at the beginning to lift out feet up when we're coming down, so that when the rope guides us back in, we simply slide back onto the back of the boat so I reminded my mom to do that as we started coming back in.
And then it was over! Just like that! Poof.
It was short and sweet, but it also felt like the perfect amount of time. Would I have enjoyed going up again or having more time in the air? Of course! But it was well worth the money spent.
We were detached from the parasail and gingerly made our way back onto a seat on the boat. (It was very rocky, as the boat was still moving!) We were given a SD card with around 60 photos of us, which came to $30. It's fun to have photos of us from the boat's point of view
Once everyone had a chance to sail, we made our way to the 7-Mile Beach where the second part of our day would begin. I'll talk more about our time in Grand Cayman and our third day of our cruise in my next post, since this one is getting lengthy. I'll leave you with some more awesome pictures of my mom and I parasailing!