I mentioned before that I participated in The Holiday Council 2012 with Molly Maher of Stratejoy. This is my second year of participating. Last year, I didn't fully dive into the worksheets and challenges and I wanted to really focus on completing this course this year. After all, I paid money so I can't let it go to waste. The Holiday Council, for those who are unaware, is 3 weeks of dreaming and scheming for the new year. Between brainstorming worksheets, the special Facebook group where community is formed and dreams are revealed, and the weekly one-hour training calls, you review the good and bad of the year and begin to unravel and discover what you want out of the following year. For someone who geeks out over goal-setting and planning worksheets, it fills me with so much joy and passion.
One of the major pieces of The Holiday Council is creating a theme for the year. I've done this in years past, where I develop one word I want my year to embody (2011's was risk while 2012's word was health). This year, though, I wanted to find a theme to wrap my year around. Something that isn't vague but focused, something that embodies all the different priorities I have for the year.
After much deliberation, going back and forth on different themes ("Embrace the Moment!" "Believe in Myself!"), it was as I was writing down my top priorities for the year and seeing a common thread.
do the work
I desperately want this upcoming year to be one of change. Change in my physical health, in my social life, in the way I attack writing projects, in my finances, in my dependence level on my mom. How do we change? One of the mantras that has always stuck with me is something Dolvett, a trainer on The Biggest Loser, constantly chants to his team: Hard work. Dedication. That is how we change. By putting in the work and being dedicated to the cause.
I know I am not broken, nor do I need to be fixed. I know my self-worth comes directly from me – not from being skinny or having lots of friends or snagging that super cool writing project. I want to achieve those things and I want to chase after them because they are important to me – but I know the Stephany of the present is good enough. She is vibrant and lovely and beautiful. She deserves the best out of life.
Do The Work means to focus on losing weight and being healthier. It means exercising regularly and stop letting laziness fuel my tomorrow. It means stepping out of my comfort zone to ask girls I could see myself being friends with on girl dates and forming relationships. It means being more social, and opening myself up more to new opportunities. It means getting serious about freelancing  and writing a novel. It means putting myself on a strict budget and sticking to it, as I figure out a way to afford a car and pay off my medical bill from that crazy ER visit two years ago. It means a year of less sugar, less shopping, less travel.
Another part of The Holiday Council are these interviews Molly has with ridiculously awesome individuals. One interview was with Ash Ambirge of The Middle Finger Project who said that one of the things she does to evaluate her year is to think, "What makes me feel like an asshole for not accomplishing this year?" I thought that was just so great, because seriously: there are goals we set for ourselves and when we don't complete them, we do feel like assholes! (I love how honest she is!) I can freely admit I feel like an asshole because I'm ending the year heavier than when I began it. I feel like an asshole for being stupid about the way I spend my money. I feel like an asshole because I'm 25 and just now realizing how much I depend on my mom for so much. I feel like an asshole for believing in the lies that my writing just isn't good enough for publication.
I don't want to feel like an asshole about these things in 2013. (And wheeeee, this is the most curse-filled post I've ever written!) I want to focus on the above for this upcoming year as I embark on a year of change. A year of doing the work that needs to be done to change.
One of the fun challenges Molly wanted us to do is to create a vision board. I've actually never created one but I've always wanted to. I sat down with a stack of magazines (since I don't subscribe to any magazines, I had to make do with my mom's Good Housekeeping and her one copy of Women's Running Magazine that she received at a race, ha!) and starting tearing out pages that spoke to me. Celebrities that I adore, pretty flowers, words that inspire me, foods I want to incorporate more in my diet, people exercising. And a wrinkly little dog because he's too cute!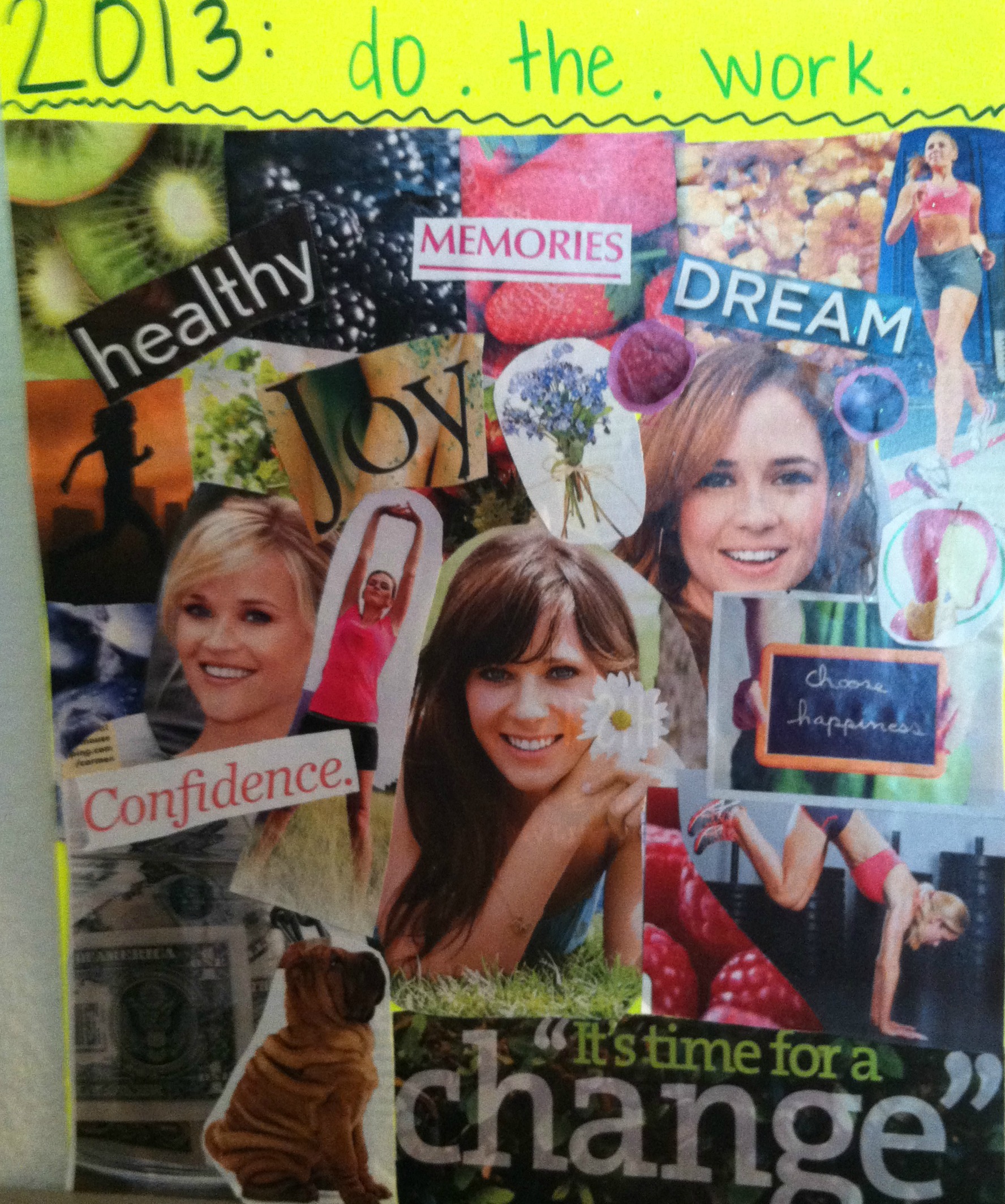 Not too shabby for my first time, especially since I'm not the most creative person ever. Also, I feel like I should mention about having Zooey Deschanel front and center. I actually didn't realize that was her until later… I just loved the picture so much since it exudes happiness and health and light.
Do you have a theme – or a word – for 2013?