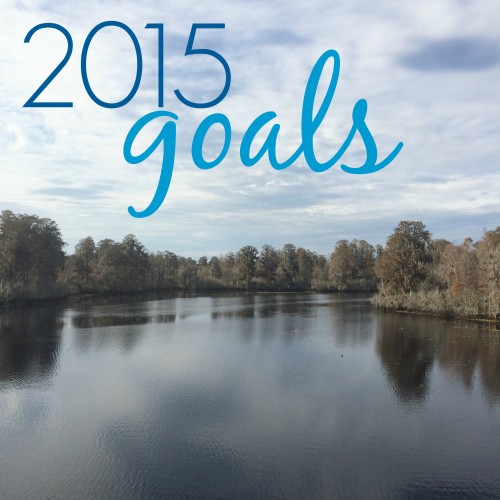 I wasn't sure I wanted to make yearly goals for this year. On the one hand, I love setting yearly goals because it's fun the plan out what I want to accomplish over the next twelve months. I love to envision myself standing at the end of the year, and figuring out who that girl is and what her life looks like. On the other hand? I failed miserably at my yearly goals last year. I think I only completed one goal from my original list. By the second half of 2014, I was tired of the list and just basically gave up on it. (And ended up also giving up on setting monthly goals by September.)
But! New year, new me, right? Hopefully, at least. I feel different about this year. I feel less crazed about starting a brand-new diet, brand-new exercise routine, brand-new writing schedule, brand-new budget. January 1 rolled around, and nothing much changed for me. It was just… January 1. It's a new year and I love the freshness of a blank slate… but I also know that just because it's a new year… that doesn't mean everything in my life will change automatically.
I've been thinking a lot about goal-setting lately. How much I love the beginning. That's when it's fun! I want to do this, and this, and this! Let's set all the goals! Woooo!
But then… when it gets hard… when things get uncomfortable… when achieving the goal gets boring… it's just so damn easy to give it all up. Go back to my old ways. Tell myself I'm just "not that girl."
I don't want to do that this year. I want to be that girl. I want to recognize when things are getting difficult, settle myself, and keep on going. Keep moving forward. Don't let hiccups or mistakes or that nasty little inner critic of mine win.
All that said, here are the goals I set for myself for 2015. Let's do this thing.
1. Complete the Book Riot Read Harder Reading Challenge. (And read 52 books.)
I am nerding out over this reading challenge. It is so up my alley! I've created an Excel spreadsheet for the different categories and the book I plan to read for them. I've started labeling books on my Goodreads account. And I'm so excited to get started. I'm cheating a little by allowing some books I read count for multiple categories, but I also want to have the time to read my monthly book club pick, the books I review for TLC (already have four scheduled for the first four months of this year!), and the books I want to read for myself. Also, I've lowered the number of books I want to read this year to 52 (much lower than previous years!) I figure the books I read for the challenge are going to take me longer to finish than my usual easy reads, so it all works out in the end.
2. Get a tattoo.
This is on my "30 Before 30" list, and I want to finally mark this as complete. I've been wanting a tattoo for years, and I've been letting fear hold me back. I know the exact tattoo I want (this one) and where I want it (back of my neck). Now to just get 'er done!
3. Move into my own apartment.
I'm planning on moving in August or September (because moving in suffocating humidity sounds like fun!) I need to start apartment hunting again, and putting away money for moving costs and things for my new place. I'm so excited about this goal!
4. Put 20% of my income towards savings/debt each month.
This is not much, and I'm hoping I can always do more than 20%, based on my current financial needs, but it's an easily attainable goal. I'm hoping to put 10% in savings and put the other 10% towards one of my school loans, in the hopes of paying it off completely by the end of the year. (It's one of my smallest loans, the other ones will take years. Yay.)
5. Travel to a new state.
I'm not sure what state, but there are way too many states I have not visited. In fact, I've only visited six states in my life. Isn't that unbelievable?! I've been so busy with my cruises the past few years that traveling in the US has fallen by the wayside. This year, I'm thinking about forgoing my usual cruise vacation for traveling in the US. Time to knock off some states off my to-see list!
6. Race a 5K.
This means, actually train for a 5K and set a new personal record. I go back and forth with running, and maybe at the end of training for a 5K, I'll find that running isn't for me, but I want to at least say I've tried.
7. Master the 80/20 rule for healthy eating.
Every year, I set a specific goal for losing weight. And then I don't lose the weight. And then I get frustrated with myself. This year, instead of focusing so much on losing weight, I want to focus on healthy eating. I've mastered the exercise equation of things, and now it's time to master the eating side. I like the 80/20 rule – 80% of the time eating clean, 20% of the time eating… less healthy foods. (I like this post, which breaks down what the 80/20 rule should really look like.) Hopefully, by living by this rule, I'll see the weight loss I've been craving.
That's it! Just seven goals to guide me through this year. Simple and attainable, but challenging enough for me to see growth in my life if I work hard enough.
Did you set any yearly goals?