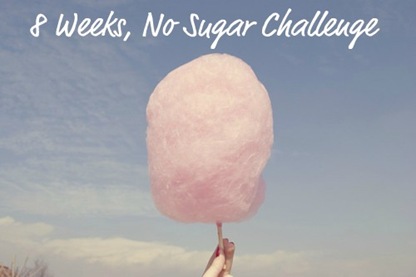 This wasn't a proud week for me. Sometimes, the hardest part of this challenge is knowing I have to write my post each Monday and be honest about how I did. Because sometimes? Sometimes, I can handle how tough this challenge is and sometimes I can't.
This week had its ups and downs. I managed to steer clear of most temptations but a combination of not exercising enough (only twice before I weighed in), indulging in Chick-Fil-A twice, and having a "cheat night" after a really rough day at work (a four-hour headache will do that to you) meant stepping on the scale was scary for me this week.
I'm trying to be very careful about letting my weight declare how I performed during the week. Yes, I slipped up but I also got right back on the horse after doing so. Usually, I let myself go until a new week begins. It's a big step in a new direction.
I think what's mainly keeping me in a good mood, even if my results weren't anything to shout about, was the fact that I went bathing suit shopping on Friday night and didn't hate the way my body looked while trying them on. (And came out with a killer bathing suit that I can't wait to wear on the cruise!) I can feel and see the difference when I look in the mirror. My clothes are fitting better and my body is looking leaner.
No, I still have a long way to go before I can even think about trying on those "when I was skinny" clothes, but I'm getting there. Slowly by surely. Pound by pound. Week by week. It's coming off and I want it to stay off. I want to form a new lifestyle through the process and this is the first time in my entire losing weight journey that I've found something that seems to be working.
It also helps that my body doesn't take kindly to junk food anymore. While I relax my restrictions on the weekend, my stomach lets me know it doesn't appreciate all the sugar and soda. And to think five weeks ago, my body was rebelling because it didn't think it had enough! It's amazing what our bodies are capable of.
Results? It's not what I was hoping for, but it's still a small step in the right direction.
| | | | |
| --- | --- | --- | --- |
| | Starting Weight/Inches (taken on 3/18/12) | Current Weight/Inches (taken on 4/21/12) | Total Loss |
| Weight: | 154.4 lbs | 148.2 lbs | 6.2 lbs |
| Left Arm: | 13 in | 12.5 in | .5 in |
| Right Arm: | 12 in | 11.5 in | .5 in |
| Chest: | 37 in | 36.5 in | .5 in |
| Waist: | 39 in | 37.5 in | 1.5 in |
| Hips: | 36 in | 35 in | 1 in |
| Left Thigh: | 22.5 in | 22 in | .5 in |
| Right Thigh: | 23 in | 22 in | 1 in |
So, no inches lost this week and only a .4-pound drop on the scale. But a loss is a loss and with the week I had, I'll gladly take it. I have a few more weeks left of the challenge and I really want to, well, challenge myself to take this more seriously and focus myself. I know I can manage to lose 2 pounds a week if I really try.
I have learned so much during this journey and a part of me can't believe I haven't given up yet. I usually do and I think these weekly updates help. Yes, they may cause me to stress during the week that I'm not going to have a great weight loss number to show you guys but they also keep me focused on my goal.