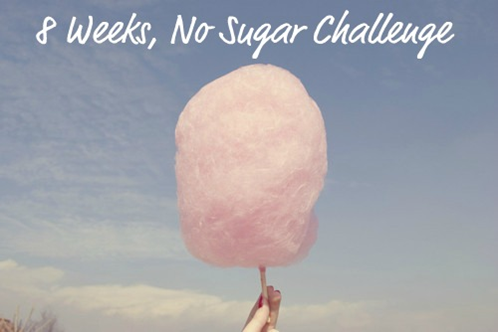 Today marks the first day of what I hope is a life-changing 8 weeks. Today, I start my no sugar challenge. Doing a no sugar challenge has been rolling through my mind for the past few weeks now. Seven weeks from now, I'm going to be a bridesmaid in my brother's wedding. A week after that, I'm going on a cruise. Two big events and I want to look my best in both.
But more than that, I need to feel proud of myself. There are areas of my life that are flourishing and areas of my life that are not. My health is one of those latter areas. I had big plans for my health in 2012 (after all, it is the word I want to embody this year) and the fact that I'm not achieving any of the goals I set out for myself is the biggest cause of this funk I've been under. It's disappointing and frustrating. And I'm just really over these feelings. I'm done with feeling sorry for myself. I can give you every excuse in the book for why I haven't lost weight or been able to stick to a healthy eating regiment but I won't. I have to stop the excuses and start doing what I need to do to get the body (and lifestyle) I am craving.
The next 8 weeks are going to be tough for me. I don't deal well with change and adhering to a sugar-free lifestyle will be difficult. But change is almost always necessary. In my case, it is completely necessary. As I stepped on the scale yesterday morning, as I completed my measurements to show myself where I am starting from, I know I have to tackle this head-first. I've been slipping back into old habits and nothing is changing. I feel worse than ever about the body that stares back at me. On the exercise front, I am flourishing, but on the eating front, I am back-tracking.
It's time to get serious about my health and to realize that I am not treating my body in the way it needs to be treated. And sooner or later, that will all catch up to me.
I've set some parameters for these next 8 weeks, to give myself static goals to attain, as well as setting me up to succeed:
I am not going completely sugar-free. At least for the first few weeks of this challenge, I will allow foods that have 5g or less of sugar in a serving. I may tighten up my restrictions further into the challenge but for now, I know this will help my body in major ways.
Fresh fruits and veggies are not off limits. Fruit is notoriously sugary, but it's good sugar. A cup of grapes has 24g in itself! That said, I do want to stay away from the fruits that have more sugar than those that don't. (On the flip side, a cup of apples has 13g of sugar while strawberries have 7g.)
I am allowing myself one cheat day a week. Say what you want about cheat days, but I don't think I could do this without knowing once a week, I can loosen my restrictions. This doesn't mean I'm going to go crazy, eating a entire sleeve of Thin Mint cookies and a 2-liter of soda. It means, I may allow myself to have a soda with dinner, and a treat afterward.
I will be weighing and measuring myself weekly. For this phase of my healthy living journey, I need to pay better attention to what's happening with my body. It's never good to put your whole self-worth in what you're doing from what the scale tells you, but I do want to see results from this. If I put in the hard work and effort, I want to be able to see that.
My weight goal is to lose 16 pounds over the next 8 weeks. That is 2 pounds a week, which is more than the average but again, this isn't simply cutting down my calories but also cutting out sugar and soda.
I would also like to lose 14 inches around my body. Another major goal, but this is a major challenge. I think I can do it.
More than anything, though, I want to be able to do this challenge and not give up. Eight weeks is a long time and by writing it down here, I know I will have the accountability I need to stick to it. I have two major events to work towards and I want to feel proud of my body in both instances. Simply put, I want to feel better about myself. And I think this challenge is exactly what I need to do that.
And now, for my first measurements.
| | |
| --- | --- |
| Weight (as of 3/18/12): | 154.4 lbs |
| Left Arm (as of 3/18/12): | 13 in |
| Right Arm (as of 3/18/12): | 12 in |
| Chest (as of 3/18/12): | 37 in |
| Waist (as of 3/18/12): | 39 in |
| Hips (as of 3/18/12): | 36 in |
| Left Thigh (as of 3/18/12): | 22.5 in |
| Right Thigh (as of 3/18/12): | 23 in |
Here we go! I am about to embark on a life-changing eight weeks. I have the mantras locked and loaded for when things get tough and the best part of the whole challenge is that my mom is doing it with me so we'll have each other for support. And, of course, if you have any advice or yummy snack/meal ideas, throw them my way. I am all ears.