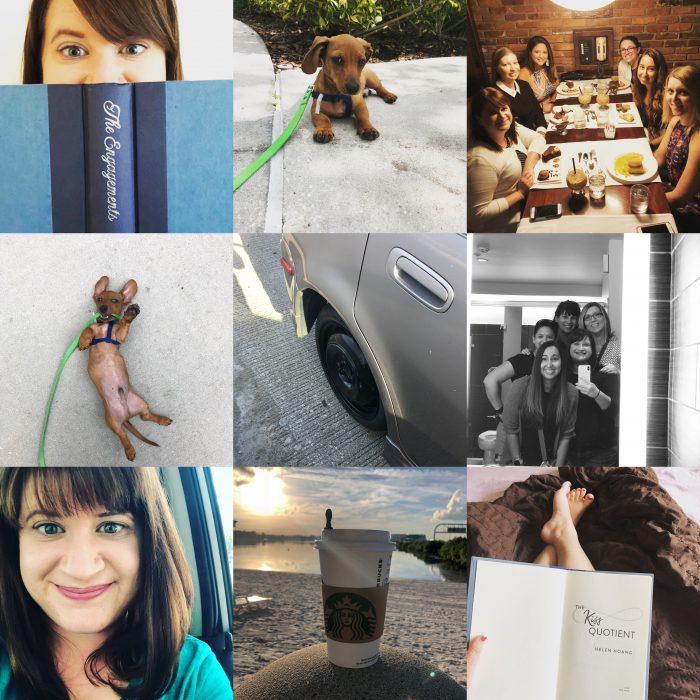 In June, I…
Blew another tire on the highway. This would mark the second time in seven months that I've experienced a tire blow-out on my way to work. I have to drive across a very busy highway to get to work, and something like this is never an expected thing. Thankfully, I was able to get the spare put on and then drove straight to a tire shop to get a new tire. Ever since this happened, though, I have anxiety as I merge onto the highway, worried that another tire is going to blow.
Puppy-sat for my fur-brother. My mom and stepdad took a pre-anniversary trip in early June, which meant I got to spend a whole week with Chip. It was a ton of fun, even though he is a lot of work because he's only three months old and busy, busy, busy! But it was nice to have a dog to come home to every day and spend time with. He makes my heart so happy!
Had a fancy dinner date at Bern's Steakhouse. Our dinner was definitely an experience and one I'm so glad I did not miss! We had a delicious dinner and the steak I had was to die for. After dinner, we took a tour of the kitchen and wine cellar. Then, we went to their dessert room for dessert! I got an iced coffee that was so perfectly made and then a salted caramel brownie. I left feeling very full, and definitely like I got my money's worth.
Successfully organized a group event. My team leader put me in charge of organizing a group outing for our team, and even though I was not sure I was the right person for the job, I pulled it off somehow. I had to gather ideas, decide on what event to do based on those ideas, come up with a time and place, etc. It was a lot! But it all worked out beautifully and all but one team member made it out. We ended up going to a local escape room, which was a total blast. It's my third time doing an escape room and I can't recommend them enough. My team (all women, yasss) escaped with five minutes to spare, so we were pretty thrilled!
Made it through a rough depressive episode. It's not the first time I've had a depressive episode, but it's the first time I actually sat with myself and said, "You're depressed right now. That's what this is." I've never actually named it. But the intense sadness, the feeling of overwhelm by doing the simplest tasks, the need to be alone all the time, losing interest in some of my favorite activities… it was depression through and through. There were moments when I didn't know if I was going to make it out because I was so suffocated by my depression, but I did.
Got my underarms waxed for the first time. My mom has been telling me for years to get my underarms waxed, ever since she started getting it done. I didn't see the point in paying someone to do something I could do myself, but lately, I haven't felt like I've been able to get a close-enough shave on my own (and also, I'm very lazy and hate shaving) so I bit the bullet and got it done. It hurt more than I was expecting, but I'm also a straight-up baby when it comes to pain. But I'm really happy with the results!
Saw two movies. I am not a movie-goer by nature, but I ended up in the theater twice this month. I saw Book Club and then Ocean's 8 with my friends, and we went to a new-to-me theater called Studio Movie Grill where you order dinner to eat while watching the movie! I've been to Cinebistro in Tampa that has a similar concept, but it's so much more expensive. A ticket alone can be as much as $18! And then the food is overpriced as well. Studio Movie Grill has normal-priced movie tickets and a much better menu for my taste. I'm a fan!
In July, I will…
Celebrate my mom's birthday. I'm hoping to take her to Painting with a Twist one day this month for her birthday present. She's been wanting to do one of these events for a while, and I think it would make the perfect mom/daughter date night!
Spend a weekend at Anna Maria Island. I mentioned on Friday that my girlfriends and I are planning to spend a weekend here, renting out a beach house. I'm really looking forward to it!
Pay off my car. YASSSS. Finally, finally, finally. I cannot wait to finally have my car fully paid off so that I can allocate that money to my other debts. Even though I wish I could have a fancy new car with all the bells and whistles they come with nowadays (I dream of Bluetooth), I am hoping my little toaster on wheels can keep on truckin' for another few years at least.
What's something good that happened in your life in June?