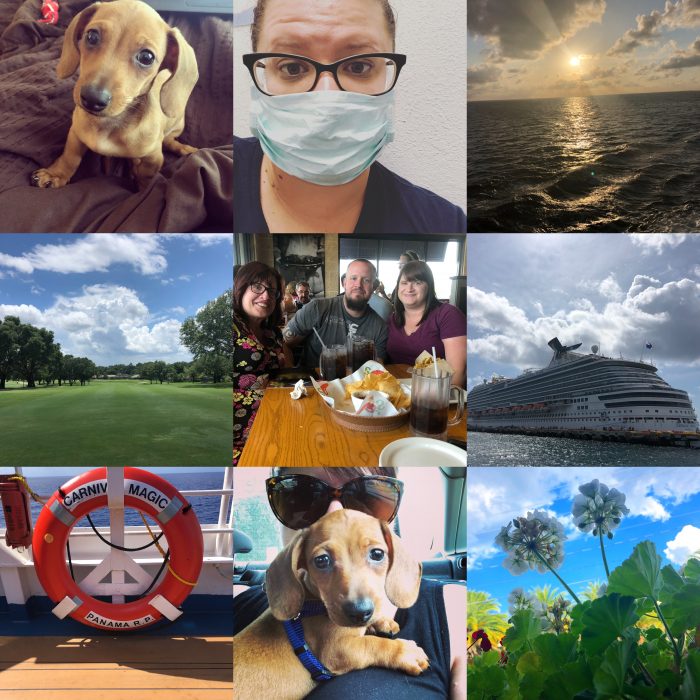 In May, I…
Took my tenth cruise. I had such a great time on this cruise and loved getting to spend some quality one-on-one time with my mom. She's truly my favorite person to travel with because we just travel well together. Our cruise was all about adventure when we were in port and relaxation when we weren't. I came home refreshed and satisfied, no post-vacation blues for me.
Welcomed a new pup into my family. My mom adopted Chip, a stinkin'-cute red miniature dachshund who is 3 lbs of sass and silliness. He's everything I need right now and has been a healing part of my grief journey since losing Dutch. I'm trying to visit him as much as I can right now, and my mom brought him over to spend the day with me on my last two work-from-home days, which I loved. He's busy and playful and crazy, but damn if I don't love every second of it.
Got sick, twice. Oh man, May was not a good month for my health. I got sick the day after coming home from my cruise (my mom was sick, so I'm pretty sure I picked it up from her) and it was a standard head cold – congestion, sneezing, headache, scratchy throat. I took a lot of Dayquil and recovered within a few days. And then, probably a week later, I got sick again. Wah! This time it was a sinus infection and I had to go to my doctor to get an antibiotic. I spent way too much money on medicine and comfort food this month, that's for damn sure.
Played real golf. In mid-May, my work closed the office early and we all convened at a golf course in Brandon for an afternoon of golfing. I tried to hit a few balls, but it was pretty obvious from early on that real golf is not my forte, so I was happy to ride along in the golf cart and watch the "pros" do it. 🙂 Even still, it was nice to get out of the office and hang out with coworkers I wouldn't normally be around.
Saw my circle of work besties shrink. I am so happy for my friends who are moving on to different companies and growing their careers, but it's hard to see my circle of work besties shrink. At one point, there were eight of us and now I'm down to two besties! As someone who is ridiculously shy, I have a very hard time making friends and it was so nice to have this big group of girls to make work days better. It's put me in a funk because what we had was so special and I'm not sure I'm ever going to get something like that again.
In June, I will…
Babysit my fur-brother! My mom and stepdad are taking an early anniversary trip in June and I was more than happy to offer my puppy-sitting services while they're away. They're going to be gone 8-9 days, so I'll get oodles and oodles of Chip time. (Prepare your Instagrams, friends.)
Have my first Bern's Steakhouse experience. Can you believe I've lived in Tampa Bay my entire life and have never visited this iconic restaurant? It's been the focus of so many "best of" lists and it's a place here that everyone talks about. I cannot wait to have a fancy dinner date with all of my best girls!
See Ocean's 8. Yes, yes, yessss. I am not a huge moviegoer in general, but I am definitely planning to see this one. Hopefully, I can get together a group of friends to see it together, but if not, maybe it'll be my first solo movie experience!
How was your May?