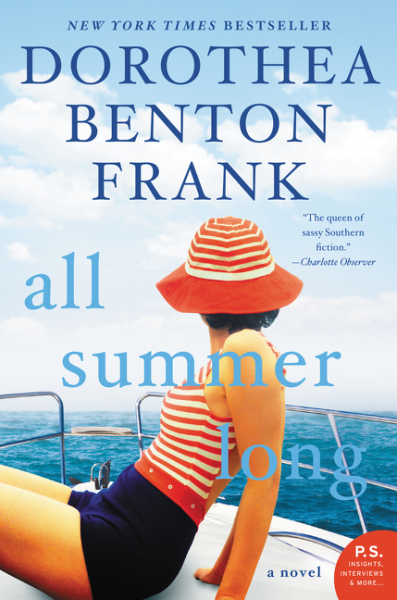 I'll be the first to admit it: when I received this book in the mail and read the synopsis, I was confused as to why I'd requested to review it. It didn't seem to be the type of book I would normally read, and I was rather reluctant to read it.
But I had promised an honest review, so I settled in and started reading it.
The book starts off slowly and the main character, Olivia, is super unlikeable at first. I really cannot relate with people who are so concerned with making sure other people perceive them as rich and successful, and this seemed to be Olivia's number-one worry. She was driving me crazy! The book starts with Olivia and her husband, Nick, beginning their big move from NYC to Charleston. Olivia had always known that when Nick retired from being a college professor, he wanted to move to Charleston, but even so, she wasn't thrilled about moving south. Currently, her interior decorating business is in a slump and she worries about what moving away from a city like NYC will do for her business. Will it even survive?
Instead of confiding in her husband, she keeps everything a secret and buys the most outlandish house she can find in Charleston. The house is too big and too expensive for them, but Olivia has to make a statement, right? She can't have her clients thinking she's poor.
Generally, though, as I continued to read, I realized this novel wasn't about Olivia and her money woes at all. It was about relationships. Olivia is a women in her fifties, her husband a bit older than her. They are entering a different stage of their relationship, as her husband retires and she finds her work slowing down (albeit not by choice). They were also a childless couple, and I really love that the author didn't make too many references to that. It wasn't this big "thing" to them; it's just what is. They didn't feel the need to defend their choices or feel bad about being in this stage without kids and grandkids to spoil. There was something so refreshing about that.
What was also refreshing was Olivia and Nick's relationship. Usually, when a married couple features prominently in a novel, there's something wrong with the marriage. Someone is cheating, someone is hiding a huge secret, they are about to get divorced, etc. What I loved about Olivia and Nick is that they were just a normal couple, enjoying normal day-to-day life. There's a scene in the novel where Nick makes a tomato sandwich for her, and she's so delighted by it, and it was just the sweetest thing ever. It just goes to show that you can still be surprised by your partner, even decades into a marriage. It's so rare to read about a couple after the happily ever after, when they are still enjoying their happily ever after. No strife, no secrets (aside from Olivia keeping the fact that they were in financial trouble, which was addressed, but they fought and moved on within a few pages, just like any normal couple!).
This novel didn't follow any sort of typical structure, and there was very little plot to follow. That can be good or bad, and in this case, I didn't mind it. In fact, I think I liked that it was more character-driven because it allowed me to completely fall in love with Olivia and Nick without worrying about their fate.
I do feel the need to mention this really weird twist near the end of the book that didn't add anything to the story or alter the plot at all. It just served as emotional manipulation, and I hated it so much that I dropped my rating from 4 stars to 3 stars. Why do authors have to do that? Sigh.
All Summer Long was a fun, quick read. It would be a great beach read, for those looking for something light-hearted to dig into on an upcoming vacation.
Goodreads synopsis:
Filled with her trademark wit, poignant themes, and rich characters, the perennial New York Times bestselling author returns with a sensational novel that follows the travels of one couple though a tumultuous summer.
Dorothea Benton Frank's magical stories take us deep into the heart of her beloved Carolina Lowcountry. In her novels, this lush landscape comes alive in all its vibrancy and color. She ignites all of our senses with her vivid descriptions of landscape and atmosphere. In her novels you hear the ocean washing the shore on different islands so profoundly that you can nearly hear the sea gulls squawking, too.
This is a story of people whose lives are changing—a southern gentleman returning home to lead a more peaceful life and his talented New York wife who is not quite sure she is ready to make the transition. They are moving north to south, fast pace versus slow pace, downsizing. And while they are doing this, they are getting glimpses into other people's lives over the course of a summer, holidays that will amuse, shock and transform them.
This irresistible story is home to captivating characters as funny, complicated, and real as our best friends—husbands and wives, mothers and daughters, friends and family who wrestle with the complexities, pain, and joys familiar to us all.
Finally, we'll come to recognize the face of love, the kind that deepens and endures but only because one woman makes a tremendous leap of faith. That leap changes them all.
You can connect with Dorothea Benton Frank on her website, Facebook, Instagram, and Twitter. Her book is available to buy from Amazon, HarperCollins, and Barnes & Noble. 
Click here to add this book to Goodreads!
I received this book for free from TLC Book Tours in exchange for an honest review. All words and opinions, unless otherwise stated, are my own.
No affiliate links were used in this post.