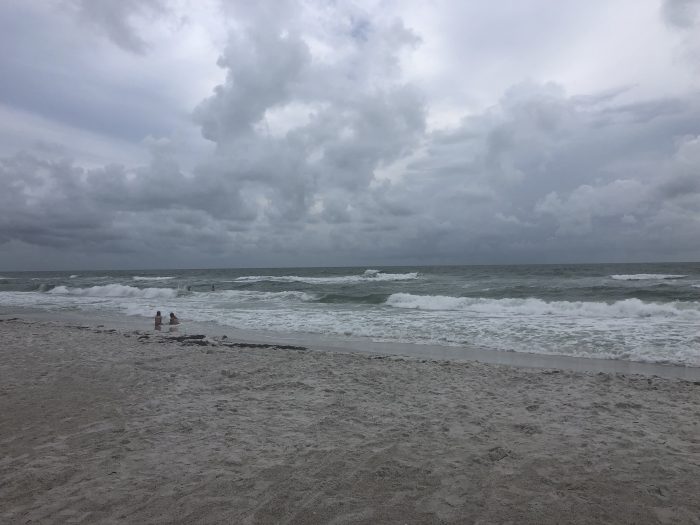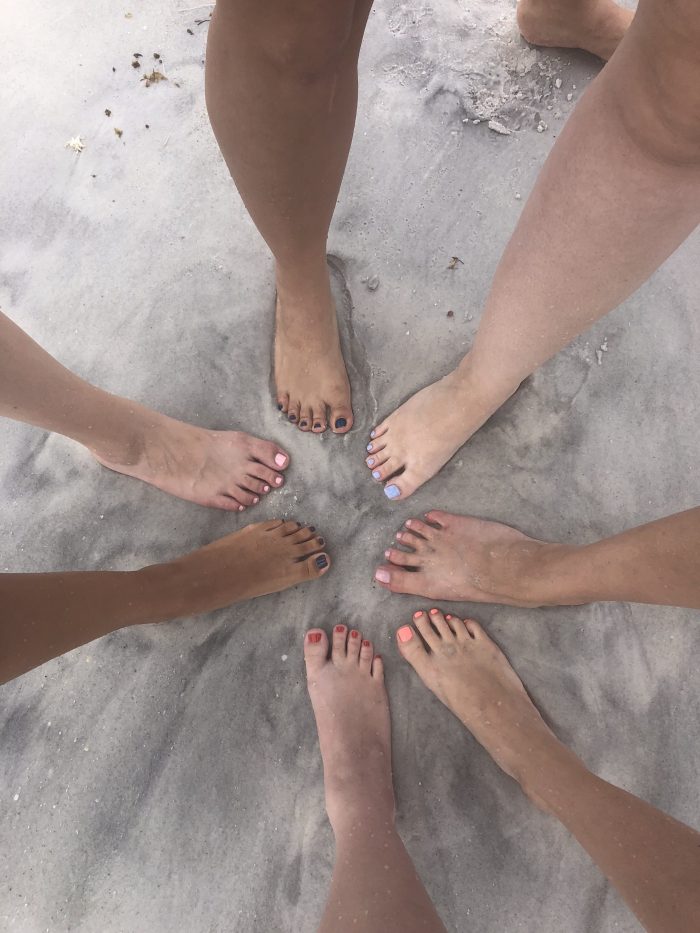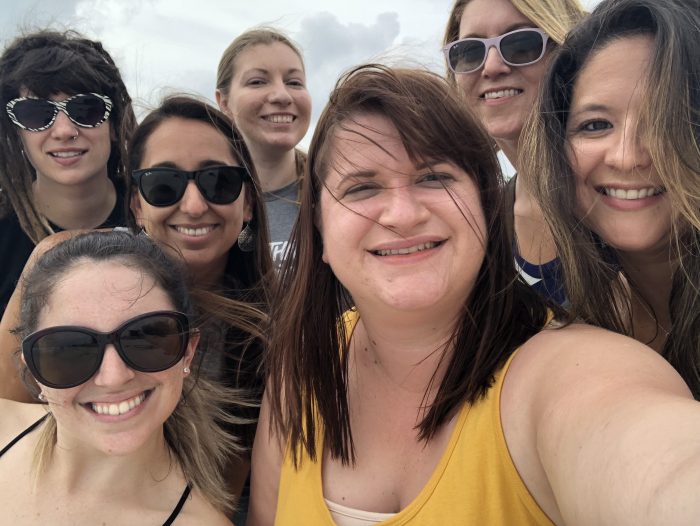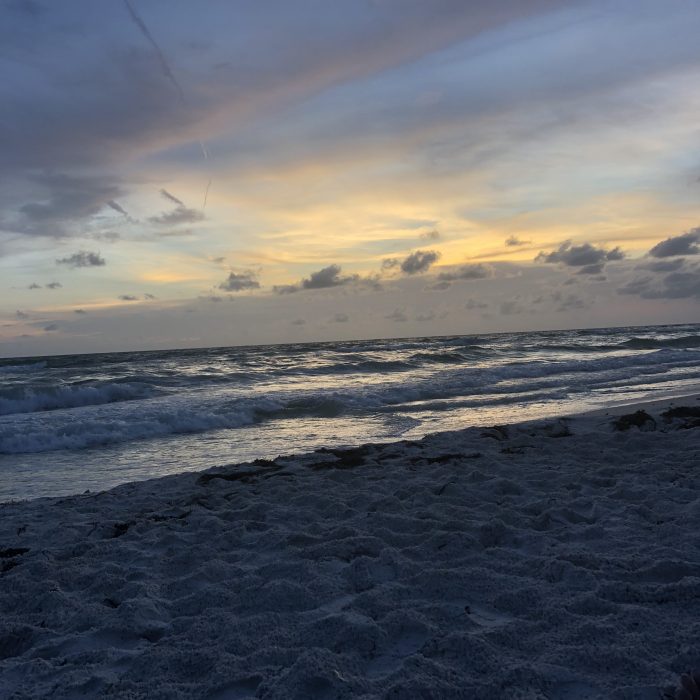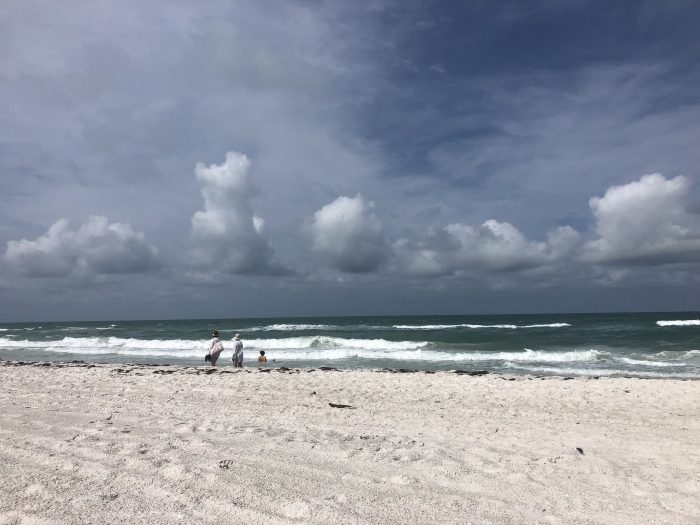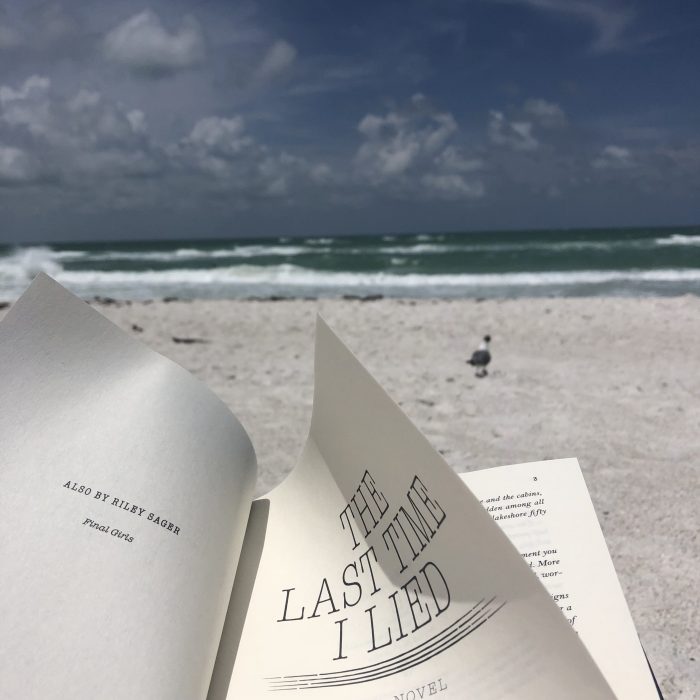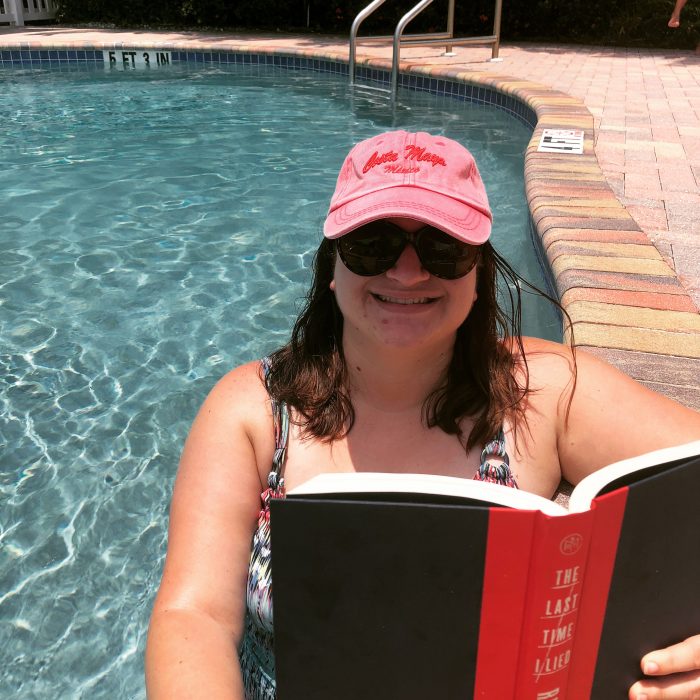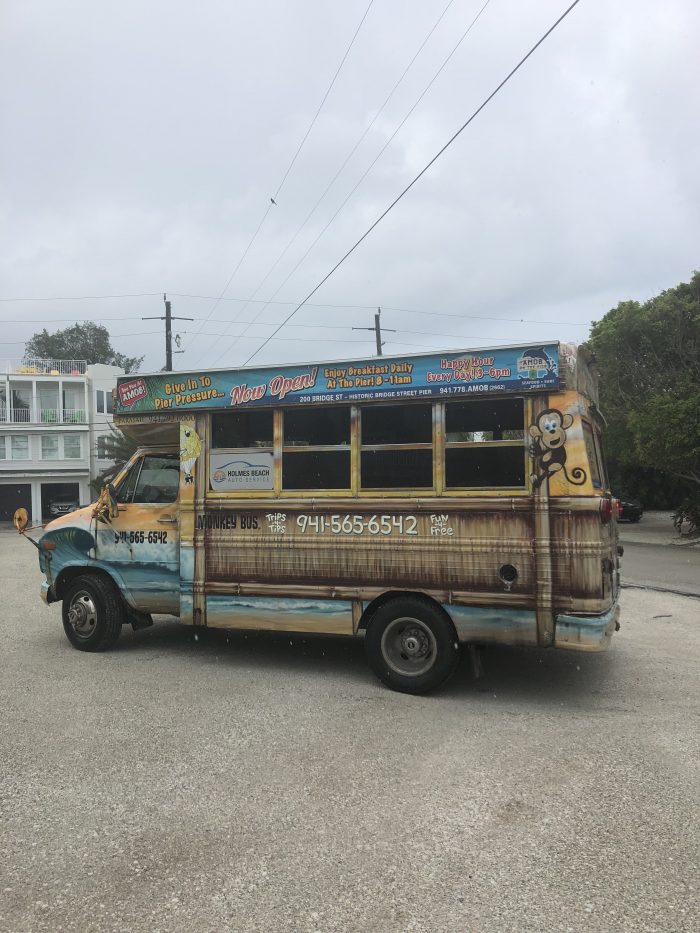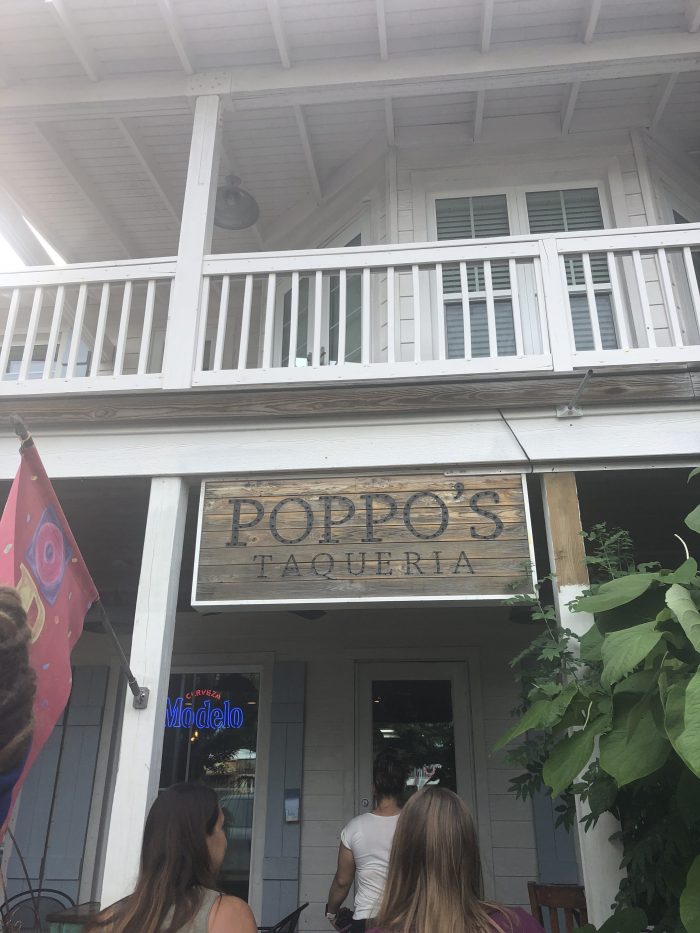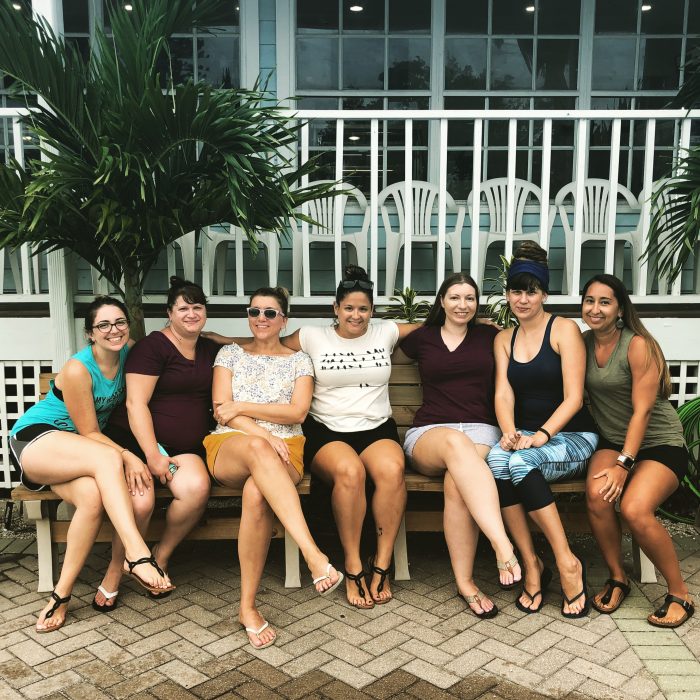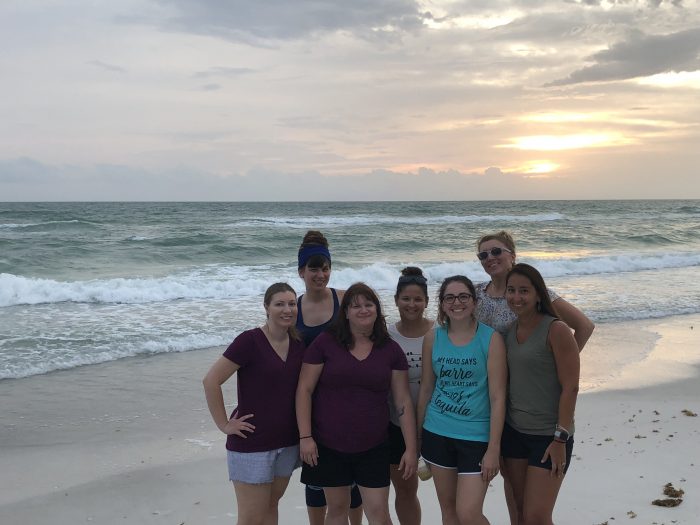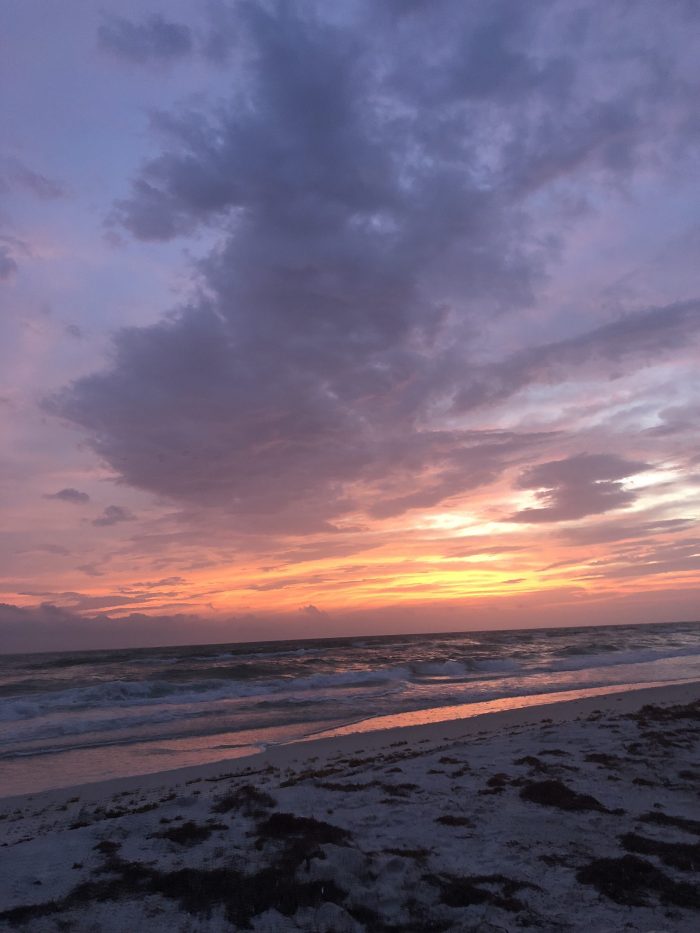 Our third annual girls weekend is in the books! We took a short getaway to Anna Maria Island, which is a sleepy little town an hour south of us. We stayed in a cute condo that was steps away from the beach, and it was actually a super chill weekend. Of course, considering the majority of us are introverts and all of us are major book nerds, it makes total sense that's the kind of weekend we had.
We arrived on Friday and started our weekend by taking a walk on the beach (and our first group selfie!) and then ordering in pizza. We played games, went back down to the beach to watch the sunset, and played some more games before calling it a night by 11 p.m.
The condo we stayed in slept eight – three bedrooms with queen beds and a pullout sofa in the living room. I took the pullout so I could sleep by myself (and because I'm self-conscious about my snoring) and also managed to wrangle six pillows for myself. I love sleeping with a ton of pillows and found four extra ones in the closets and had two friends graciously give me a pillow of theirs since they only wanted one. It was divine. I also took a melatonin both nights to help me sleep since sleeping on vacation often isn't easy for me, and that helped me get two great nights of sleep.
On Saturday, we were surprised by a clear forecast! The night before, I had looked at the weather and it showed 80% chance of rain all day, so we were prepared to spend the day inside. Two of my friends cooked breakfast for the group and then we packed up and headed down to the beach for the morning. It was a beautiful day and I spent it finishing the romance novel I was reading and chatting with my friends. I also ventured into the ocean for a bit, but the waves were crazy and kept knocking me down.
After a few hours on the beach, a few friends and I headed back to the condo where I rinsed off the sand and ate leftover pizza for lunch. When I found out my other friends had relocated to the pool, I couldn't get my swimsuit back on fast enough. 🙂 I spent a few hours down at the pool, chatting and playing pseudo-volleyball.
Then I took a real shower and got somewhat ready for the evening. We went to a taqueria for dinner, and rode in style! While Anna Maria has a great trolley system, we decided to take the "monkey bus," which is a free ride system that will take you anywhere you want around the island. (They ask for tips for the drivers.) It was a lot of fun and nice to be picked up and dropped off right where we wanted. The food at the taqueria was divine and I loved my tacos and most especially the tub of guacamole we ordered. 🙂 After dinner, we walked around the island for awhile before stumbling on an ice cream shop. I mean, you have to have ice cream while you're on the beach, right? Right. I ordered a chocolate chip brownie topped with ice cream and it was a very good decision.
We took the monkey bus back home, and this time it was a crazy ride, as they packed us in there. At one point, there were 20 of us crammed into a tiny bus! It was not the most fun for my friends with claustrophobia, but we tried to make the best of it. (I had to laugh, though, at everyone getting on the bus to go to dinner while we were coming back. Wild and crazy, that's us!)
Once back to the condo, we had a little celebration for our bride-to-be, B., who is getting married in November. We popped champagne and took it down to the beach to watch the sunset.
Afterwards, we went back to the condo to play some games, which I think was the highlight for all of us. We played a game that had all of us rolling on the floor with laughter, tears pouring from our eyes. It's the kind of memory that makes me start giggling every time I remember it. 🙂 Those are the best kinds of moments.
Our last day was Sunday, and we had breakfast at the condo before taking a walk down the beach one last time. Then we just sat around the condo for awhile, reminiscing about the weekend and making plans for our next girls trip (we're thinking Boston next fall!). I feel so very grateful that I have these women in my life, women who make me a better person, and that we're able to take this time together. I know it's unusual for women in their thirties to have these kinds of weekends – they're usually reserved for bachelorette parties – but it's something we all prioritize because it's important to us. We need these weekends together, and it's amazing that this all started due to a book club that has morphed into something more than my wildest dreams. While we still meet every month for book club, we're more than that. We're best friends, confidantes, travel companions, and sounding boards.
I wish I could tell my younger self to be patient, that the friend group that I desired so badly would find me in time. And that what I imagined couldn't come close to the magic that this group of girlfriends gives me on a daily basis.