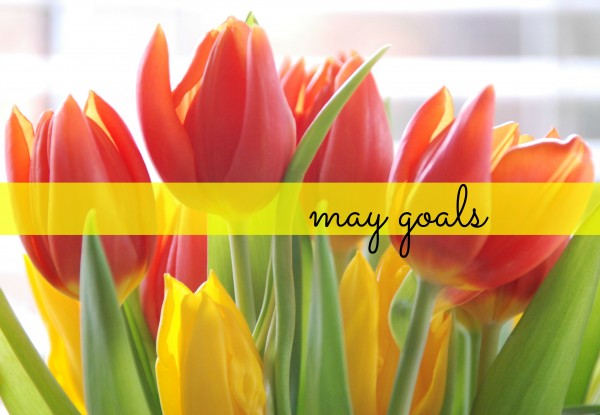 It's the last day of the month, which means we are almost ready to dive into May. I have so many great things planned for May – my cruise, brunch book club, and starting a new DietBet. But first… let's talk about goals, yeah?
Recapping April Goals…
Lose 4% of my weight and "win" Amber's Spring Shape-Up DietBet. Well, I can't mark this as a pass just yet, but doing this DietBet has really changed the way I've attacked losing weight and eating healthy. I am so, so thankful that Amber did this DietBet, and that I joined it, because it really forced me to look at my eating habits and get super serious about losing weight. Even if I don't end up winning (which I don't think is likely, as long as I don't completely fall off the wagon!), I've seen such a change in the way I view eating and exercise, and my clothes are fitting better. That's a huge win, regardless of what the scale says.
Set up a therapy appointment. Oops. I did not do this. It's just one of those nagging tasks that I know I need to do, but I think I'm letting my fears hold me back. I just didn't get much out of therapy from my first therapist, and I don't know if that was me, or her, or both of us. So I'm just putting it off because I'm like… worried I can't do therapy? Which just tells me that I really need to be in therapy. Once you start worrying that you suck at therapy, well, it's all really downhill from there, isn't it?
Work out every day. Nope, but I did start working out six days a week! And I consider that a huge success!
Make two meatless dishes. Nope. I've been searching for meatless dishes, but I just haven't found a dish that looks appetizing to me. (I'm a really, really picky eater.) And the ones I do find that look somewhat yummy are usually pasta dishes, and I'm trying to stay away from pasta as much as I can. (No real reason… just don't need all those carbs!)
Spend less than $150 eating out. PASS! I spent $137 this month eating out. I am very happy about this! That's my lowest eating out total in 2014, and I'm hoping I can keep pushing it lower and lower.
In May I want to…
Enjoy my cruise! I am super excited, if that hasn't been apparent. Mom and I leave this Sunday and we'll spend five wonderful, relaxing days sailing and exploring Key West and the Bahamas. I think marking this goal as complete will be easy!
Join another DietBet and continue losing weight. I really loved participating in my DietBet this past month because it really forced me to get serious about dieting and losing weight. Knowing that I could win my $25 back (and possibly more!) has been super motivating for me. I would like to join a new DietBet around the week I return from my vacation, so I can get right back on track.
Find a therapist that accepts my health insurance. I wasn't successful at scheduling my first therapy appointment so, instead, I am going to break this down into steps. The first step? I need to find a therapist that accepts my insurance. That's it, that's all.
Add at least $400 to my savings. I've been slacking on my money goals for this year, but once my cruise is behind me, I can get back on track. I am hoping to add at least $400 to my savings, which will put me halfway to my goal for this year.
Go back to church. I haven't talked about it much, but I haven't been regularly attending church for well over a year now. Probably closer to a year and a half. It's just something I fell out of habit of, and it's hard getting back into it. Well, that changes this month as I'm going to start making a concentrated effort to attend church on Sundays and hopefully become more involved in the community.
What goals do you have for May?