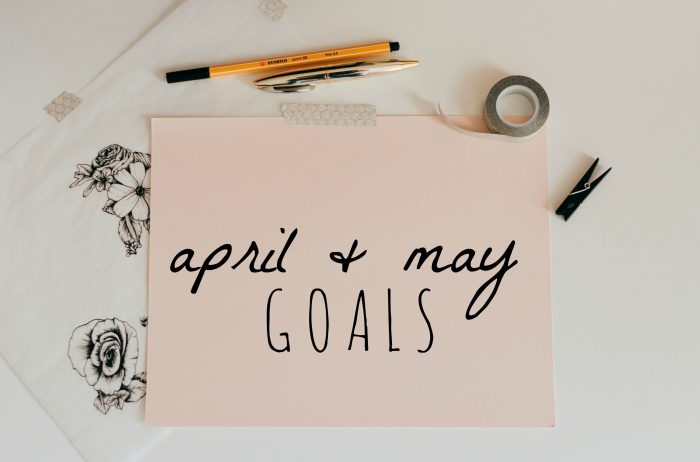 It's the beginning of the month, which means it's time to discuss my monthly goals. I'm pretty happy with how I did, with the exception of not successfully completing a no-spend month. Argh! I am pretty upset with myself for not getting it done, but it is what it is. Here's how my monthly goals went for March:
1) Accomplish my first no-spend month of the year.
Unfortunately, I did not accomplish this. March ended up being a really crazy month for me with lots of plans, some of which came up last minute. I should have been better at telling friends that I was doing a no-spend month, but I wasn't. I was doing well up until the 22nd when things just fell apart for me. So, my plan is to do a 60-day no-spend challenge from June 1 – July 30 and do weekly updates on the blog because I need that kind of accountability.
2) Reorganize and redecorate my bathroom.
Complete! I reorganized my under-sink cabinets, removing all of the baskets I had and replacing them with a pull-out drawer system that is working a million times better. I also redecorated with a new shower curtain, new rugs, new towels, and a new shower caddy. After four-ish years with the same pink-and-white shower curtain, my bathroom feels so different with a teal one!
3) Watch the first six episodes of Game of Thrones.
Oof, not complete. Honestly, I'm okay with not making this goal. I don't really think GoT is for me. Not because it's fantasy or anything like that… I just don't do well with intense, dramatic shows. They affect me way more than the average person. Maybe one day I'll watch the entire series, but it's not something I care about doing right now.
4) Drink less soda.
Complete! I am averaging around 3-4 sodas a week, which is much better than my habit of drinking 1-2 sodas every day. I recently discovered that if I drink too many sodas in a row, I get weirdly light-headed. I couldn't figure out what was causing this symptom until I stopped drinking soda and then would have 2-3 sodas in a row. I'm fine if I have one soda and then wait a day or two before having another one, so that's what I've been trying to do. It's not ideal to have this symptom, but it does help me drink less soda!
5) Hang my jewelry organizer.
Nope – I kept forgetting to ask my brother if I could borrow his drill to hang up my jewelry organizer. I'm also slightly intimidated about hanging it since I have to use a drill, so I keep putting this off and my necklaces remain in a clump on my bathroom counter.
6) Make a writing portfolio.
Not complete. I recently learned that I'm not allowed to use the writing I do for work on a writing portfolio, sooo I guess there's really no need for me to have a fancy-schmancy writing portfolio. The portfolio page on my blog will have to suffice.
So, only two of the six goals I set were completed in March, but I'm still happy with my progress since two of the four uncompleted goals weren't done on purpose. And now, onto my April/May goals. I'm combining these two months together since I won't have space in my blog schedule to report on my progress until early June. Here they are:
1) Drink at least 16 oz of water every day.
As is well documented on this blog, drinking water is one of my biggest struggles. One of my yearly goals for 2019 is to develop a daily water drinking habit, and I really want to focus on this intention over these next two months. My goal is small at 16 oz but that feels very doable for me.
2) Be present in Ireland.
On my cruise last year (which came right as a major depressive episode hit), I had a real hard time being present. I was in a state of intense anxiety for the whole trip and all I wanted was for the cruise to be over so I could be home in my own bed. It's an awful feeling to be on a fun vacation, one you've paid good money for, and not enjoy it at all. I am hoping the same doesn't happen while I'm in Ireland. I hope I can be present and enjoy each day as it comes, and I'm going to work real hard to make that possible.
3) Hang my jewelry organizer.
It didn't get done in March, so it's back on the list. Hopefully over these next two months, I can finally get it done!
4) Rejoin WW when I'm back from my trip.
I'm planning to use the online-only version of WW because I've never found that the meetings to be very helpful. I do like the accountability of being weighed in front of someone, but I'm going to try it on my own for a while and see how it goes.
5) Go to Panera once a week to write.
April is going to be a very busy month, especially on the weekends, so it's going to be a struggle to meet my weekly writing goal. I've been wanting to add in a midweek writing session to my schedule, and the easiest way to do that is to head to Panera right after work, laptop in tow, to knock out a few hours of writing. April is a good month to start this!
6) Check my bank account every morning.
I've fallen into a bad habit of not checking my bank account for… weeks, sometimes. I just get worried about what my balance will look like, so I just don't check it. Which is terrible because what if there's some charge on there that shouldn't be there?! Ack. I want to get in the habit of checking it every morning so I'm not surprised by any crazy charges and can feel more in-the-know about where I stand financially.