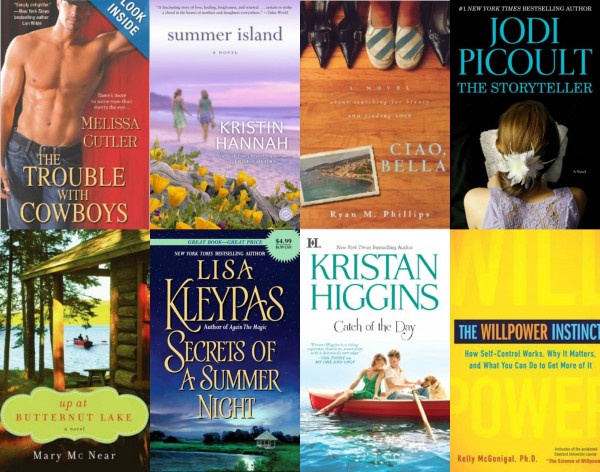 I read 8 books in April, which brings my yearly total up to 27 books read. I'm ahead of my goal to read 75 books this year, and I am very happy about that! The best book I read this month was The Willpower Instinct and my least favorite book was Ciao, Bella.
1. The Trouble with Cowboys by Melissa Cutler (4 stars)
I have such an author-crush on Melissa Cutler! I love the way she writes her romances, how real they feel, how authentic the characters are. It's not as cheesy as many of the romances I read are (not that I totally mind that, but it's nice when it feels less silly and more honest), and I find myself really investing in her novels. I'm so glad I discovered her and can't wait to read more!
2. Summer Island by Kristin Hannah (4 stars)
Kristin Hannah is quickly becoming one of my favorite authors and this novel may be one of my favorites yet. It's a mother-daughter story, about a woman who left her family when her daughters were younger (in high school) and is now a successful radio host in Seattle. Her daughters are grown, one is married with two children and the other is a struggling comic living in LA. While the married daughter has contact with her mother, the other doesn't want anything to do with her. And then the mother breaks her leg in a car accident and needs help, so the younger daughter (reluctantly) steps in, and they return to their hometown and childhood home to rehabilitate – both physically and emotionally.
I love the way Hannah creates characters. Because they're real and messy and raw and vulnerable. They aren't very likeable at times. But there was something authentic about that. I don't think it's always necessary to like the characters you read. I don't think that's the point sometimes. (Hi, Gone Girl.) I think it's better when characters make me angry or upset or annoyed. They make me feel something. I think that's the ultimate goal of writing: you want your readers to feel something strong. Whether about a crazy plot twist or a character flaw or something. In the end, I wound up loving the characters as they turned a corner and stopped being so angry or so wimpy or so secretive. It was a beautiful novel.
3. Ciao, Bella by Ryan M. Phillips (3 stars)
I can't remember when I got this book, but it was a while ago and it's been sitting in my Kindle for a long time. I had high hopes for this story when it began because I could really identify with the main character (facing turning thirty, perpetually single, wanting so badly to have one of those love stories for the ages, a Christian who feels very far away from God…). And then her friends "surprise" her with a makeover on a hit talk show, she's flown to LA to show off her new look, meets a very hot movie star and they begin to date. It was just… very unbelievable to me. And then the main character started making really dumb decisions and I started to really dislike her. And that really tanked the rest of the book for me. I still gave it 3 stars because it did hold my attention and I felt that the Christian themes were really well-done and not overly cheesy. But this one fell short of my hopes.
4. The Storyteller by Jodi Picoult (4 stars)
This book had been super hyped up for me (I had one friend who said it was the best book she's ever read), so I went into it with a lot of expectations. It was a good book. Incredibly well-researched, emotional and hard to read at times. It had a ton of different storylines intertwined, but it was never too difficult to keep track of who was narrating and what was happening. I won't say I particularly enjoyed the novel because it was a very hard read, but it was well-written and a good novel. I won't say it's my favorite (probably won't crack my top ten this year, to be honest), but it was an interesting, engaging read and I give mad props for Picoult for tackling such a hard topic and really helping me understand the Holocaust in a deeper way.
5. Up at Butternut Lake by Mary McNear (3 stars)
A cute, light romance novel! You can read my full review of this book here.
6. Secrets of a Summer Night by Lisa Kleypas (4 stars)
This was a reread. I read it back in 2012, I believe, but it is the first book in a four-book series. I've never read the following three books, but I want to, so I reread the first book to familiarize myself with the characters again. It's such a delightful novel! It was your typical romance novel, but there is something so sweet about the love story. It made me happy and gave me that excited feeling, every time I sat down to read it. I really love historical romance! I should read more of it.
7. Catch of the Day by Kristan Higgins (5 stars)
Another reread! I'm making my way through Kristan Higgins novels again because I love her books and they make me happy. 🙂 They fall into the genre of chick lit for me, and I would say that you would need to enjoy that genre to love her novels. I do think I like her novels more than a Sophie Kinsella novel, but they tend to be cutesy and a bit predictable. (Which I don't mind!) I really loved this book and spent a weeknight parked on the couch finishing it up because I couldn't put it down, even though there was a sad scene that made me cry. Sigh. All in all, another great novel from one of my faves!
8. The Willpower Instinct by Kelly McGonigal (5 stars)
I loved this book so much, I plan on doing an entire blog post around what I learned and how I want to apply it to my everyday life. I filled up seven single-spaced pages of a Word document while reading this book because it was filled with so much good information. McGonigal is a psychology professor who teaches a course on willpower and self-control, and she basically applies the lessons she teaches in that course in this book. So not only do you get to read about interesting studies and psychology theories, but you get to read about real-life examples of students who took her course and worked through her exercises. This book was super interesting to me (gah, the way the brain works is so amazing!), and I also loved McGonigal's writing style. Very personable and witty! I wholly recommend this book!
Some interesting quotes from the book (a little teaser for my forthcoming post, perhaps?!):
Whenever you are under stress, your brain is going to point you toward whatever it thinks will make you happy. Stress shifts the brain into a reward-seeking status. You end up craving whatever substance or activity your brain associates with the promise of reward, and you become convinced that the "reward" is the only way to feel better. (pg. 135)
Self-criticism is consistently associated with less motivation and worse self-control. Self-compassion is associated with more motivation and better self-control. (pg. 148)
When you try to push a thought away, and it keeps coming back to your mind, you are more likely to assume that it must be true. Because you are trying not to think about it, its reappearance seems even more meaningful. As a result, you're more likely to believe it is true. (pg. 214)
Ooh, that's just good stuff. I can't wait to discuss it all in more detail!
What was your favorite read this month? Any thoughts on the willpower quotes?