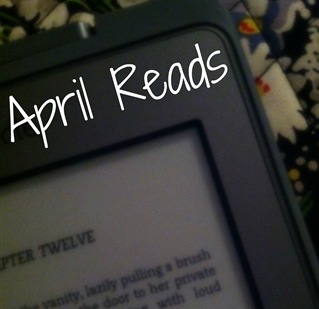 Redeeming Love by Francine Rivers — 5 stars. I have been told by countless people that I must read this book. The premise didn't entice me, so I put it off for a long time. I finally grabbed a copy of the book towards the end of March and it was a book I could not put down. Angel has lived a heartbreaking life, being sold into prostitution at seven. She is cold and hard-hearted and doesn't know how to find her way out. She meets Michael Hosea, a simple farmer, who feels a nudging in his spirit to marry her. Eventually, they do, although Angel has a hard time opening up to him and trusting him. She runs away a few times, but God is relentlessly pursuing her until one day, her defenses fall and she embraces the love she finds in Christ. Each character had something to give to the novel, although my heart was with Angel and Michael more than anyone. They each had their own demons to deal with and I couldn't help rooting for their love story to make it. It's a beautiful story about redemption and the relentless pursuit of God. This is a book worth reading. You would not regret it.
Skinny Bitch by Rory Freedman and Kim Barnouin — 2 stars. I don't really know what I was expecting from this book. A no-nonsense approach? Someone to tell me like it is? What I didn't expect was basically a lecture on why eating animals is the worst thing anyone in the world could ever do, along with some questionable information. (Contrary to what the book says, I don't have to be a vegetarian to be skinny.) The first quarter of the book was pretty good. The information came fast but it all made sense and I enjoyed the approach the authors took. The rest of the book was all about going vegan. The book was fairly biased and offered no real solution, other than everyone needs to be vegan. Well, sorry. I don't want to be vegan. While the authors gave some pretty horrifying facts, I don't think the solution is everyone going vegan. I think there is a bigger problem at hand and no other solution was offered. The book was basically a scare tactic rather than a book on how to eat a healthier diet. Unless you are interested in becoming a vegan, I would not recommend this book to anyone.
Son of a Gun by Joanna Wayne — 2 stars. A Harlequin novel. A light, easy read. It wasn't my favorite book and was heavy on the cheese. The last few chapters had me rolling my eyes, again and again, with the silliness of it all. The premise was enticing, but ultimately, the writing fell flat.
I've Got Your Number by Sophie Kinsella — 5 stars. Sophie Kinsella has been one of my favorite authors for a long time. I devoured her Shopaholic books, even though Becky was a flighty character and could annoy me to no end. And then I started reading her stand-alone books and utterly enjoyed them. Then came "Mini Shoapholic". Ugh. Ugh, ugh, ugh, ugh, ugh. I couldn't make it past Chapter Five. Kinsella made Becky into a terrible, selfish mother and it was the first Kinsella book I couldn't finish. I have now forgiven her for that wretched book, because of I've Got Your Number. Quintessentially Kinsella, with a quirky yet adorable main character and a plot that made me giggle throughout the book. I was deeply entrenched in the world of Poppy and Sam, rooting for them the whole time. It was a sweet, cute story about a woman who loses her engagement ring and her phone gets stolen on the same day. She sees an abandoned cell phone in a bin in the lobby of the hotel where she lost the ring so she takes it to have a mode of communication if the hotel finds her ring. Only problem? The phone belongs to Sam's assistant, who has apparently quit her job to become a model. In order to keep the phone, Poppy essentially becomes Sam's assistant, forwarding emails and learning more and more about this stranger who is becoming a good friend with each new text they send. Chaos ensues as it always does in a Kinsella book, but you just can't help but fall in love with Poppy. Fans of chick-lit: read this novel. It's a good one.
Rejoice by Karen Kingsbury — 4 stars. I am slowly making my way through all of Karen Kingsbury's books. Her books are not for the faint of heart, nor are they happy stories. So far, the Baxter family has dealt with: one of their daughter's husband being murdered by his ex-lover's ex-boyfriend, another daughter being diagnosed as HIV positive, their son's girlfriend's dad being killed in the 9/11 attacks… and now? Another daughter's child drowning in a pool. She survives but experiences brain damage and blindness. SERIOUSLY, KAREN, WHAT ARE YOU DOING TO THIS FAMILY? I feel for the Baxter's, I really do. They don't have it easy! There are strong Christian themes presented and I have to say, I like Karen's no-nonsense approach to writing about faith in a novel. It's refreshing, but I can see how it would turn other people off. I'm up to the last book of this series and I'm just waiting for another tragedy. And even though I'm a happy-endings type of reader, I still thoroughly enjoy these novels and get so much out of them.
Body Language by Suzanne Brockmann — 3 stars. This book was a lot different than most of the books I've read by Suzanne Brockmann. It was a romance and I found out later it was written fourteen years ago. The book mainly showed me how much the author's writing has improved and matured over the years, because this book fell flat for me. The characters were one-dimensional and the plot was boring. It mainly involved two best friends who have feelings for each other but neither wants to make the first move, because they're scared of ruining their friendship. It wasn't an original storyline by any means, but it was cute enough to warrant three stars. It's an easy read, but I can recommend a dozen other Brockmann books before this one.
Divergent by Veronica Roth — 5 stars. This was our #twookclub pick for April and we had a great turnout this month! I really enjoyed the book and yes, it was the first dystopian novel I've ever read. (I am one of those rare breeds of readers who hasn't read The Hunger Games. Don't shoot!) I'm not a huge dystopian genre fan and I wouldn't say this novel sold me on the genre but I enjoyed it a lot more than I thought I would. I liked the romance between Four and Tris, even though some said it was silly and unnecessary. I thought the plot was fast-moving and interesting, but not enough that I felt like I had to read the next book in the series. Maybe I'll read Insurgent, maybe not.
Cavanaugh's Bodyguard by Marie Ferrarella — 2 stars. This was one of those Harlequin romance novels where I never fully grasped who the characters were. It had the potential to be a good story, but the writing fell flat. The meat of the story involved two police detective who had been partners for a while now and discover they have feeling for each other. Cheesy? Oh, yes. I really can't find redeeming qualities of the novel, other than it was a quick, light read.
It Had to Be You by Susan Elizabeth Phillips — 4 stars. This was a really cute romance novel, with a lot of depth. The two main characters, Phoebe and Dan, completely captured my heart. Phoebe is a girl who only ever wanted her father's acceptance but because he refused to give it, she sought it in other things: at first in sleeping around and later with taking her clothes off for nude portraits. Her father, a respected businessman and owner of a football team, was disgusted by her. After his death, she finds out she is the sole owner of the football team — but only if her team wins the AFC Championship Game (highly unlikely). Dan is the head coach for the football team and not happy this "bimbo" will be a part of the team. The blooming relationship between Dan and Phoebe was sweet and I couldn't help but root for them. I will say that the ending was super corny and the epilogue was unnecessary. (Aren't most epilogues, though?) For that reason, it dropped to a 4, but still a really great read.
Books read in 2012: 31
(I am killing my goal of reading 75 books this year. If I keep going at this rate, it's possible to hit 90 books! What!)
I'm most especially curious to hear what people think of Skinny Bitch, if you've read it? What were your thoughts on the book? And, of course, I welcome any opinions on the other books mentioned above! I'd love to hear what you think of any of the books listed!