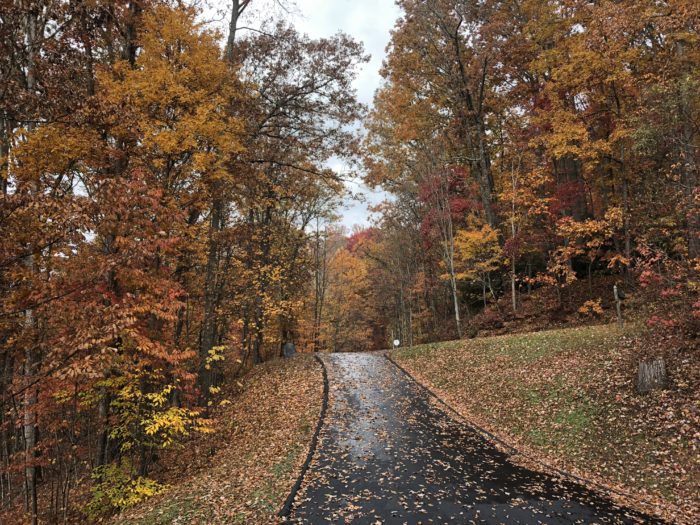 We didn't have anything going on in the morning of our second day in Asheville, which allowed all of us to sleep in. I ended up waking up around 7 AM (which felt like 8 AM with the time change), so I went out to the living room with my book and waited for other people to venture downstairs.
Slowly, people began waking up and one of the girls brewed coffee for all of us. I ate a bowl of cereal and chit-chatted lightly with the girls who were up, before taking a shower and doing my hair and makeup in one of the bathrooms (thankfully, we had three bathrooms for seven girls, so there was not a competition for bathroom space!)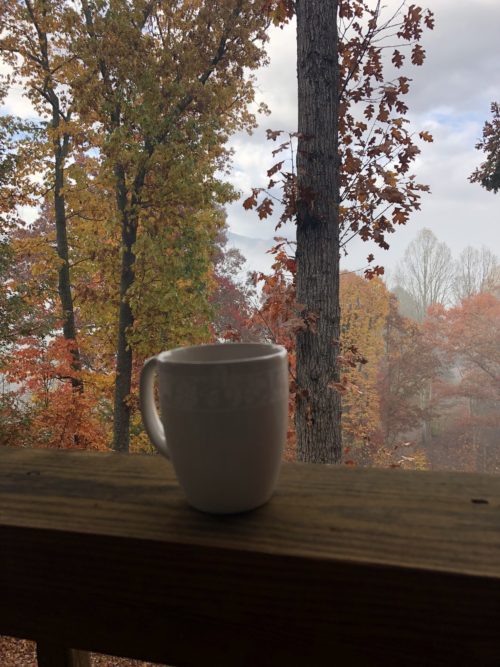 We were splitting up our group again for the afternoon, as some of the girls wanted to do a food tour. I'm not a foodie and super picky, so I didn't necessarily want to spend $60+ on a food tour. Thankfully, two of my friends felt the same way, so we opted to do a comedy tour of Asheville. We left the cabin an hour before the other girls so we could grab lunch beforehand.
We went to White Duck Taco Shop for lunch, based on a friend's recommendation and we were not disappointed. We ordered mimosas and chips and queso for all of us to enjoy, and then each got two tacos. I chose steak and cheese and Thai peanut chicken. The steak and cheese taco was phenomenal, but I didn't enjoy the Thai peanut chicken taco. It was way too spicy for me, so I ended up wiping off the majority of the sauce and dunking the chicken breast in the Mexican crema.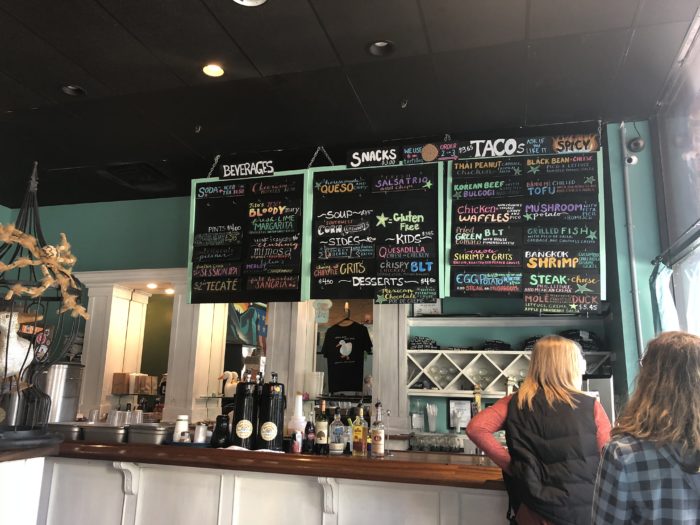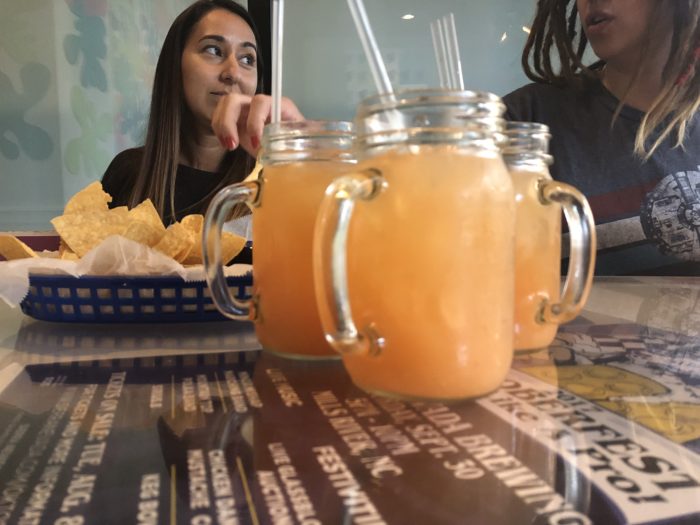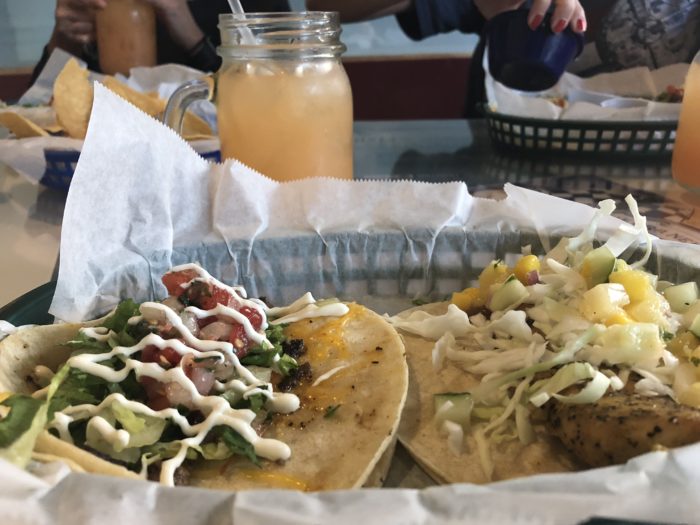 After lunch, it was time for the comedy tour! I'll be honest: I was hesitant to take this tour because I had heard that audience participation was required, and I hate stuff like that. (Social anxiety, heyyo!) But a friend who had taken the tour before promised me it wasn't a big deal and I would be okay, so I trusted her.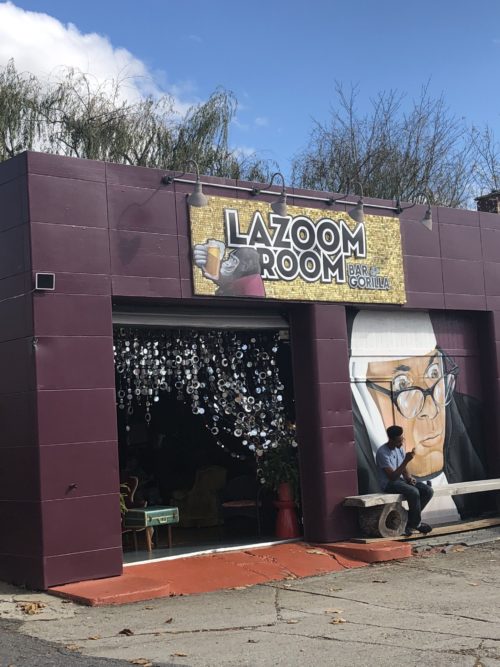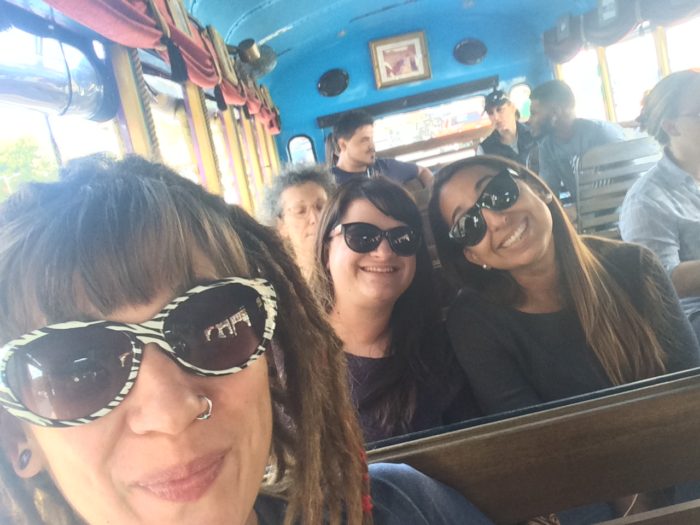 The comedy tour took us all around Asheville in a bright purple school bus, the flamboyant guide pointing out specific landmarks and their history. We took a pit stop at a brewery and then continued on our way. I think what I loved most about the tour was driving through some of the neighborhoods of Asheville because the houses were so picturesque, with wraparound porches and yards full of trees. It was the perfect suburban landscape!
The tour was about an hour and a half long, and it was a fun experience, but not one I'll be recommending to everyone (not like I do for Savannah Dan's tour in Savannah!) It was kitschy and over-the-top, so you really have to be in the mood for a crazy time.
Once the tour was over, we hopped off the bus and headed straight to French Broad Chocolates for a mid-afternoon snack.
Lisa is the one who told me about French Broad Chocolates, and if you know me, you know that I am down with anything involving chocolate and baked goods, so I really hoped to check it out when I was in Asheville. Thankfully, the shop was a short walk from where the tour ended. and we had some time to kill while our friends continued their food tour, so it worked out perfectly.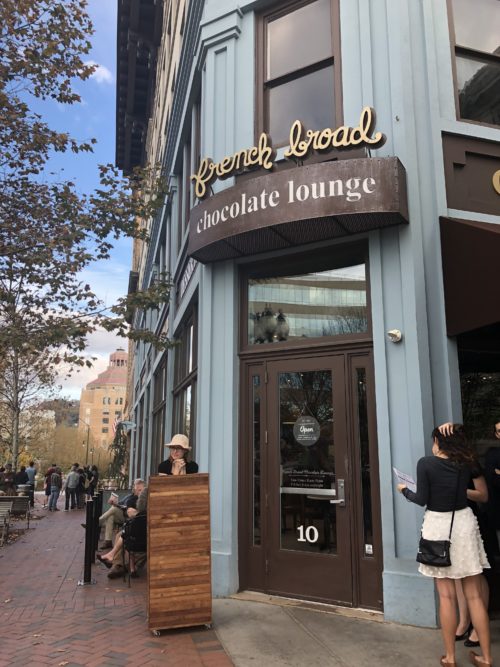 The line to FBC snaked out the door, but that gave us plenty of time to peruse the menu. There were so many great options – do I get a cookie, a brownie, a piece of cake? Do I opt for the hot chocolate or a coffee? I was still undecided when I got up to the counter, but ultimately settled on a peanut butter brownie and salted caramel hot chocolate.
YOU GUYS.
That was the best brownie and hot chocolate OF MY LIFE.
I cannot even get over how delicious both were. I am still dreaming about that hot chocolate. This place is a must visit for anyone traveling to Asheville. I am a believer now.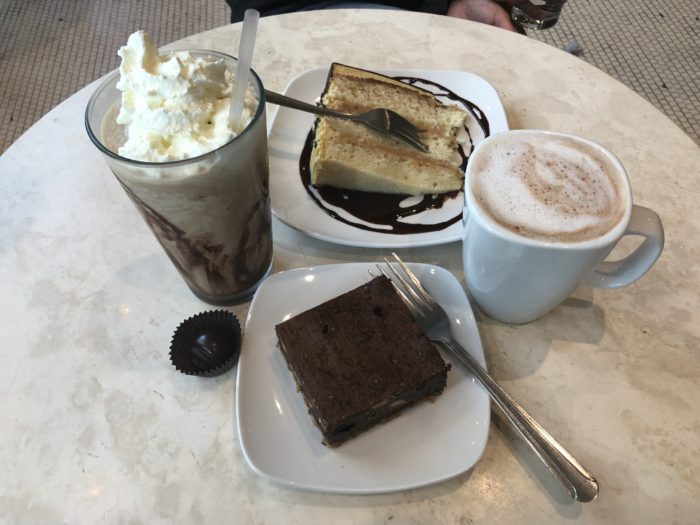 Once we finished with our yummy snack, we headed over to Malaprop's, Asheville's independent bookstore. The funny thing about my book club is that none of us are very big into bookstores. We're all heavy library users, and most of us don't even have extensive book collections. But I still wanted to visit Malaprop's for the experience of going.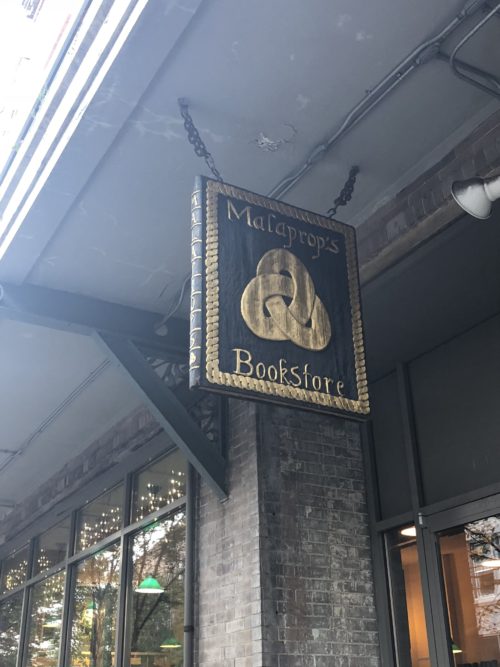 Malaprop's is a tiny bookstore tucked away in a busy street in downtown Asheville, and it is part bookstore, part cafe. Obviously, the bookstore is teeming with books for purchase as well as knick-knacks, bookish clothing, organizational tools, and more. They even have Blind Date with a Book, something I've always wanted to try! Three of us decided to take on the challenge and picked out books. (And believe me, picking out the book was so difficult! At one point, I had four books in my hand.)
Once the books were purchased, we opened them… and disappointment for two of us: we received books we had already read! In fact, the book I picked had been a book club selection a few years ago, ha. Thankfully, at Malaprop's, if you receive a book you've already read in Blind Date with a Book, you can exchange it (you can either try another blind date or pick out your own book, and you just pay the difference if it's more than what the blind date book cost). Neither of us felt up to trying another blind date, so we picked out our own books. I ended up grabbing a paperback copy of Behold the Dreamers by Imbolo Mbue, which I have heard rave reviews about.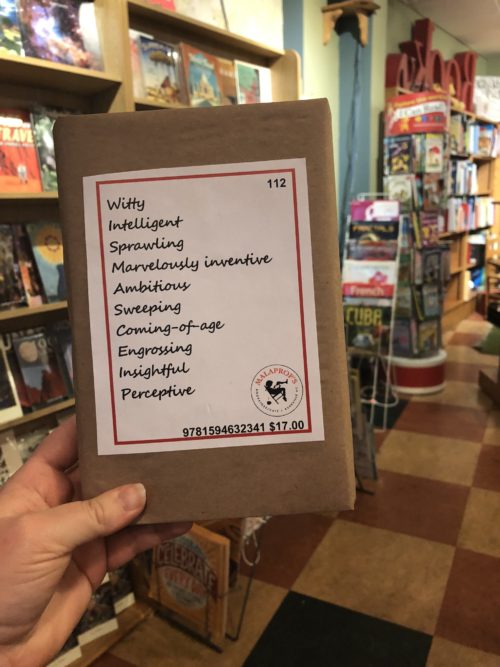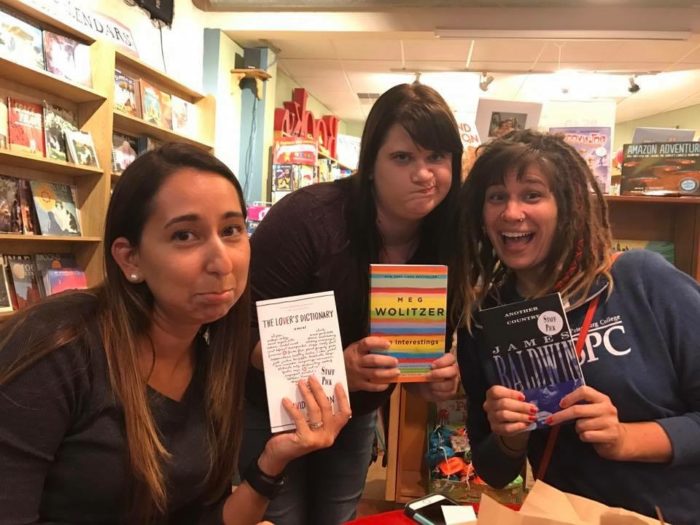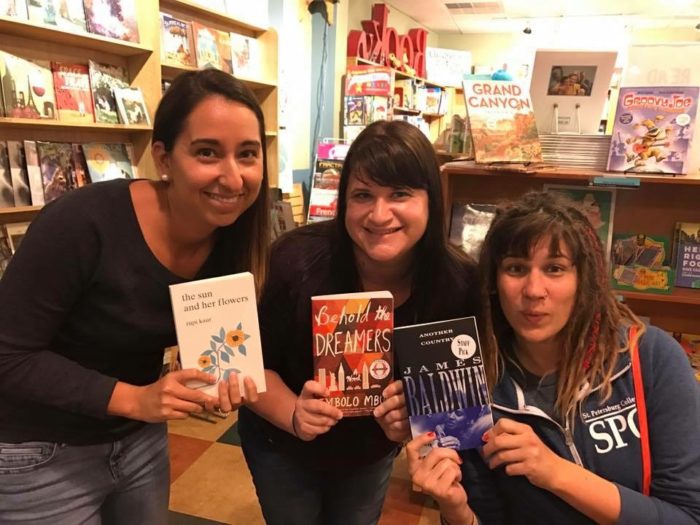 Our day wasn't over, though! We still had a ghost tour that evening, so we headed to a pizzeria for dinner. (The girls on the food tour had caught up with us at Malaprop's!) None of us were super hungry, so we didn't eat much. I only managed one slice of pizza and one garlic knot. We weren't too impressed with the food at this pizzeria, so I'll let it remain unnamed. 😉
After dinner, we walked over to a "creepy alley next to Asheville Masonic Temple," which is where the ghost tour was said to begin. I love going on ghost tours when exploring a new city because I think it's a fascinating (if creepy!) way to learn about the history of a city. This one was no different. Our tour guide was probably the best ghost tour guide I've had (usually, ghost tour guides are quite eccentric!) and spoke from a place of authority, but without seeming too over-the-top. Even though I like taking ghost tours, I'm not sure I'm fully on board with the idea of ghosts, so it was nice to have a tour guide who was just like, "Eh, believe me or not, I don't really care." Refreshing!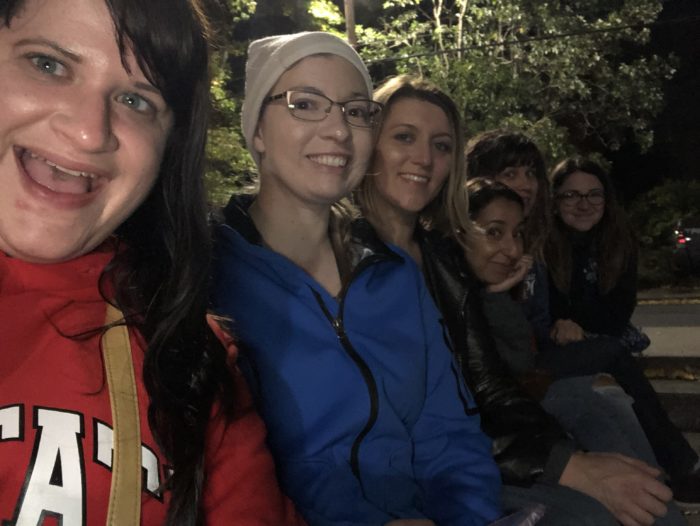 The ghost tour took us all around Asheville and thankfully, every other stop had an area where we could sit down and rest our legs. It can be quite a lot to walk around for two hours (and the girls who had done the food tour had already done that!), so that was thoughtful of him to give us options for sitting!
Overall, the tour was fantastic, though the ghost stories were a little blah, in my opinion. But it was interesting to get  a view of what Asheville looked like in its beginning days through the guide's words.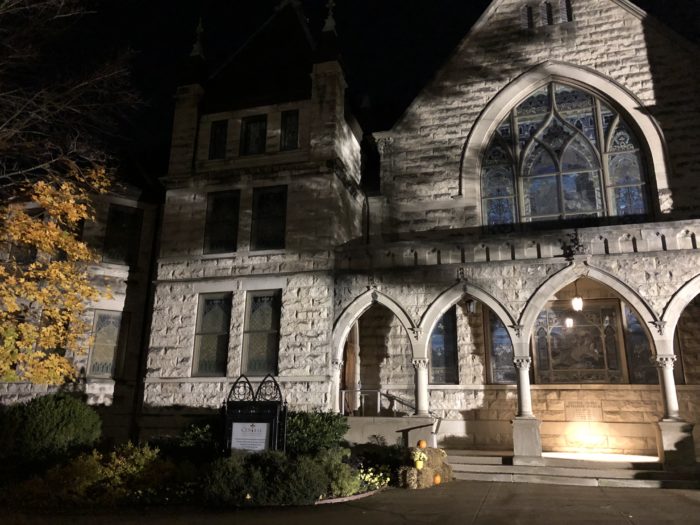 Once the tour through Asheville was complete, we went into the Asheville Mystery Museum, which isn't open to the public. This museum is not for the faint of heart, as it features news clippings and real artifacts from some of the creepier things that have happened in Asheville. And, of course, there's a spooky soundtrack playing as you make your way through the museum.
We didn't stay in the museum for very long because it was late at this point and we had a 40-minute drive ahead of us. We got home around 11 or so, and whew. What a busy day! I fell asleep within minutes of my head hitting the pillow. I was tired, both physically and emotionally.
Have you ever been on a ghost tour?