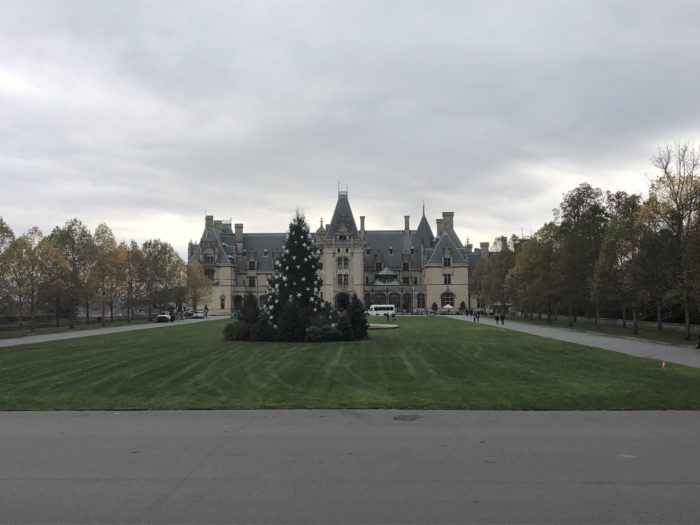 On our third day in Asheville, I woke up around 8:30 and most of the girls were up by then. (Most of us are early risers, if you can't tell from these recaps!) I got some coffee, chit-chatted with everyone, and then started getting ready for the day. It was going to be another busy one!
Around 10:00, we all left the cabin to venture into downtown Asheville for brunch. Our goal was to check out Tupelo Honey Cafe, a restaurant I've heard so much about. The restaurant was much smaller than I imagined and for a group of seven at 10:30 on a Monday, the wait was 45 minutes!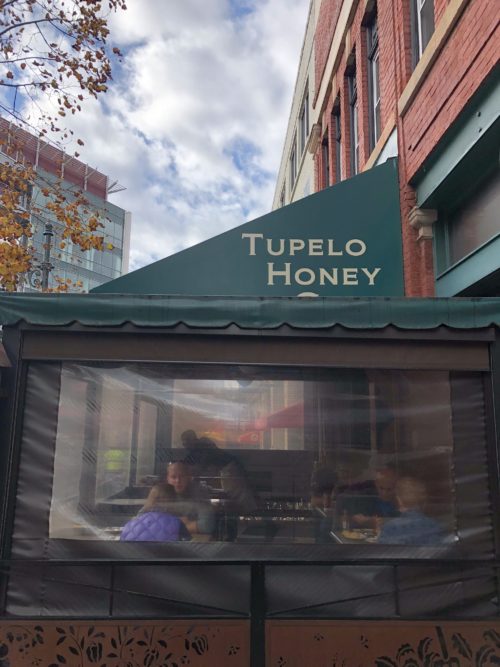 We weren't willing to wait that long, but thankfully, we were able to be seated immediately if we split up our group. So, we split into a group of four and three and… were seated right next to one another. Ha! So it worked out perfectly.
I ordered a mimosa and shared a meal with a friend, which was a great decision because it was the perfect amount of food for the two of us, but would have been way too much food for one person. We split the fried chicken and biscuits and got a side of baked mac and cheese. We were also given a plate of biscuits with honey and blackberry jam for the table, and those biscuits were phenomenal.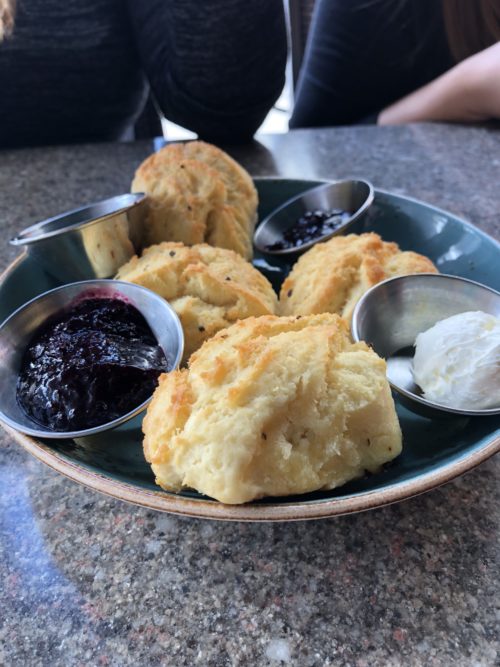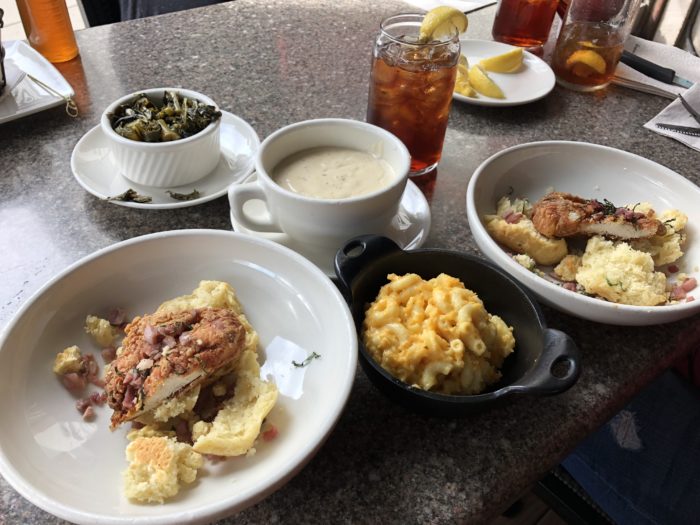 If you haven't guessed it already, Tupelo Honey Cafe gets two thumbs up from me. It's definitely worth checking out when you're in Asheville! They know how to do breakfast.
Once we were done with breakfast, it was time for the big adventure of the day: exploring the Biltmore!
I wasn't sure what to expect when arriving at the Biltmore. I knew it was going to be massive and opulent and exceed all of my expectations, but it went even further than that. I don't even think I could grasp the magnificence of the Biltmore. Especially on my first visit (and since we opted out of the audio tour; if I ever go back to the Biltmore, I'd definitely invest in the audio tour because I think it would give me a greater appreciation and understanding of this estate).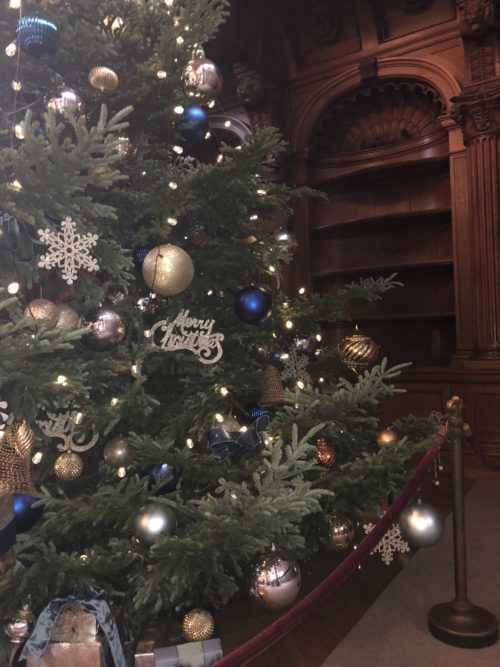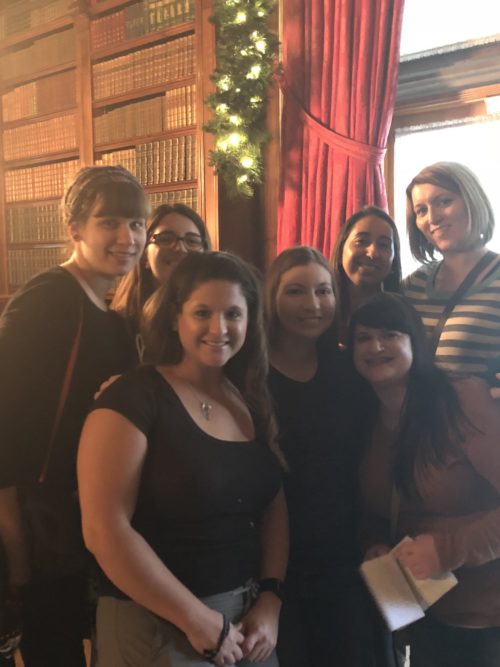 We started in the Biltmore home itself and it took us forever to get through it. At least an hour and a half, I would guess, maybe longer. (In contrast, you could tour my entire apartment in 30 seconds flat. Ha.) The beauty was that it was all decorated for Christmas and had over 60 real Christmas trees in the house. There were rooms to visit, a massive library, servant's quarters, the kitchens, a bowling alley, a pool… and probably a million other rooms that are slipping my mind. It was incredible. (And blew my mind how busy it was there on a random Monday morning! I imagine it's insanity during the weekends.)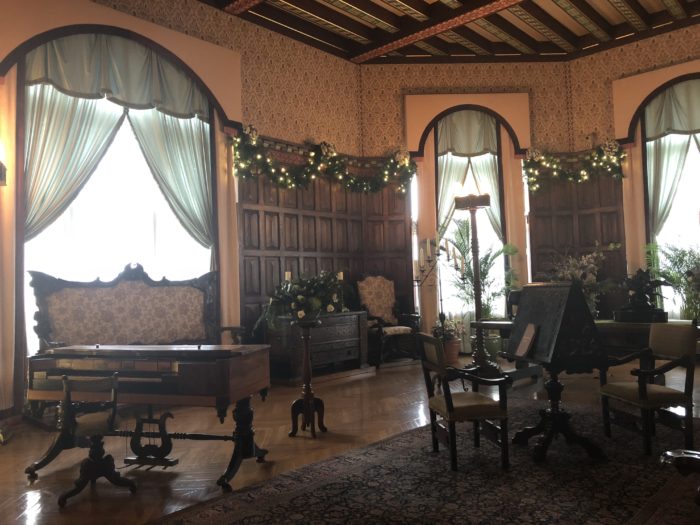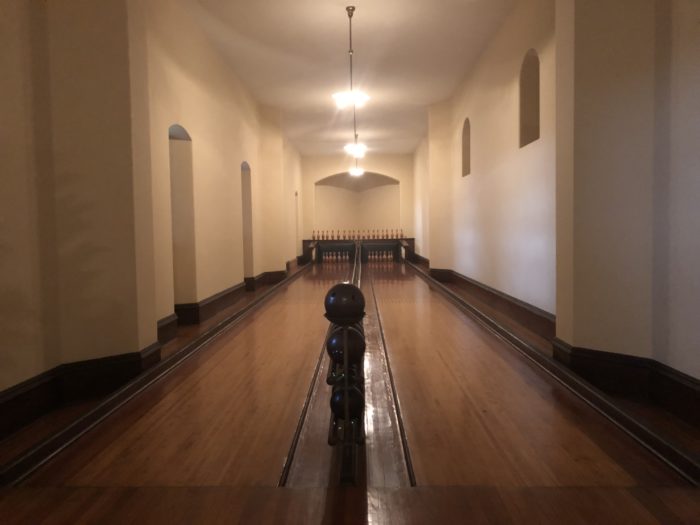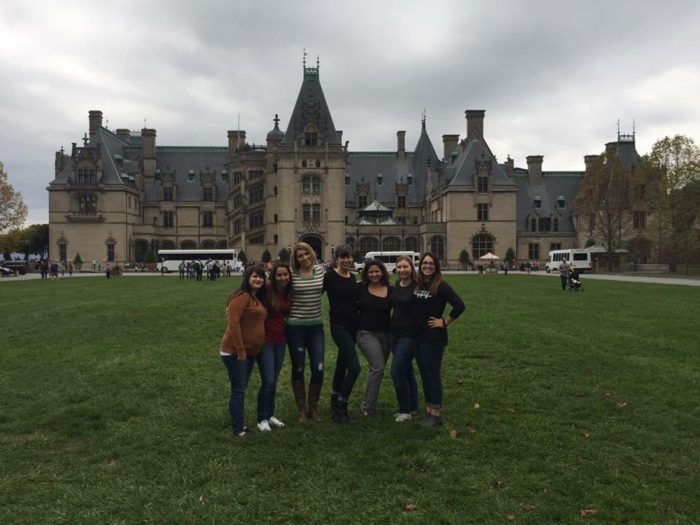 After working our way through the Biltmore, we took a tour of the gardens, which were sprawling and beautiful, full of rosebushes and brightly colored flowers and a conservatory with lush green plants. It was hard to even comprehend having this much space to build gardens of this capacity.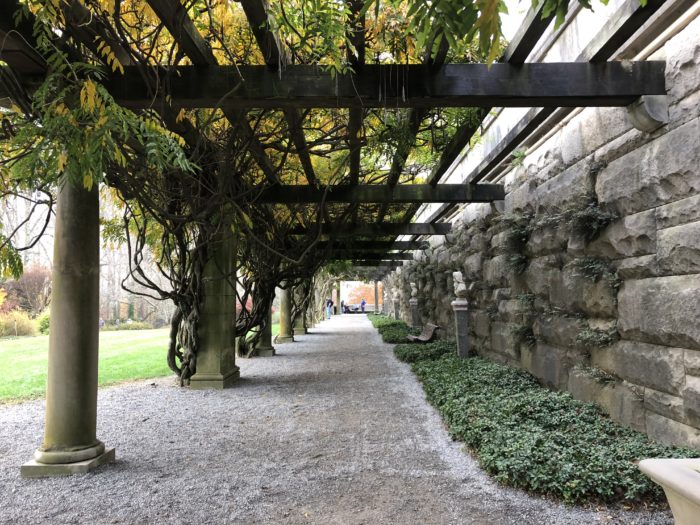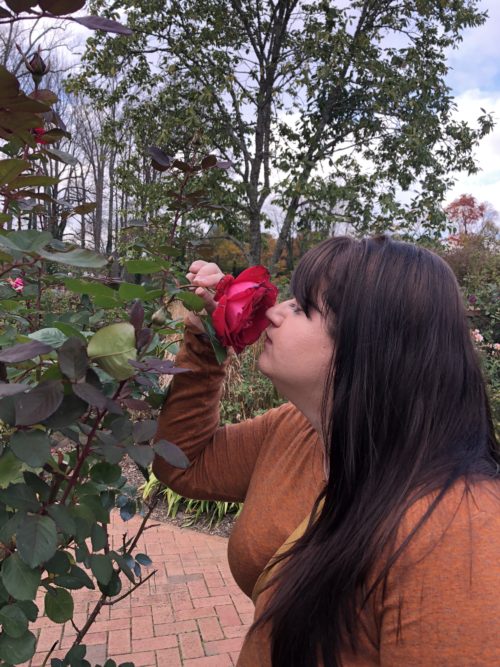 Once we finished with the gardens, we made our way back to the car to visit the winery. You guys, it took us at least 10 minutes to drive to the winery. My friend who was driving kept saying, "Just think! We're still on the Biltmore property!" It was hard to fathom.
Many of us were pretty overwhelmed by this point, our energy reserves tanking, but we rallied as best we could to enjoy the free wine tasting that came with our ticket. And, fun fact: this is the first wine tasting I've ever done! I'm not much of a wine person (I'm moderately allergic to wine. I'm okay if I have it in small doses, but even a glass of wine makes me break out, unfortunately.), so I tend to stay away from it. I also don't really enjoy the taste of wine, especially red wine, so I don't particularly think I'm missing out. Eh.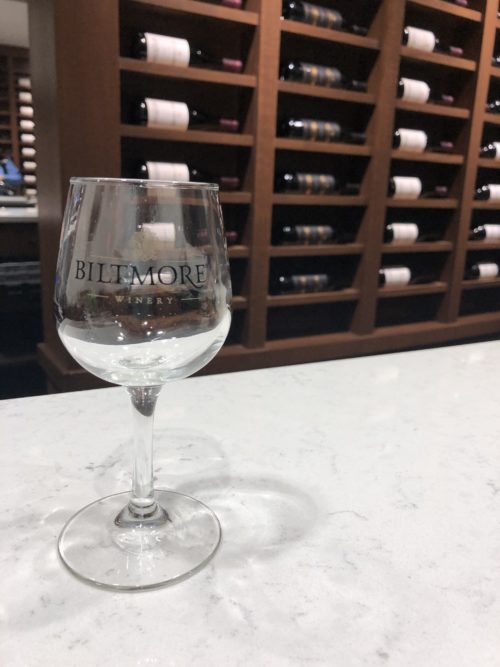 The wine tasting was super fun, though! Much more enjoyable than I expected. While I did try one red wine, I could only handle one tiny sip and then gave it to a friend to finish off, haha. Mostly, I stuck with whites and a rosè, which were fairly tasty. I'm still not on board with wine, so I'll need some more convincing. 😉
After the wine tour, we were tired. It had been a long day and a lot of walking around and taking things in, so we enjoyed a quiet ride back to the cabin in Waynesville.
Our plans for our last night were simple: tacos, games, and s'mores by the fire.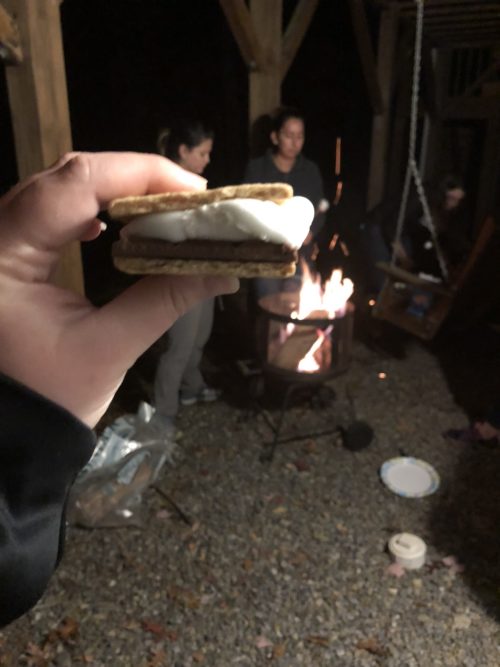 There truly isn't a better dessert in the world than s'mores, I don't think, especially when the marshmallows are roasted by the fire. Mmm.
After we enjoyed our s'mores, we went inside to watch some of the girls play pool and then played a game of Phase10 where I lost my ever-loving mind because Phase10 makes a side of me come out that I'm not proud of. I have banned myself from playing that game ever again.
At that point, we were very tired from our busy day, so we called it a night. I don't even think I finished the chapter I was reading before I fell asleep.
The next day was our last morning in Asheville. Our flight left in the afternoon, so we had another slow morning in the cabin. It was raining hard in the morning, which was actually perfect. We all just wanted to relax and take it easy, and the rain made the perfect backdrop.
We took showers, packed up, and cleaned up the cabin before taking our last trip into Asheville for breakfast. We decided to check out Biscuit Head, which I was especially excited about because a few people had told me to eat there.
I was not disappointed! I ordered a simple bacon, egg, and cheese biscuit with a s'mores latte and both were incredible. The biscuit was the best I've ever had and the latte was out of this world. This place gets two thumbs up from me, most definitely!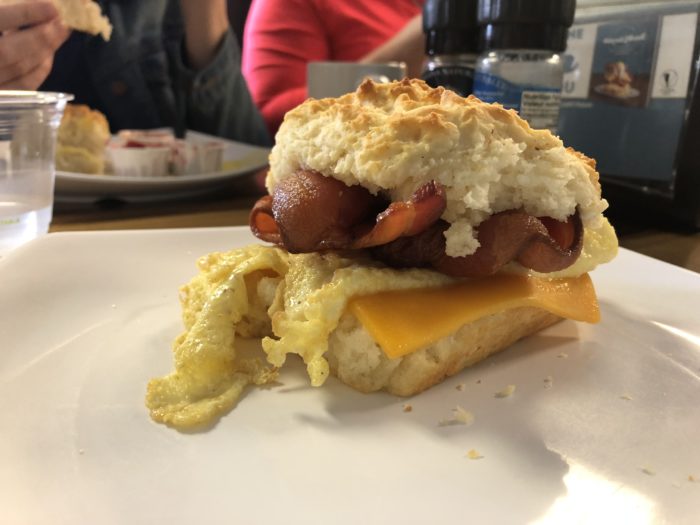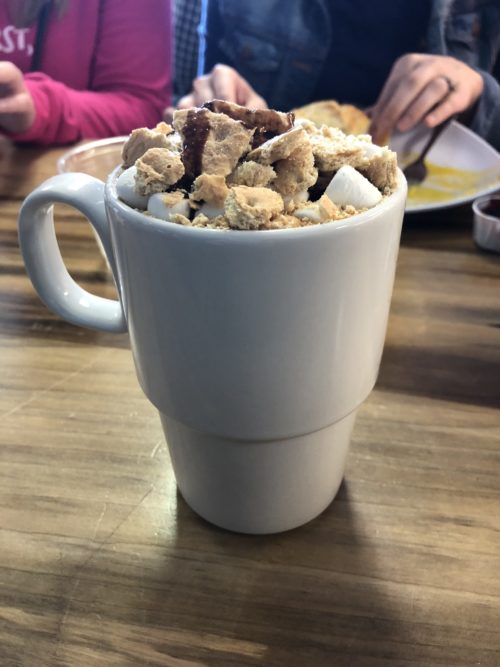 Once we finished breakfast, we strolled around downtown Asheville for a while, poking into the different shops, before heading to the airport, concluding our wonderful trip to Asheville. I definitely hope I can make my way back to this city again. It's a beautiful place and there's really so much to do, whether you love active vacations or more low-key ones.