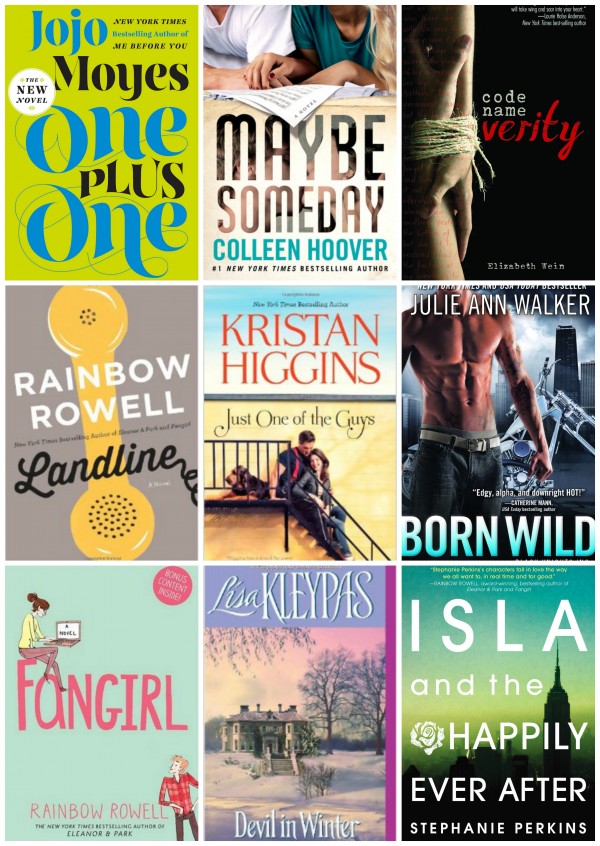 It's time for my monthly run-down on books I read over the past month. I ended up reading 9 books in August, bringing my total books read to 60. It was hard to pick a favorite book because I read so many great ones! But I would say Maybe Someday was my favorite, and Code Name Verity was my least favorite.
1. One Plus One by Jojo Moyes – 4.5 stars
I wasn't sure what to expect from this novel because I have high standards for Jojo Moyes' books. Me Before You stands as one of the best books I've ever read, and I've yet to read a book that has touched me in the same way.  But I've also read The Girl You Left Behind, and I didn't care for that one all that much. So she either hits it out of the ballpark with me or falls incredibly short of my expectations. This book? Definitely a favorite! I just completely adored all of the characters and the plot was so interesting to me. I love this author so much.
2. Maybe Someday by Colleen Hoover – 5 stars
This was my first Colleen Hoover book (many of my friends adore her!), and I can easily see why she is such a beloved author. This was a sweet romance that went so much deeper than your usual YA romance. There was so emotion, so much maturity, so much depth. It was a book I just couldn't put down and had a major book hangover when I finished it. I can't wait to read more from her!
3. Code Name Verity by Elizabeth Wein – 3 stars
I read this for book club and was even the one who suggested it because I had heard nothing but rave reviews of the novel. And I have no idea why people love this novel so much. I was so bored by it, though the last half saved it from being a truly awful novel. I feel like I missed something because I didn't even like this book, much less love it. Meh.
4. Landline by Rainbow Rowell – 4 stars
Rainbow Rowell is one of my new favorite authors. I just adore her writing. This novel was a bit of a departure from the love stories I'm used to reading from her, but it was still a wonderful story. While it's probably not my favorite Rowell novel (Attachments forever holds #1 place in my heart), she can do no wrong in my eyes when it comes to her novels. My only criticism was that I wish Rowell had made Georgie's husband a bit more likeable. It was hard to root for their marriage to make it because he seemed so whiny at times. Still, a wonderful novel that made me happy sigh when I finished it.
5. Just One of the Guys by Kristan Higgins – 4 stars
I'm rereading Kristan Higgins' books because I love this author so, so much. Her books just make me so darn happy! They are lighthearted, romantic, funny, and sweet. They feature awesome main characters that have depth and spunk, and a cast of secondary characters that you can't help but love. I wouldn't say this is my favorite novel of hers (I wanted more from the love story), but it was still a very good read.
6. Born Wild by Julie Ann Walker – 2.5 stars
I didn't love this book. I read it slowly, during bouts on cardio equipment at the gym. It never truly captured my interest, and I felt that the characters were two-dimensional and some of their actions were inconsistent. And I felt that the sex scenes were just… kinda gross? I dunno. I felt like the author tried too hard to be RACY and SMUTTY, and it just fell flat.
7. Fangirl by Rainbow Rowell – 4 stars
If there has ever been a fictional character that I have most closely identified with, it is Cath in Fangirl. She is fantastic. Although I wish my freshman year at college evolved like hers did! Alas, my life is not a cute YA novel, and my whole year was awful and miserable and I can't tell you how many days I called my mom crying because I hated it so much. But. I digress. This book was good! Everything Rainbow Rowell writes is good. She's just wonderful. I will say that as much as I wanted to give this book 5 stars, the Simon Snow parts were very boring and I didn't feel added much to the novel. And now I have read all of Rowell's novels and I am a sad, sad panda.
8. The Devil in Winter by Lisa Kleypas – 4 stars
I think this book might be my favorite one of Kleypas' yet! This is the third book in her Wallflowers series, and follows Evie's story as she proposes marriage to notorious rake Viscount Sebastian St. Vincent. I loved their relationship and seeing it grow. I adored Evie and seeing her mature throughout the pages. Just. Fantastic. So fantastic.
9. Isla and the Happily Ever After by Stephanie Perkins – 5 stars
Gosh, Stephanie Perkins is perfection. I love, love, love sweet YA romances. They are just such a nice escape. I couldn't get enough of Isla and Josh. They were adorable, I loved how much they loved each other. I finished this book in under 24 hours because I couldn't put it down. I didn't really want to do anything except read the book, and then, when I finished it, I was in a book hangover fog that took a while to get out of. All signs of a fabulous novel!
What was the best book you read in August?