It's time to reveal my top 10 reads of 2016! With 95 books to choose from, it was hard to whittle this down to just 10 that I absolutely loved. There's nonfiction, there's romance, there's fiction, there's chick-lit, there's dystopian. In short, there's something for everyone on this list. I hope at least one or two of these jumps out to you as something to read in 2017. These books will be worth your while, I promise.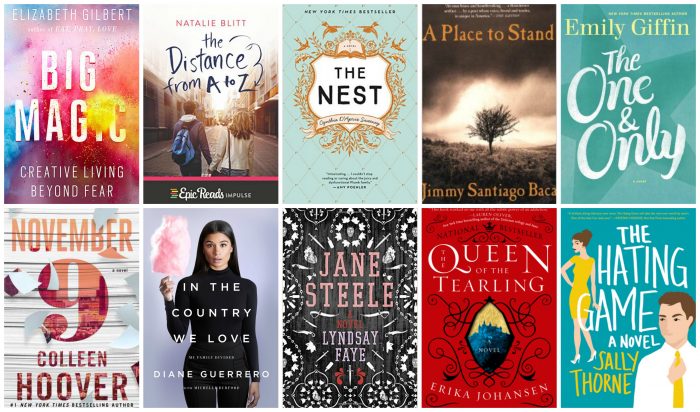 I really feel like this book is a must read for any creative. I love the way Gilbert approaches creativity and art, and it's a book I can see myself returning to again and again whenever I need to be inspired. I wrote a post detailing the five lessons I learned from this book because it had such a strong impact on me and my art.
This was a really sweet YA romance that I reviewed for a friend. I am so glad I was given the chance to read this delightful novel because it made such an impact on me that it's one of my favorite books of the year! It follows the romance between Abby and Zeke during their time in a French intensive course during the summer and their love story just made me so darn happy. I devoured this book in 24 hours and now I am waiting on pins and needles for the author's next release.
This novel has gotten so many mixed reviews, but count me among one of the people who really loved it. The characters were wholly unlikable and their family dynamic was incredible dysfunctional, but there was something totally relatable about the novel. The premise is that there are four siblings and they all have been waiting for the day when they'll get a multimillion dollar payday from their trust fund (aptly called "The Nest"). Unfortunately, before that can happen, one of the sibling's is involved in a car accident with a woman who is not his wife and when the women is badly injured, the family has to use a portion of "The Nest" to pay her off. Obviously, this reaps a lot of selfish feelings and annoyances from the other siblings who were counting on the payday for various reasons. I know this novel isn't everyone's cup of tea, but man, it was a book I could not put down or stop thinking about. I hated and loved these four siblings and thought this was a brilliant debut by Sweeney.
This book was such a hard read, but I am so glad I read it. It was one of the books I read this year for Postal Book Club, and I remember how I kept putting it off and putting it off because I knew it would be difficult. And it was. Jimmy Santiago Baca lived a hard life. He was abandoned by his parents at the age of 10, thrust into an orphanage, and by 14, he was living on the streets and getting into lots of trouble. At the age of 21, he was convicted on drug charges and served six-and-a-half years in prison. It was during his time in prison where he learned to read and write and began writing poetry. At times, the book made me uncomfortable and broke my heart, so I had to set it down and step away. But, even so, there was something profoundly beautiful about Baca's story. It showed the power of the human spirit and how we can persevere even when life looks bleak and hopeless.
This is probably the best Giffin novel I've read, and I realize I'm alone in this opinion. For some reason, this novel has gotten terrible reviews, and while I can understand why, it was one of my favorite books of the year. I loved all of the football talk, I loved the blossoming relationship, and I loved the setting. It follows the story of Shea after tragedy strikes her small town and everything she thought she knew about life and love is upended. She questions herself, her path, and what she thought she wanted from her life. I wish the relationship between Shea and her best friend Lucy was stronger (Giffin tends to write contentious female friendships, and it bugs the hell out of me!), but it was still such a fantastic read. I couldn't put this novel down for anything.
This is the kind of book that makes me want to totally give up on my dream of writing because there is no possible way I could ever write a book as amazing as this one! No way I could write characters who feel so real! It was the kind of book that I couldn't stop thinking about and made me want to put my entire life on hold until I finished it. It was just. so. good. I love, love, love Colleen Hoover. This novel took so many twists and turns and I was on the edge of my seat until the very end, wanting to know if everything would fall into place.
I have a lot of nonfiction in my top 10 reads for this year, but this one was easily my favorite of the bunch. Diane's story is heart-wrenching and difficult to read, but it's so important, especially right now with everything that's happening in politics. At the age of 14, Diane's parents were deported, leaving her – a U.S. citizen – alone in America. She depended on the kindness of friends and their families to help her through high school, giving her a place to stay and food to eat. The courage and vulnerability that had to take just blows my mind. In the end, this is Diane's memoir, but it's also a call to action about immigration. It really opened my eyes up to what immigrants go through and how easily they are taken advantage of. If there's any book you read from this list, please let it be this one.
This book was so, so, so fun to read. It was pitched to me as a retelling of Jane Eyre, but people who have actually read Jane Eyre said it's not so much a retelling as a homage. It basically envisions Jane as a serial killer, righting the wrongs of citizens. Eventually, Jane ends up at her old childhood home, a place she believes is rightfully hers, after the new owner, the suave Charles Thornefield, puts out an advertisement seeking a governess. This book was such a delight and I want everyone I know to read it. (My book club is reading this for January, and if any of them don't love the novel as much as I do, I'll be completely heartbroken.)
I recently reviewed this book, so this one is probably fresh in everyone's mind. I loved this novel so much. I'm actually going to use a gift card I received for my birthday to purchase the next book in the series. It was such an incredible read and I would just love an ounce of Johansen's creativity. This world she envisioned is so detailed and perfectly written. It's a dystopian novel that follows 19-year-old Kelsea as she becomes queen of a nation in disarray. She has to learn the ropes of being queen quickly and makes a ton of mistakes along the way. It's a brilliantly written book and it's another one I want everyone to read so we can discuss. (Oh! It is also going to be a movie and Emma Watson is starring as Kelsea. DO I NEED TO SAY MORE?!)
Honestly, I couldn't name any book other than this one as my favorite of the year. I can't remember the last time I had such a fun time reading a novel, and I don't understand how this is her first novel. (What?!) The characters were outstanding, the plot was fun, and I had happy butterflies in my stomach the entire time I was reading it. It's a typical romance novel, but ugh, it's really so much more than that. It's about two coworkers, Lucy and Josh, who hate each other and are vying for the same promotion. In order to work together somewhat peacefully, they've devised a series of passive-aggressive games to get through the workday. And then Lucy starts to realize that maybe she doesn't hate Josh. Maybe, just maybe, she's totally in love with him.
What was the best book you read this year?