Happy Tuesday, friends! I hope everyone had a fantastic Christmas. I know I did. I was spoiled rotten with gifts and enjoyed time with my family in a very low-key way. It's back to reality for me, as I'm at work today (womp), but at least it's a short week, right?
Today begins my favorite series on my blog, my "Best of…" series. At the end of every year, I like to take the time to look back on the year with a series of posts and I'm kicking things off with this end-of-year survey that I've completed for three years in a row now. This is such a fun way to look back on my year and it really makes me think about everything I have and haven't accomplished. Feel free to use it on your own blog!
1) What did you do in 2017 that you've never done before?
I participated in a political protest. I called my senators. I got a tattoo. I started taking anti-anxiety medication. I replaced the windshield on my car – twice. My writing was published on Thought Catalog.
2) Did you keep your new year's resolutions, and will you make more for next year?
I kept some of my new year's resolutions, but not all of them. And yes, I already have my list prepared for 2018!
3) Did anyone close to you give birth?
No.
4) Did anyone close to you die?
No.
5) What places did you visit?
San Juan, Puerto Rico and Asheville, North Carolina. Two incredible destinations!
6) What would you like to have in 2018 that you didn't have in 2017?
A more balanced look to my health. 2017 wasn't my healthiest year in terms of diet and weight, and I really want to change that in 2018. At the very least, I want to eat healthier and exercise more, even if that doesn't amount to losing weight. I'd also like to fall in love. I'm hoping 2018 is my year for that.
7) What dates from 2017 will be etched in your memory forever?
January 21, the day I marched in the Women's March. And November 4, the first day of my vacation to Asheville where I saw fall colors for the first time in my life!
8) What was your biggest achievement this year?
Hm… perhaps getting my writing published on Thought Catalog. I also had some great career moments in 2017. I had a fantastic annual review that came with a significant pay raise and was named the employee of the month runner-up in November.
9) What was your biggest failure?
I made a lot of mistakes with my finances this year. I really want to change that in 2018 and find a better way to manage my finances.
10) Did you suffer from illness or injury?
I suffered from diverticulitis in April, a chest cold in September, and a fractured ankle and road rash in December. This has not been my healthiest year!
11) What was the best thing you bought?
My laptop! My old faithful laptop that I've had for five or six years finally died a painful death, which meant I had to buy a new one. I really enjoy my new laptop, especially considering I don't have to keep it plugged into a power source constantly like my old laptop. 😉
12) Where did most of your money go?
Well, aside from bills and student loans, probably to food. I spend a lot of money on food, whether that's groceries or eating out. I'm hoping to track my expenses much more thoroughly in 2018, so I can get an accurate read on just where my money is going.
13) What did you get really, really excited about?
Probably traveling. I always get so, so excited right before my trips and I was most especially excited right before we left for Asheville.
14) What authors did you discover in 2017?
Beatriz Williams, who writes really interesting historical fiction that takes place in the 1920s-1930s. I read two books from her this year and have her other titles on my TBR.
Louise Penny, who writes cozy mysteries and is most especially known for her Chief Inspector Armand Gamache series. I read the first two books in the series this year.
For romance authors, I discovered some new favorites: Penny Reid, Katee Robert, and Sarah Morgan.
15) Compared to this time last year, are you a) happier or sadder, b) thinner or fatter, c) richer or poorer?
Maybe sadder because this time last year, I was seeing someone so my life felt a bit more bright. I'm fatter, but richer.
16) What do you wish you'd done more of?
I wish I had gone on more dates, saved more money, and written more fiction.
17) What do you wish you'd done less of?
Spending money on unnecessary things. Beating myself up for things beyond my control.
18) How did you spend Christmas?
I woke up naturally at my apartment and slowly got ready for the day. Around 10, I loaded up my car with my presents, and Dutch and I headed to my mom's (with a pit stop at Starbucks for coffee and hot chocolate!) I just hung out with my mom and stepdad, reading my book and playing games on my phone until my brother and his family came over a little after 2. From there, we opened presents, had a low-key "linner" meal, played trivia, and watched some of the Steelers/Texans game. A perfect Christmas Day, in my opinion. 🙂
19) What was your favorite TV program?
I only watched a handful of TV shows this year – Gilmore Girls, The Office, Parks and Rec, Master of None, Grace & Frankie, Scandal, The Carmichael Show, and Mad Men – because I don't have cable, so I'm limited to the options on Netflix. My favorite was probably Gilmore Girls. I loved the revival episodes, A Year in the Life, and thought it was the perfect ending to this beloved series.
20) What was the best book you read?
Well, I'm going to reveal my favorite book of 2017 later on in the week when I talk about the top 10 books I read this year. But here are the books (excluding romance novels) that I gave 5 stars to this year:
The Mothers by Brit Bennett
How to Be a Woman by Caitlin Moran
The Sound of Gravel by Ruth Wariner
Everything, Everything by Nicola Yoon
The Handmaid's Tale by Margaret Atwood
Ready Player One by Ernest Cline
This is How It Always Is by Laurie Frankel
The Invasion of the Tearling by Erika Johansen
The Trump Survival Guide by Gene Stone
With Love from the Inside by Angela Pisel
You Are a Badass by Jen Sincero
The Nightingale by Kristin Hannah
Cocoa Beach by Beatriz Williams
Love & Gelato by Jenna Evans Welch
Evicted by Matthew Desmond
I Must Say: My Life as a Humble Comedy Legend by Martin Short
The Hate U Give by Angie Thomas
Escape by Carolyn Jessop
Little Fires Everywhere by Celeste Ng
Anchored: Finding Hope in the Unexpected by Kayla Aimee
Hunger by Roxane Gay
21) What did you want and get?
I finally got a tattoo! I've been eyeing this design for years and I'm so glad I finally got it done. My tattoo makes me oh-so-happy.
22) What did you want and not get?
Romantic love. I went on dates, but I didn't meet someone who made my pulse race and knees weak. I want to find that in 2018.
23) What was your favorite film of 2017?
The live-action Beauty and the Beast. It made me cry and fall in love with Belle all over again.
24) What did you do on your birthday, and how old were you?
I turned 30 on my birthday and celebrated with a day of "me." I took the day off work, slept in, got a pedicure and a massage, spent some time at Starbucks reading, and went out for dinner and dessert with my family. It was the most perfect way to ring in my thirties!
25) What one thing would have made your year immeasurably more satisfying?
Losing weight. I think I would have been happier and felt better about myself and my year if I had finally managed to lose some of this blasted weight.
26) Who kept you sane?
My mom, as always. I don't know what I would do without her!
27) Who did you miss?
My grandma. Always my grandma.
There were so many moments this year that stopped me in my tracks when I realized I will never see her on this earth ever again. She's gone. I had my time with her and now I have to live the rest of my life without her. It really sucks.
28) Who was the best new person you met?
Hm… most of the new people I met were through my job. And some people I met through dating, but we're not in touch anymore. Oh, I met a friend's partner and he's terrific. And he makes my friend oh-so-happy, which is all I ever want.
29) Tell us a valuable life lesson you learned in 2017.
I have a nurturing personality. One of the reasons I've been on the fence about having kids is because I didn't know if I had the right personality for it. I highly value my alone time and sleep, too. But this year was the first year where I started to realize that I do desire motherhood and that I will be a good mother, if I get a chance for that. I'm a nurturer in the way I handle Dutch, in the way I treat my friends, in the way I help my mom. And I know I'll be an excellent mother someday.
30) Show us one of your favorite photos from the year.
This day started out crappy as I broke my ankle while helping a friend move, but it ended beautifully with a 30th birthday celebration that my friends threw me where they showered me with love. In my early twenties, I struggled so much to find my tribe, never believing I was worth one of my own, and I'm glad I somehow managed to find these girls even in the midst of all my inner turmoil. They are everything I need and want in friends.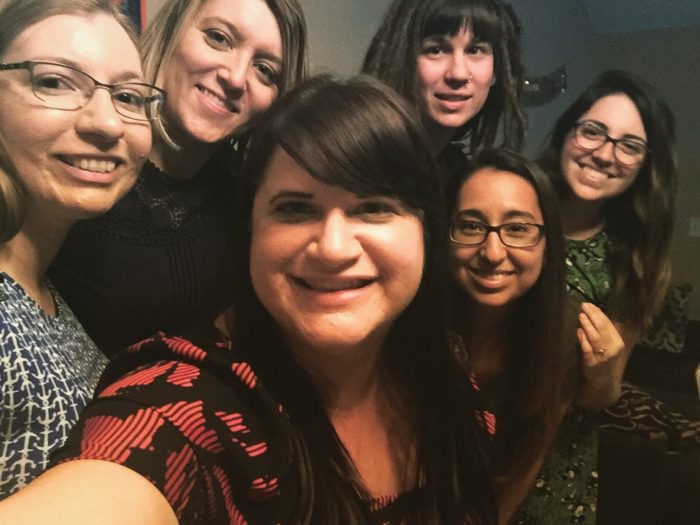 What did you do in 2017 that you've never done before?