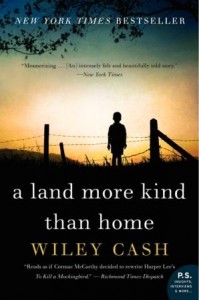 A Land More Kind Than Home is the debut novel of Wiley Cash and it is a story that captivated me. There is a small-town. A corrupt minister. A kind and brave midwife. A sheriff who just wants to do the right thing. A mute child and his brother. A family that is falling apart. The synopsis of the story intrigued me and I felt comforted by the language, reminding me at once of To Kill a Mockingbird. It was authentic and familiar. Cash wrote in a way where you were transported to this town. The characters were alive, the scene right in front of you.
While the story begins a bit slow, it built up to a crescendo where I couldn't put the book down and couldn't stop thinking about when I did. What drew me the most to this story was how unique the plot was, how different from everything I've read for so long. It was as if I've been searching for a story like this for a while, and finally, finally, I found it.
I think my favorite thing about this novel was how the plot kept twisting and turning, not in an intense way, but in a way that kept my attention focused and the plot moving forward.
If you can't tell, I thoroughly enjoyed this novel and I am so excited to be able to give away one copy to one of my readers! All you have to do is comment on this post and you'll be entered in the giveaway. I'll announce the winner on Monday.
A few links for you, as requested by the author:
You can also find Wiley Cash on Twitter and Facebook, as well as through his website.
I received this book for free from TLC Book Tours in exchange for an honest review. All words and opinions, unless otherwise stated, are my own.