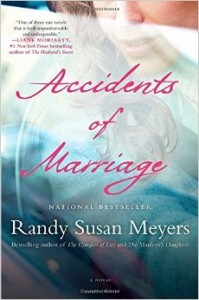 There's something about a Randy Susan Meyers novel. Her novels lure me in immediately with vulnerable characters and realistic plots. They are tough and gritty at times, yet soft and yielding at others. They make me feel something – hatred, happiness, hope, sadness, grief. They are novels about real life, about the triumphs and the tragedies. They are about characters who are not totally likable, but are so real and authentic that you can't help but get drawn in to their stories. Randy Susan Meyers has a fan in me.
Accidents of Marriage is a story of family, of forgiveness, of the trials and tribulations of marriage. It follows Maddy and Ben, a married couple who have three children. They have been married for years, but recently, Ben's temper has been out of control. He lashes out over the smallest things, leaving Maddy and the kids feeling like they have to walk on eggshells around him. One rainy morning, while Ben and Maddy are in the car together, his anger gets the better of him, resulting in a car accident and Maddy in the hospital, fighting for her life.
This novel is told in three parts – Maddy, Ben, and their 14-year-old daughter Emma – and it felt very natural and easy to follow along. Each voice is distinct and each pulled at my heartstrings. Yes, even Ben's story.
What I loved most about this story was the heart behind it. It's a tough story to read at times, but there's something so hopeful and inspiring about this family. They are an average family that has gone through a tragedy, and it's inspiring to watch them pick up the pieces.
All in all, this was a book I could barely put down and I gave it a full 5 stars. Highly recommend!
Book synopsis (from Goodreads):
Accidents of Marriage explores a topic rarely shown in fiction: the destruction left in the wake of spouse's verbal fury. Ben never meant to hurt Maddy. He never imagined his recklessness would lead to tragedy.
Maddy is a social worker trying to balance her career and three children. Years ago, she fell in love with Ben, a public defender, drawn to his fiery passion, but now he's lashing out at her during his periodic verbal furies. She vacillates between tiptoeing around him and asserting herself for the sake of their kids – which works to keep a fragile peace – until the rainy day when they're together in the car and Ben's volatile temper gets the best of him, leaving Maddy in the hospital fighting for her life.
Randy Susan Meyers takes us inside the hearts and minds of her characters, alternating among the perspectives of Maddy, Ben, and their fourteen-year-old daughter. Accidents of Marriage is a provocative and stunning novel that will resonate deeply with women from all walks of life, ultimately revealing the challenges of family, faith, and forgiveness.
Accidents of Marriage explores a topic rarely shown in fiction: the damaging effects of a spouse's emotional abuse.
You can connect with Randy Susan Meyers on her website, Facebook, Twitter, Pinterest, and Goodreads. Her book is available to buy from Amazon, IndieBound, and Barnes & Noble. 
Click here to add this book to Goodreads!
I received this book for free from TLC Book Tours in exchange for an honest review. All words and opinions, unless otherwise stated, are my own.
No affiliate links were used in this post.