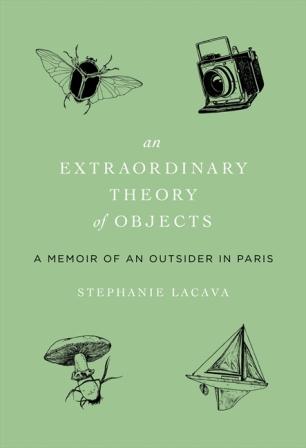 An Extraordinary Theory Of Objects: A Memoir of an Outsider in Paris
Author: Stephanie LaCava
Rating: 3 of 5 stars
Goodreads Summary:
An awkward, curious girl growing up in a foreign country, Stephanie LaCava finds solace and security in strange and beautiful objects.
When her father's mysterious job transports her and her family to the Parisian suburb of Le Vesinet, the young American embarks on a life of discovery. Tasting the enchantments of Paris, she makes friends with her peers at a wildly unconventional international school and faces terrorism. But Stephanie's wonder gives way to anxiety and a deep depression brought on by a series of circumstances. Through her darkest moments, Stephanie continues to filter the world through her peculiar lens, discovering the strange beauty surrounding her. The grotesque (beetles and catacombs), the natural (mushrooms and lilies of the valley) the cultural (Nirvana and other nineties touchstones) and the historical (Nancy Cunard, Jean Seberg), all become unique talismans. Encouraged by her father through trips to museums and scavenger hunts in antique shows, she traces an interconnected web of stories of past outsiders, historical and natural objects, and her present predicament that ultimately helps her survive when she feels she's losing control.
A series of essays that unfold in cinematic fashion, An "Extraordinary Theory of Objects" moves from past to present as Stephanie revisits France seeking to understand and make peace with her childhood. Her journey reveals the magic of seemingly ordinary objects to distract us from our lives, construct order in an unpredictable world, and reveal the power of stories to shape and reflect who we are.
My review:
I felt an instant connection with this author from the introduction and was excited to dig in and learn more about her time abroad in Paris and how it changed her. The book was short and an easy read. I think I finished it in a matter of hours. It was filled with pictures and anecdotes and footnotes with long descriptions of certain words. I read through the first few footnotes but they distracted me from the story too much so I started skipping them.
The story was easy to follow and I enjoyed the writing style. There wasn't much of a plot and the end came rather abruptly and I was left with this feeling that I never really got to know the author and who she is. This is touted as a memoir, after all. I really wanted to learn more about the author, more about her time in Paris, and I felt a little let-down with how short the book was.
In any event, it's a neat little story and I enjoyed reading about LaCava's time in Paris. It's different, which was a nice switch from the books I have been reading. If I were to recommend this book, I would recommend it for someone who would like to read about Paris in a completely different way, told in an unusual and interesting manner.
I received this book for free from TLC Book Tours in exchange for an honest review. All words and opinions, unless otherwise stated, are my own.