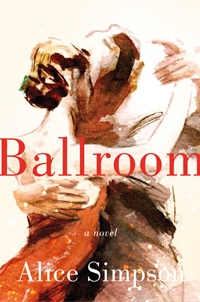 Goodreads summary: Told in interconnecting stories, Ballroom is a beautifully crafted debut novel—reminiscent of the works of Elizabeth Strout and Jennifer Haigh—about a group of strangers united by a desire to escape their complicated lives, if only for a few hours each week, in a faded New York City dance hall

Time has eroded the glamour of the Ballroom, but at the end of the 1990s, a small crowd of loyal patrons still makes its way past the floor-to-ceiling columns which frame the once grand hall each Sunday evening. Sweeping across the worn parquet floor under a peeling indigo ceiling, these men and women succumb to the magic of the music, looking for love and connection, eager to erase the drab reality of their complicated lives.

Nearly forty and still single, Sarah Dreyfus is desperate for love and sure she'll find it with debonair Gabriel Katz, a dazzling peacock who dances to distract himself from his crumbling marriage. Tired of the bachelor life, Joseph believes that his yearning for a wife and family will be fulfilled—if only he can get Sarah to notice him. Besotted with beautiful young Maria Rodriguez, elderly dance instructor Harry Korn knows they can find happiness together. Maria, one of the Ballroom's stars, has a dream of her own, a passion her broken-hearted father refuses to accept or understand.

As the rhythms of the Ballroom ebb and flow through these characters' hearts, their fates come together in touching, unexpected ways.
My review: I was really pumped to read this book. The synopsis sounded so perfect, and I love reading from multiple characters' points of view and reading interconnecting storylines. Sadly, this book did not live up to my hopes.
While I think the book was well-written, it didn't seem to have any sort of plot. I kept waiting for the story to begin, to feel the push-and-pull of conflict and resolution and drama. But there was none of that. To be honest, it was a struggle to keep reading because there didn't seem to be a point to the novel.
Another issue I had was with the characters. They were just extremely unlikable! I can usually get over that if the plot is juicy enough to make it worth my while, but with a lackluster plot and characters I didn't care for, it made it really hard to continue reading the book. There were no redeeming qualities in any of them, exception being Angel. I did like Angel, and would have liked to have learned more about him.
In listing some good qualities of the book, it was well-written and the dialogue seemed to flow naturally. I did like the ending, too, and thought it was fairly authentic – not too cheesy and not too depressing.
I received this book for free from TLC Book Tours in exchange for an honest review. All words and opinions, unless otherwise stated, are my own.