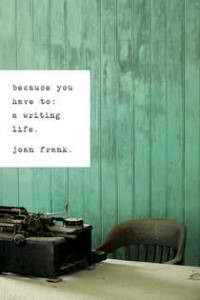 Because You Have To: A Writing Life
Author: Joan Frank
Rating: 2 of 5 stars
Goodreads Summary:
Part memoir, part handbook, part survey of the contemporary literary scene, Joan Frank's Because You Have To: A Writing Life is a collection of essays that, taken together, provide a walking tour of the writing life. Frank's aim is to form a coherent vision, one that may provide some communion about realities of the writer's vocation that have struck her as rarely revealed.
Frank offers what she has learned as a writer not only to other writers, but to those to whom good writing matters. Her insights about "thinking on paper" are never dogmatic or pontifical; rather, they are cordial and intellectually welcoming.
Original, witty, and practical, Frank ably steers us through the journey of her own life as a writer, as well as through the careers and work of other writers. Her subjects range widely, from the "boot camp" conditioning of marketing work to squaring off with rejection and envy; from sustaining belief in art's necessity to the baffling subjectivity of literary perception and the magical books that nourish writers. Frank's personal journey is wonderfully told, so that what in these essays is particular becomes useful and universal.
My Review:
This book started off really great for me. I loved the premise of the book as an aspiring writer and felt like it would give me some great insight to the life of a writer. The first handful of essays were about Frank and her journey to become a writer. I was captivated by these essays, hungrily reading through and nodding my head in agreement. I was so interested to read about her life and her journey and there were so many quotes I loved that I was sticking Post-It notes all over the book.
I don't know when it happened but it suddenly started reading like a textbook for me. I would find myself reading through a page and realizing I hadn't actually comprehended a single word and would have to go back and read it again. It's not that the subject matter was confusing or difficult to read, I was just bored. I felt like I was reading a required text for a literature class. There were many essays in this book that I found to be a bit dry and dull to me. I think this is PURELY a personal preference and I hate to be so critical on a novel about the process of writing but there it is. There were many sections I lightly skimmed because the subject matter didn't exactly interest me.
Although there were some essays I greatly enjoyed, I found myself struggling through the majority of the novel and just wanting to finish it to finish it. Honestly, I don't think the book is terrible (and it's very well-written!) but a lot of it just didn't appeal to me at this moment in my life.
I will leave you all with some quotes that spoke to me because, like I said, there were certain essays I just adored and felt a kindred tugging with the author:
"I learned to look people in the eye and make delightful noises at them while the essence of my mind operated lightyears elsewhere." (p. 7)

I totally do this. All the time. In meetings, especially. I form entire stories in my head while nodding my head and making coherent conversations. Oops?

"In short, rejection reminds us over and over again of the relativity of authority and the subjectivity of taste. Opinions from different quarters may clash amusingly – an odd form of entertainment that becomes a side product of rejection. I have had one editor write, 'You do your piece a disservice with its last line,' and another write, 'Your last line takes my breath away.'" (p. 82)

"Rejection, then, is like the wake of a boat: proof of motion. No action from the writer means no reaction from the world. To risk rejection is to risk reaction and, as such, a courageous step." (p. 85)
Have you ever picked up a book that you thought you would thoroughly enjoy…and end up not enjoying it as much as you thought you would?
I received this book for free from TLC Book Tours in exchange for an honest review. All words and opinions, unless otherwise stated, are my own.