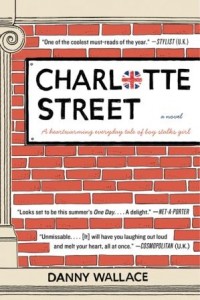 Charlotte Street
Danny Wallace
3 of 5 stars
Goodreads Summary:
Jason Priestley (not that one) has just seen her. They shared an incredible, brief, fleeting moment of deep possibility, somewhere halfway down Charlotte Street.
And then, just like that, she was gone – accidentally leaving him holding her old-fashioned, disposable camera, chock full of undeveloped photos…
And now Jason – ex-teacher, ex-boyfriend, part-time writer and reluctant hero – faces a dilemma. Should he try and track The Girl down? What if she's The One? But that would mean using the only clues he has, which lie untouched in this tatty disposable…
It's funny how things can develop…
My Review:
This was a very interesting read and I mean that in a good way. It was slow in the beginning and I had to adjust to the author's writing style, plus reading from a male point of view. I wouldn't say I ever really liked the main character, but the secondary characters – mainly Dev, Abbey, and Matt – stole the show. They felt more real and alive to me than Jason ever did. Jason had this self-pitying air about him that annoyed me. He spent the majority of the novel mooning over his ex-girlfriend who is now engaged and pregnant and I just wanted to shake him! I will say I liked how the author didn't try to make Jason super likable  As much as he annoyed me, I think that was the point and I think he was authentic in his misery.
The concept of this novel was an intriguing one, especially the theory of how people save the best images of the best moments of their lives for disposable camera. Unlike digital cameras or phone cameras, you have a select number of shots you can take so you want to make them last and want to make them special. I really loved this desire to piece together the pictures of The Girl's life and the mystery behind who she is. I think this was very well-written and it piqued my interest because I wanted to know more about who The Girl is and what these pictures meant to her.
The ending was a bit too perfect for me. Too wrapped up and I felt a little let-down at the cheesiness of everything tying together neatly. I just felt the book might have felt more authentic with an ending that left readers guessing and coming up with their own conclusions. But then again, who doesn't love a happy ending?
I would end up recommending this book, if only because the writing was great and the plot was intriguing and moved at a pretty good pace.
When is the last time you used a disposable camera? I used one during my May cruise to be able to use it in the water in Grand Cayman. It's very true that you try to save only the best images for your camera, as I found myself being very careful with how many pictures I took and making sure they were as perfect as they could be.
You can learn more about Danny Wallace and his books on his website. You can also become a fan on Facebook and follow him on Twitter. In addition, you can watch this video where the author talks more about the book and the inspiration behind it.
I received this book for free from TLC Book Tours in exchange for an honest review. All words and opinions, unless otherwise stated, are my own.