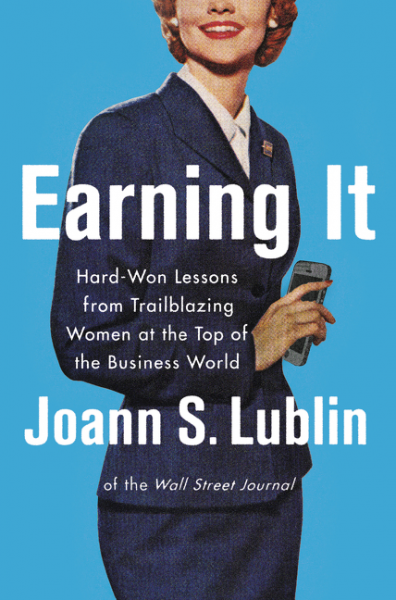 What an appropriate book for this time of year! Earning It is about women who have done what was nearly unthinkable a few decades ago – they've climbed to the top of the corporate ladder of massive public companies. And they did it the hard way – encountering sexism, misogyny, and inappropriate comments along the way. As Lublin explains the different lessons that come along with shattering the glass ceiling, she brings stories of women who have done exactly that. They talk about the good, the bad, and the ugly about being a woman at the top, and it's inspirational as well as horrific. (Horrific in the sense of everything women have to put up with in the workplace.)
I'll be honest: as someone who doesn't have any career aspirations of becoming a CEO, a lot of the advice given in this book was hard for me to relate to. The author, a journalist, also writes in a detached way and there was a personal element that was missing for me. At times, this felt like a regurgitation of facts.
That said, if you're interested in learning more about powerful women and how they got to the top, then I'd recommend picking up this book. It's filled with stories of fascinating women who overcame so many obstacles and had to make courageous, sometimes unpopular choices to meet their goals. It's also a bit sad, to realize what women have to go through in the workplace. I'm thankful in that I haven't really encountered too much sexism or misogyny in the companies I've worked for, but I know it's a very real reality for most women in corporate positions.
Book synopsis (from Goodreads):
More than fifty trailblazing executive women who broke the corporate glass ceiling offer inspiring and surprising insights and lessons in this essential, in-the-trenches career guide from Joann S. Lublin, a Pulitzer-Prize winning journalist and management news editor for The Wall Street Journal.
Among the first female reporters at The Wall Street Journal, Joann S. Lublin faced a number of uphill battles in her career. She became deputy bureau chief of the Journal's important London bureau, its first run by women. Now, she and dozens of other women who successfully navigated the corporate battlefield share their valuable leadership lessons.
Lublin combines her fascinating story with insightful tales from more than fifty women who reached the highest rungs of the corporate ladder—most of whom became chief executives of public companies —in industries as diverse as retailing, manufacturing, finance, high technology, publishing, advertising, automobiles, and pharmaceuticals. Leaders like Carly Fiorina, former CEO of Hewlett-Packard, as well as Mary Barra, CEO of General Motors, and Brenda Barnes, former CEO of Sara Lee, were the first women to run their huge employers.Earning It reveals obstacles such women faced as they fought to make their mark, choices they made, and battles they won—and lost.
Lublin chronicles the major milestones and dilemmas of the work world unique to women, providing candid advice and practical inspiration for women of all ages and at every stage  of their careers. The extraordinary women we meet in the pages of Earning It and the hard-won lessons they share provide a compelling career compass that will help all women reach their highest potential without losing a meaningful personal life.
You can connect with Joann S. Lublin on her website and Twitter. Her book is available to buy from Amazon, HarperCollins, and Barnes & Noble. 
Click here to add this book to Goodreads!
I received this book for free from TLC Book Tours in exchange for an honest review. All words and opinions, unless otherwise stated, are my own.
No affiliate links were used in this post.