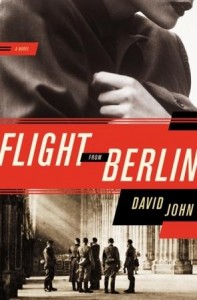 Flight From Berlin
 Author: David John
 Rating: 4 of 5 stars
 Goodreads Summary:
A cynical English reporter and a beautiful, headstrong, American Olympic hopeful are caught in a lethal game of  international espionage during the 1936 Berlin Olympics in Flight from Berlin, a riveting debut thriller from  breakout novelist David John. Combining the suspense and atmosphere of Alan Furst's spy novels with the exciting narrative drive of Daniel Silva's Gabriel Allon adventures, John delivers an unforgettable masterwork of thrilling suspense set against the backdrop of one of the most monumental summers in history—a contest of champions, including the remarkable Jessie Owen, that captivated the world as the specter of Nazi Germany continued its rise to threaten the globe.
My Thoughts:
I was immediately intrigued by the summary of this book: I am thoroughly captivated by reading about Nazi Germany and with the 2012 Summer Olympics just around the corner, I am devouring anything involving the Olympic Games. Throw them together and you've got a book that I couldn't wait to get my hands on!
The story follows the path of Olympic swimmer, Eleanor Emerson, and English reporter with a penchant for mischief, Richard Denham. After Eleanor is thrown off the Olympic team thanks to late night hijinks and drinking escapades, she takes a job writing about the Games. Through her new job, she meets Richard who feels a pressing need to shed some light on the truth behind these Olympic Games.
I have read many novels about Nazi Germany and this was not a story I had ever heard before. This was something different, new, and utterly enthralling to read about. It shed new light on Hitler and his awful dictatorship. Every time I can't get more disgusted by Hitler, something surprises me and knocks me off my feet.
What I loved most about this book was how nearly every character character introduced played an integral part. Two-thirds of the way into this book, I realized I should have paid a lot more attention to all the characters! (I really needed a notebook to keep track!) They were re-introduced as the story picked up its pace and their real role in this spy story was revealed. Some people turned out to be good, showing up when Eleanor or Richard desperately needed them. And others turned out to be traitors, making your heart hurt with the two main characters as their real nature was shown.
The romance between Eleanor and Dan was sweet and subtle. As a romantic at heart, I loved watching their love story unfold and while it wasn't a focal point, it was definitely a big part. I don't think it detracted from the importance of the story, but helped move it along in the direction it needed to go in.
It took a while for the story to really get its feet, but it was well worth the wait. And I think the story needed the lead-up to the more exciting moments for it all to come together and make sense. It helped to establish the characters and let readers understand the background of this story.
All in all, a story I had a hard time putting down, an ending that made me smile, and a handful of characters I don't think I will ever forget. Even if historical spy stories aren't your cup of tea, I encourage you to try this book out. It won't disappoint!
I received this book for free from TLC Book Tours in exchange for an honest review. All words and opinions, unless otherwise stated, are my own.