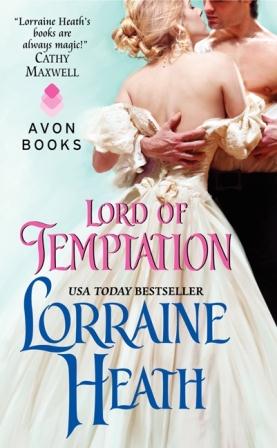 Lord of Temptation
Author: Lorraine Heath
5 of 5 stars
Goodreads Summary:
"Three young heirs, imprisoned by an unscrupulous uncle, escaped–to the sea, to the streets, to faraway battle–awaiting the day when they would return to reclaim their birthright."
Once upon a time, he was Lord Tristan Easton–now he is Crimson Jack, a notorious privateer beholden to none, whose only mistress is the sea. But all that will change when exquisite Lady Anne Hayworth hires his protection on a trip into danger and seduction. . .
Desperation brought Anne to the bronzed, blue-eyed buccaneer. But after the Captain demands a kiss as his payment, desire will keep her at his side. She has never known temptation like this–but to protect her heart, she knows she must leave him behind. Yet Tristan cannot easily forget the beauty–and when they meet again in a London ballroom, he vows he won't lose her a second time, as fiery passion reignited takes them into uncharted waters that could lead the second lost lord home.
My review:
Oh, my heavens.
You know when you read a book that you just can't wait to finish, yet you don't want to because you'll miss having the characters part of your daily life? This book is one of those kinds of books. Tristan and Anne are two completely different characters who have had two completely different lives but when their lives converge for this mysterious trip, you feel the chemistry between them oozing off the page. The romance was so well-built and felt completely honest and real. I am very critical of female characters sometimes, because authors tend to overwrite them (especially in historical novels) but I felt like Anne was written so perfectly. She was someone I could immediately relate to and while she had her moments of wild abandon, she also knew how to act like a proper lady and what her place in life was.
It's quite interesting to read books that are in the middle of a series. Sometimes, the story intrigues you enough and the writing is written well enough that you feel the need to read more of the series and get to know the secondary characters in their stories. And sometimes, the writing is just okay. The story is meh. And you feel no need to obtain any other books in the series and read up on the secondary characters. This book is the former. I fully intend on reading the other books in this series because I am so intrigued and so in love with the way this writer pens a story.
I have read many a historical romance novel and this book had everything I want to see in a book like this and then some. It's an almost 400 page book that I read in 2 days because the story pulled me in that much.
You can find more about Lorraine Heath on her website. She also has a Facebook fan page and is on Twitter.
I received this book for free from TLC Book Tours in exchange for an honest review. All words and opinions, unless otherwise stated, are my own.