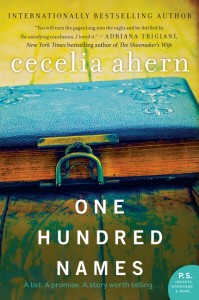 Goodreads summary: Journalist Kitty Logan's career is being destroyed by scandal – and now she faces losing the woman who guided and taught her everything she knew.
At her terminally ill friend's bedside, Kitty asks – what is the one story she always wanted to write? The answer lies in a file buried in Constance's office: a list of one hundred names. There is no synopsis, nothing to explain what the story is or who these people are. The list is simply a mystery.But before Kitty can talk to her friend, it is too late.
With everything to prove, Kitty is assigned the most important task of her life: to write the story her mentor never had the opportunity to. Kitty not only has to track down and meet the people on the list, but find out what connects them. And, in the process of hearing ordinary people's stories, she starts to understand her own.
My thoughts: This book took me some time to get into, to really dig deep into the characters' lives and feel something for them. At the beginning, Kitty wasn't a very likeable character. She was bratty, self-absorbed, and hard to root for.
At the beginning, it was hard to see how the story was going to unfold, so I didn't form personal connections with the barrage of characters that were introduced to me, but it all plays out in this natural, endearing, thrilling way. Kitty is in her element, as she begins to interview people from this list her mentor left behind, inserting herself into their lives and trying to understand what about them makes them special. Why her mentor left this list, how all these people connect.
I ended up loving this book. I loved seeing Kitty start to realize what's important in life and get back to her journalistic roots. I loved all the different characters and their stories (so creative!). I loved how it all wrapped together in a beautiful way. It wasn't the way I expected it to end, and I love when authors surprise me like that! (Good surprises, that is.)
I highly recommend this book, for anyone who loves a good story. It's well-written, witty, and made me give a happy sigh when I finished it.
My rating: 4 stars
I received this book for free from TLC Book Tours in exchange for an honest review. All words and opinions, unless otherwise stated, are my own.