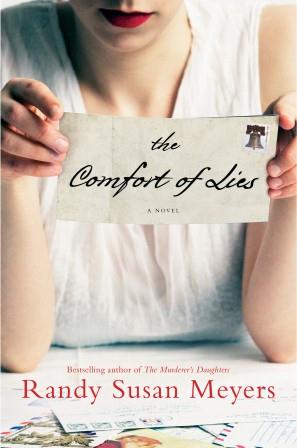 The central figure in The Comfort of Lies is precocious 5-year-old Savannah. She is the adopted daughter of Peter and Caroline, a well-to-do family living in Boston. They found out early in their marriage that they would not be able to have children so they turned to adoption. Peter has fallen into the role of father with easy abandon, while Caroline struggles to find her footing as a mother.
Savannah's biological mother is Tia, who was 24 when she found out she was pregnant. She was having an affair with a married man at the time and when he found out, he ordered her to "take care of it" and left her. Distraught and alone, and having to watch her mother die while her belly grew large with child, she decided to put the baby up for adoption.
Savannah's biological father is Nathan, a college professor who has a seemingly idyllic life. His wife, Juliette, dotes on him and he has two amazing sons, Max and Lucas. But once Nathan admits to the affair, their marriage is thrown to the ringer. Five years later, they are still married but their marriage is hanging on by a thread.
Everything comes to a head when Tia mails off pictures of Savannah, as well as a letter addressed to Nathan about their child that Juliette intercepts. She has no idea of Tia's pregnancy and it comes as a huge shock to her. Hidden truths come to the surface for all parties involved. It's a story about marriage and affairs. About adoption and regrets. About how to be truthful to what you want. About the freedom that lives in seeking out your truth and resting in that.
Each chapter begins from someone's point of view, either Caroline, Tia, Juliette, or Nathan. (Mostly the three women, though Nathan does have a few chapters of his own.) I really, really enjoyed this novel. All the characters felt intensely real, their struggles were honest, and the fact that I didn't totally care for their personalities drew me even more fully to the story.
Crazy, right? I didn't like the characters, but I think that's what made this story so great. They were real. I could understand their pain. I could understand their confusion. I could understand their decisions. I didn't always like them, but I understood them.
The storytelling in this book was fantastic. Meyers seamlessly weaved the differing stories throughout the pages and I thoroughly enjoyed myself while reading this novel. I was always intrigued to find out what happened next. 
All in all, one incredible novel with an intriguing premise, complex characters, and a believable ending. I gave this book a solid 4 stars and it's a novel I would definitely recommend!
Do you like reading books from multiple points of view?
I received this book for free from TLC Book Tours in exchange for an honest review. All words and opinions, unless otherwise stated, are my own.