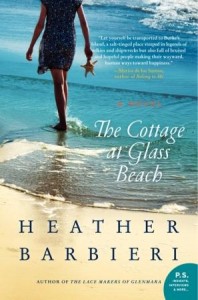 Nora Cunningham needs to get away. After finding out her husband of many years has been cheating on her, she flees to Burke's Island, a small island off the coast of Maine, with her two daughters (Ellie, age 12, and Annie, age 7) for the summer. She needs a change of scenery and to figure out where to go from here and there's no better place to do that than the island her mother grew up on.
This book was about Nora coming to terms with her family's past (her mother disappeared when she was a child) and coming to terms with her husband's infidelity. It's about Ellie and Annie, two young girls confused at what is happening to their family and unsure of how to deal with it. Ellie – by lashing out at her mother, acting out, and holding tight to her father. Annie, by being the peacemaker between mom and daughter and just trying to hold on to her innocence.
It's a novel about families, about mistrust, and cheating, and lies. It's a novel about the stories we tell ourselves and the magic that lies within our own being. Nora comes to Burke's Island brittle and broken and hurting. She reawakens who she is. She discovers the woman she has shoved down to become the perfect society wife, the perfect mother, the perfect everything. She finds her truth again.
This book had a dreamy feel to the writing. It was slow-paced, which matched the feel of the island. It was so vividly descriptive that it was as if you were there, looking in on this family as they go about their days. I could imagine this island perfectly. I could feel the pain in Nora, feel the hurt in Ellie, feel the childlike innocence in Annie.
I was told there was magical realism in the novel, which is always a hit or miss for me. When it's done in a way that seems believable within the book's context, I love it. When all I spend my time thinking about is how silly the magic is, I don't. This book had a small dose of magical realism that was done in such a tasteful and believable way that it worked for the dreamy feel to this novel.
With all that said, the story was very slow and never moved to the crescendo I expect from a novel. Does every novel need this? Of course not, but it threw me for a loop. The ending wrapped up abruptly and I'm generally not a fan of open-ended endings where the big issues never get resolved. It makes me long for a sequel! I want to know what happens next with this family!
All in all, a novel that wasn't exactly a page-turner but kept me wanting to turn the pages because the world Barbieri brought me to. And the writing was so, so incredible and so vividly descriptive that I couldn't help but love this novel.
Do you like or dislike magical realism in novels?
I received this book for free from TLC Book Tours in exchange for an honest review. All words and opinions, unless otherwise stated, are my own.