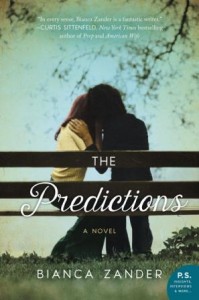 Sometimes I read a book and it reminds me how much I love this hobby of mine. People ask me all the time how I read as much as I do, and the truth is, I just love it. I love it so much. I love diving into other worlds, I love learning about new places, I love being in a character's head. I make reading a priority in my life because it is something I truly enjoy.
This book reminded me how much I love to read. It was a story that wrapped me up in its plot and characters and setting from the very beginning and didn't let me go until I finished. It follows the story of Poppy, a girl who grew up on a commune. In a ceremony put on by commune newcomer, Shakti, Poppy (and the other six teenagers on the commune) is given a "prediction" for her life. Her prediction says that she will find her true love overseas. She believes so wholeheartedly in this prediction that she follows Lukas, whom she grew up with on the commune, to London.
The book follows Poppy's journey in London, growing up and being independent away from the commune. She has triumphs and failures, just like anyone, and I just really enjoyed her character so much. She was likable, but not perfect. She was easy to root for, but made dumb decisions. I loved her. I wanted to keep reading her story.
I really enjoyed reading about life on the commune because it was a world totally different than one I have ever read before. I also really enjoyed the time period of the novel (late 1970s-late 1980s) because I can't remember the last book I read in that time period, and I found it so interesting!
All in all, I gave this book an easy 5 stars. I thoroughly enjoyed my experience reading this novel and the book flowed so beautifully from start to finish, never breaking stride or feeling like the plot was dragging.
Book synopsis (from Goodreads):
From the author of the acclaimed The Girl Below comes a stunning novel of one woman's attempt to outrun the destiny that is predicted for her, moving from a remote New Zealand commune in the waning days of 1970s free-love experimentation to the heady music scene of 1980s London.
Gaialands, a bucolic vegan commune in the New Zealand wilderness, is the only home fifteen-year-old Poppy has ever known. It's the epitome of 1970s counterculture–a place of free love, hard work, and high ideals…at least in theory. The reality is complicated and sometimes fraught, especially as its children reach adolescence. Poppy is drawn to handsome sixteen-year-old Lukas, who's increasingly skeptical of Gaialands and the adults who shape its rules.
To help 'heal' the commune's energy, new arrival Shakti harnesses her divination powers in a Predictions ceremony. All of Gaialands' teenagers receive a card outlining their futures. Poppy, predicted to find her true love overseas, joins Lukas when he follows his dream of starting a punk rock band first in Auckland and then on to London, where punk has given way to 80s pop and hair metal. Struggling simply to survive as they navigate the city's squats, pubs, and burgeoning clubs, she and Lukas drift apart. Poppy finds a life that looks very like the one her prediction promised, but is it the one she truly wants? And if not, can she define her own happiness, even if it takes her in unanticipated directions?
The Predictions is a mesmerizing, magical novel of fate, love, mistakes, and finding your place.
You can connect with Bianca Zander on her website, Twitter, and Facebook. Her book is available to buy from Amazon, IndieBound, and Barnes & Noble. 
Click here to add this book to Goodreads!
I received this book for free from TLC Book Tours in exchange for an honest review. All words and opinions, unless otherwise stated, are my own.
No affiliate links were used in this post.