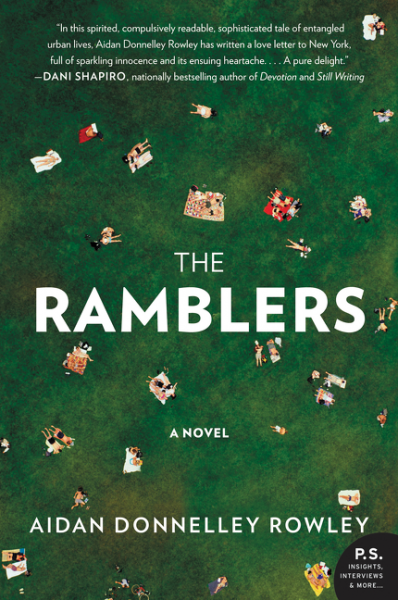 The Ramblers is a novel that's about a lot of things, but it's mostly about us. It's about who we grow up to be and all the twists and turns that led us there.
For Clio, one of the novel's protagonist, it's about a family tragedy and her tenuous relationship with her father. It's about how her rocky childhood made her wary about fully investing in people and relationships.
For Smith, another protagonist, it's about being single after a serious, long-term relationship, a relationship that seemed to be perfect until it wasn't. It's about her family and the closeness that could be envied from afar, but up close is repressive.
For Tate, our last protagonist, it's about separating from his wife, a cross-country move, and the realization of a dream. It's about taking the road less traveled, even when that road is dark and scary.
All of these people… these stories are my story. I could see myself in each and every person. In Clio, who has trouble committing and tends to get caught up in her work to counterbalance that. In Smith, who isn't sure what true love is anymore and doesn't know who she is or what she really wants. In Tate, who just wants to live his passion and screw anyone who says different.
The problems they face… yes, you could say they are "rich, white people problems" but I don't see it like that because I am not rich and I find myself consumed with the thoughts and feelings of these characters. I understand them. They are hurting and happy and uncertain and confident. They are just trying to live their live the best way they can, to move forward in their lives after their worlds have essentially fallen apart. It's piecing back together a life that has meaning and purpose after everything has crumbled. That's what these characters do. That's why I found such kindredness in them. That's why I loved this story.
This novel, The Ramblers, was slow and meandering, even though it only took place over a few days. It was a simple journey of discovery and triumph. It's not a page turner, but that's okay. And it was poignant. Beautifully written. Nearly poetic in parts. I found the author's voice to be refreshing, unique, and engaging.
It's not a heavy read, nor is it necessarily a fun, light-hearted one. It's a character-driven story about the power of choices and what it means to live in your truth.
Book synopsis (from Goodreads):
For fans of J. Courtney Sullivan, Meg Wolitzer, Claire Messud, and Emma Straub, a gorgeous and absorbing novel of a trio of confused souls struggling to find themselves and the way forward in their lives, set against the spectacular backdrop of contemporary New York City.
Set in the most magical parts of Manhattan—the Upper West Side, Central Park, Greenwich Village—The Ramblers explores the lives of three lost souls, bound together by friendship and family. During the course of one fateful Thanksgiving week, a time when emotions run high and being with family can be a mixed blessing, Rowley's sharply defined characters explore the moments when decisions are deliberately made, choices accepted, and pasts reconciled.
Clio Marsh, whose bird-watching walks through Central Park are mentioned in New York Magazine, is taking her first tentative steps towards a relationship while also looking back to the secrets of her broken childhood. Her best friend, Smith Anderson, the seemingly-perfect daughter of one of New York's wealthiest families, organizes the lives of others as her own has fallen apart. And Tate Pennington has returned to the city, heartbroken but determined to move ahead with his artistic dreams.
Rambling through the emotional chaos of their lives, this trio learns to let go of the past, to make room for the future and the uncertainty and promise that it holds. The Ramblers is a love letter to New York City—an accomplished, sumptuous novel about fate, loss, hope, birds, friendship, love, the wonders of the natural world and the mysteries of the human spirit.
You can connect with Aidan Donnelley Rowley on Twitter, Instagram, and Facebook. Her book is available to buy from Amazon, HarperCollins, and Barnes & Noble. 
Click here to add this book to Goodreads!
I received this book for free from TLC Book Tours in exchange for an honest review. All words and opinions, unless otherwise stated, are my own.
No affiliate links were used in this post.