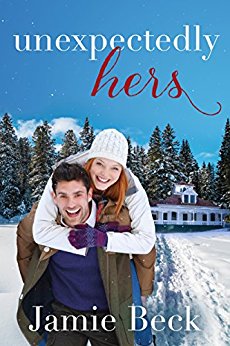 Emma is a shy and reserved 30-something who manages her family's bed-and-breakfast with her mom in a small town in Colorado. While she has a good group of friends, she's held herself off from love, in part due to her father's abandonment when she was young. Emma is content with her life, but she also wants more.
Enter: erotica.
Yeah, you didn't think I was going to go there, did you? Emma has penned an erotic novel based on a one-night stand she had awhile ago, and it's been picked up by a publisher. Emma, scared to reveal this to her family and friends, has used a pen name and is keeping the news of her writing success to herself.
As she begins to prepare for the release date of her novel, her mom goes out of town and leaves Emma in charge of a group of guests who are there to film a documentary of a professional snowboarder who is getting back into intense training to take on the competition circuit again after some time away.
That professional snowboarder? Emma's one-night stand and the inspiration for the male lead in her erotic novel.
Wyatt doesn't remember Emma because Emma wasn't Emma when they had a one-night stand. She was Alexa, a sultry and sexy woman on the prowl. Emma in her day-to-day, managing a bed-and-breakfast life is understated and mousy, insecure in herself.
And yet, Wyatt can't keep his eyes off Emma. There's something about her that draws him in and he wants to know more about her. While she fights off his attention at every step and furiously tries to keep her erotic novel under wraps, he pursues her until she has no choice but to give in.
But when the truth of Emma's novel comes to light, and he realizes he's a character in her book, can their love stand a chance? Or is Emma just another person in a long line of groupies who wanted to use his fame for her good?
This was really a fun novel to read, and I truly felt a kinship with Emma. Like her, I'm an aspiring novelist and the novel I'm writing is a bit on the steamy side. It's not erotica like Emma's is, but it's the kind of novel that makes me blush when I think about people who know me in my real life reading it. I could understand her hesitation of letting people know this secret of hers, but I was really sad that she didn't feel like she could tell her closest girlfriends about it. I feel like that's the benefit of close girlfriends, but Emma held herself off from fully trusting them with this secret.
I also felt for Wyatt, who is trying to get back to a competitive level after taking time away from his sport. When his younger brother, Ryder, was badly injured due to a snowboarding accident, his main concern was getting him healthy again. Ryder suffers from a traumatic brain injury, and his side plot was so interesting to me. I actually preferred his scenes to the scenes between Emma and Wyatt. There was something so authentic about them, and he tugged at my heartstrings.
There was surprising depth to this novel, between the internal conflict of the characters and the overarching conflict of the novel. It was well-paced and I found the dialogue to be pretty honest. Dialogue in romance novels can be hit or miss, but this one was way more hit.
But I can't lie. As much as I enjoyed my time with this novel, there were some glaring problems. First, the romance. It just wasn't believable to me. I didn't feel the connection between Emma and Wyatt – it wasn't strong enough. I wanted more from them as a couple, but there was a lack of sexual chemistry and that made it hard to root for them.
I also had a hard time with the relationship between Emma and her mother, especially considering Emma and her mom are supposed to have a close relationship. At one point, her mom calls to chastise her about kissing a guy in public, and Emma feels shame and guilt about it. That's… not really a normal reaction for someone in their thirties to have. I didn't understand why Emma was so close to her mom when her mom just didn't seem like a fun person to be around. Most of the conversations they had revolved around her mom chastising her, so it didn't really make sense to me that they were close and ergo, had a good relationship. It didn't read that way to me at all.
In any event, while this is a sweet romance novel and had some good moments, it's probably not one that will be a go-to recommend for me. However, it's an easy, quick read if you're looking for something to bring to the beach this summer, so it's great if you want to pick up something lighthearted to read!
Goodreads synopsis:
By day, bashful wallflower Emma Duffy works at her family's bed-and-breakfast. By night, she secretly pens erotic romance hot enough to melt the snow in their cozy Rockies town.
But Emma's real life is about to heat up when her mother books the entire inn to a professional snowboarder, hoping the publicity will put them on the map. In a karmic twist of fate, that guest is Wyatt Lawson, the man with whom Emma had shared the secret one-night stand that became the inspiration for her novel and its dreamy hero. Worse, a film crew is documenting his comeback just as her debut is about to hit the shelves. Emma's only saving grace is that Wyatt doesn't remember her—and hopefully he never will.
When Wyatt arrives in Sterling Canyon for several weeks of intense training, the last tumble he expects to take is falling for a girl, especially one as shy as Emma. Unlike groupies with their hidden agendas, she isn't using him—or so he believes…until the film crew uncovers Emma's pen name and steamy novel.
Wyatt's comeback run can withstand a fall or two, but can his heart recover from this crash and burn?
You can connect with Jamie Beck on her website, Facebook, Instagram, and Twitter. Her book is available to buy from Amazon and Barnes & Noble. 
Click here to add this book to Goodreads!
I received a copy of this novel for free in exchange for an honest review. All words and opinions, unless otherwise stated, are my own.
No affiliate links were used in this post.