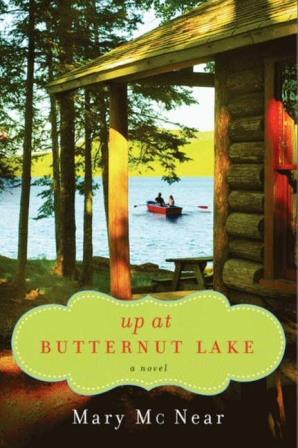 From Goodreads: It's been ten years since Allie Beckett crossed the threshold of her family cabin at Butternut Lake, Minnesota. Now, newly widowed after the death of her husband in Afghanistan, she's returned with her five-year-old son.
There, she reconnects with the friends she had in childhood-best girlfriend Jax, now married with three kids and one on the way, and Caroline, owner of the local coffee shop. What Allie doesn't count on is a newcomer to Butternut Lake, Walker Ford.
Up at Butternut Lake follows these four unforgettable characters across a single summer as they struggle with love, loss, and what it means to take risks, confront fears, and embrace life, in all of its excitement and unpredictability.
Allie Beckett could never have imagined, when she ran away from her old life, that she was running into a whole new life, up at the lake…
My review: This was the perfect light read, and since this past Saturday dawned chilly and overcast, with nothing pressing on my to-do list, I parked myself on the couch and dove into the world of Butternut Lake. This book had all the ingredients of a wonderful novel: likable characters who were easy to root for, a great plot that was interesting and flowed well from beginning to end, and a sweet romance that swept me off my feet.
At times, the book seemed to drag along and there seemed to be a lot happening at once. There was the intertwining of three separate stories in one, but I didn't feel as deeply invested in the two subplots as I did for the larger plot. I am assuming, since this is a series, either the subplots will morph into their own books or more will be revealed in future books, because they seemed to be afterthoughts that didn't seem to do much to move the story along. (I enjoyed them, but was left wanting more.)
My only other issue with the novel was the repetitiveness. This is probably due to my job, as it's drilled into us not to repeat phrases and words too often, and there were a few words that kept popping up (imperceptibly, gentle/gently, and innocuous, to name a few) that kind of made my editor brain anxious. And the overuse of adverbs grated on me. This is a weird quirk of mine, and probably wouldn't bother anyone who doesn't write or edit for a living.
All in all, though, a sweet romance novel that had a suprising amount of depth and character development. A great beach or rainy day read.
My rating: 3 stars
I received this book for free from TLC Book Tours in exchange for an honest review. All words and opinions, unless otherwise stated, are my own.