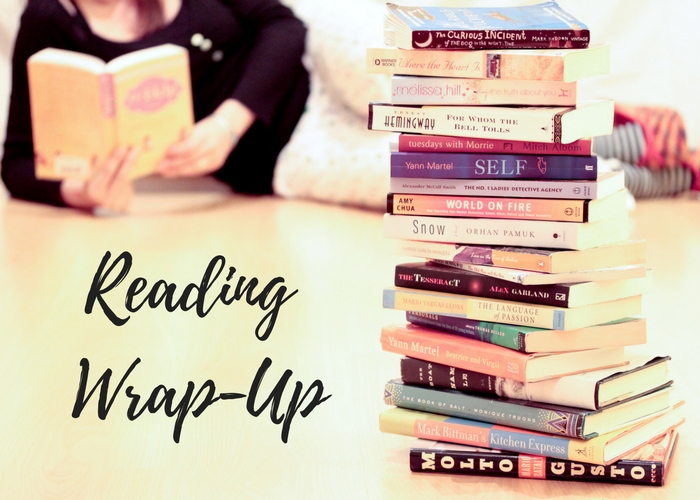 I thought a lot about how I want to structure my monthly book report on my blog. Obviously, now that I'm writing a weekly What I'm Reading blog post, it's almost as if I don't even need this monthly roundup. But alas, here I am, writing a monthly reading roundup. What can I say? I love looking at my reading stats and talking about my favorite books. So here we are! This was actually really fun to pull together and I hope you enjoy.
March Reading List
In March, I read 11 books and abandoned one. Here were my favorites from this month:
Overall favorite: Eleanor Oliphant is Completely Fine by Gail Honeyman (review)
Favorite romance: Roomies by Christina Lauren (review)
Other favorites (all books I gave 4 or 5 stars to):

Holiday in the Hamptons by Sarah Morgan
Nobody But You by Jill Shalvis (review)
A Tree Grows in Brooklyn by Betty Smith (review)
Love Hacked by Penny Reid (review)
Shrill: Notes from a Loud Woman by Lindy West (review)
Not That I Could Tell by Jessica Strawser (review)
Irresistibly Yours by Lauren Layne (review)

Book I was lukewarm about: I Found You by Lisa Jewell (review)
Book I didn't like: The Wedding Date by Jasmine Guillory (review)
Book I abandoned: First Women: The Grace and Power of America's Modern First Ladies by Kate Andersen Brower
I read Eleanor Oliphant is Completely Fine for my work book club and The Wedding Date for my local book club. A Tree Grows in Brooklyn was the book I read to fulfill my "read four classics" yearly goal. All other books I read because they were on my monstrously long TBR list!
Other Book Stats
Number of pages read: 3,750
Breakdown of formats: physical copies (5), e-books (5), audiobooks (1)
Book that took me the longest time to read: A Tree Grows in Brooklyn (15 days)
Book that took me the shortest time to read: Roomies (2 days)
Breakdown of genres: romance (6), thrillers (2), fiction (2), and nonfiction (1)
Number of diverse reads: 1 (8% <– yikes!)
Where I sourced my books: Overdrive/library (6), Book of the Month (2), Target (2), Amazon (1)
How much I spent this month: $56.53
Favorite Book Quotes
"'Because,' explained Mary Rommely simply, 'the child must have a valuable thing which is called imagination. The child must have a secret world in which live things that never were. It is necessary that she believe. She must start out by believing in things not of this world. Then when the world becomes too ugly for living in, the child can reach back and live in her imagination.'" – A Tree Grows in Brooklyn

"However, it is easier to mock and deride individual fat people than to fix food deserts, school lunches, corn subsidies, inadequate or nonexistent public transportation, unsafe sidewalks and parks, healthcare, mental healthcare, the minimum wage, and your own insecurities." – Shrill

"On your wedding day, you're choosing to love that person forever, but that's just the beginning. You have to continue to choose them, every day. It's not like your other options are going away – it's up to you to turn them away. Marriage isn't what it once was to a lot of people. And if you really want it to work, you're not making a one-time vow – you're committing to a lifetime of remarrying that person every day." – Not That I Could Tell
What was the best book you read last month?