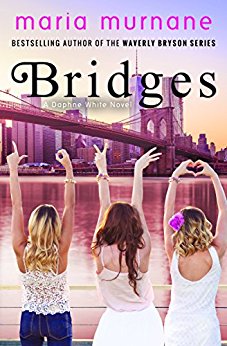 Bridges by Maria Murnane is a story about female friendship, how life changes throughout the decades, and how to move forward in the midst of disappointment. The main character of the novel is Daphne, who has just finished writing a novel and has sent it to three dozen agents. She starts hearing back from the agents, none of them with good news. And then her best friend Skylar, who lives in NYC, announces that she's getting married and wants Daphne and their other friend KC to come visit her for a weekend to celebrate the engagement. A bachelorette weekend, of sorts.
The novel revolves around this weekend that Daphne spends in NYC with her best friends. She's still trying to deal with the disappointment about trying to get an agent for her book, all while realizing what a fabulous life her friend Skye leads – fancy apartment, successful career, amazing fiancé. It's all a little much, since Daphne is divorced, working part-time, and wondering about the path not taken. Like, what if she hadn't settled down and had a kid right after college? What if she had done more with her writing, launched a successful journalism career? It's the "what if…" dilemma that all of us are all-too-familiar with.
Throughout the novel, secrets between all of the friends are revealed and there's this feeling of relief from Daphne as she comes to understand that nobody truly has it all together. And isn't that such a fact of life? We're all struggling in our own ways and it's only when we come together and let our friends into our fears and heartbreaks that we're able to let them go and grow and move forward.
This novel is a quick read at under 200 pages and it's just one of those super sweet and fun novels you can read in an afternoon on the beach or while cozied up on your couch on a rainy morning. There's very little conflict and strife, no crazy plot twists, and I found something comforting about that. Because sometimes life isn't filled with crazy plot twists… sometimes, you just go away for the weekend with your girlfriends and have a good time.
Goodreads synopsis:
It's a piece of news Daphne never expected to hear: Her globe-trotting friend Skylar, who vowed never to get married, is engaged! Time to celebrate in Manhattan—Skylar's treat, of course. After years scaling the corporate ladder, she can more than afford it.
Daphne arrives in NYC with news of her own—the novel she's finally finished appears to be going nowhere but the trash bin of every publishing house around. She's devastated but plans to keep her disappointment under wraps, something that becomes trickier when she sees Skylar's spectacular apartment. Could her life have been like this if she'd chosen a different path?
What Daphne doesn't know is she's not the only one with a secret. Skylar and their friend KC are also holding something back, but what? As the trip unfolds, the truth about each woman emerges, along with tears.
And laughter. And love.
The fun-loving trio readers fell for in Wait for the Rain is together once more. Here's to the power of friendship!
You can connect with Maria Murnane on her website, Facebook, Instagram, and Twitter. Her book is available to buy from Amazon and Barnes & Noble. 
Click here to add this book to Goodreads!
I received a copy of this novel for free in exchange for an honest review. All words and opinions, unless otherwise stated, are my own.
No affiliate links were used in this post.