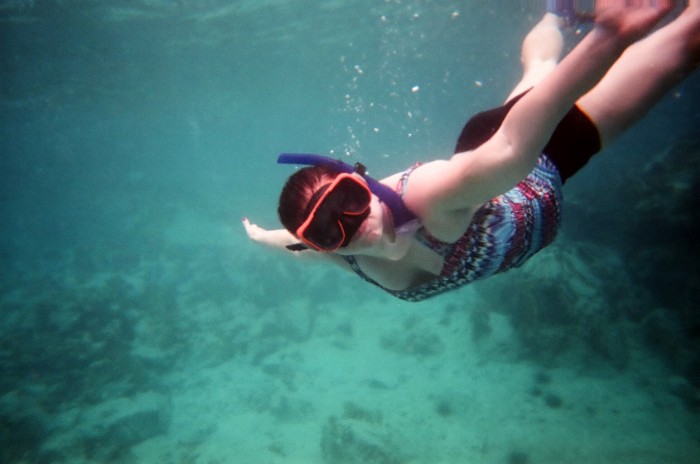 Our fourth day of the cruise was Tuesday, May 19 and we were in St. Thomas, U.S.V.I.! This was my first time in St. Thomas and I would go back in a heartbeat. Such an incredibly beautiful island with the most breathtaking views.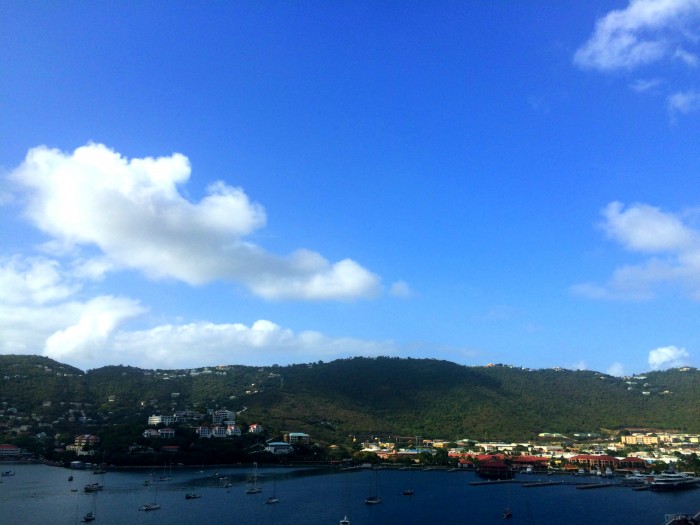 In St. Thomas, we docked at a later time (I think 9.am.) and our excursion didn't start until 10:45 a.m., so we were able to have a slow morning. I woke up on my own at 8 a.m., took a shower, and got ready for the day. A little before 10 a.m., we went up to the lido deck for breakfast.
We left the ship right after breakfast and met with our excursion group. By 10:45, we were making our way by taxi bus to the marina.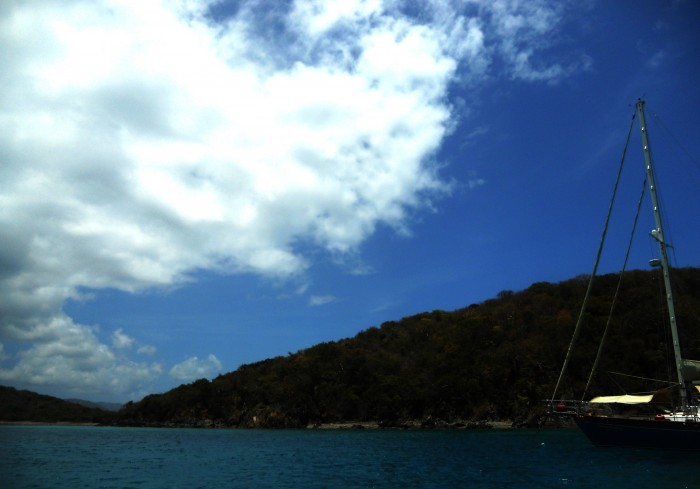 I'll be completely honest: I was really anxious about this excursion. I'm not much of a thrill-seeker in general, but I always like pushing past what is comfortable and trying new things. And especially when I'm on vacation! I don't want to spend the day at the beach – I want to do something out of the ordinary! And driving a speed boat for the first time in an unfamiliar place? Definitely out of the ordinary!
I was anxious about handling the boat, about everyone speeding past me and being left behind, about my mom falling out of the boat. About everything I could worry about, really. Thankfully, I was immediately put at ease when I met our tour guides, Sam and Travis. Before we even turned on our speed boats, we were given a lengthy safety demonstration and learned the hand signals we would use to signal if something was wrong. And nobody gets left behind because while Sam lead us to the snorkeling cove in his speed boat, Travis was the caboose, making sure everyone was okay.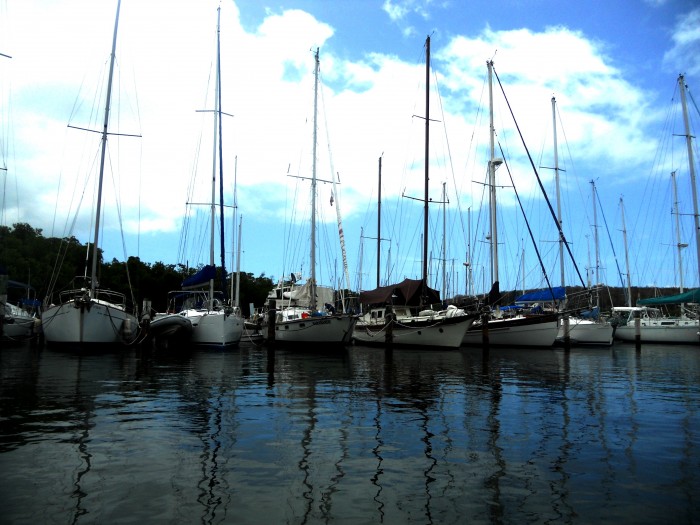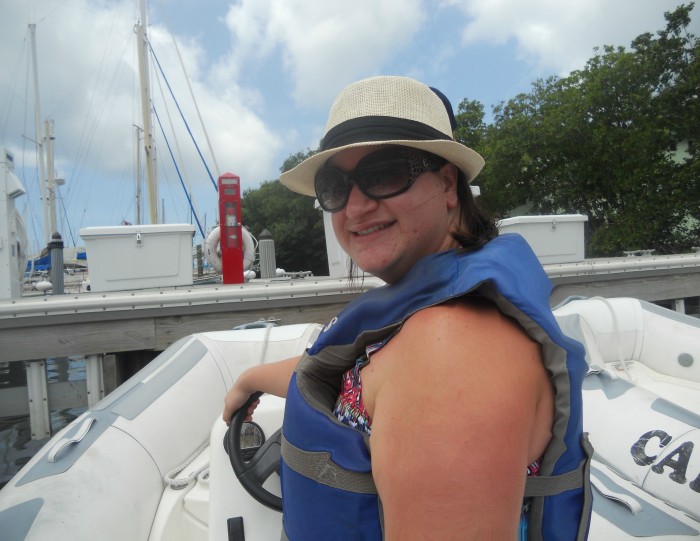 So! Speed boating. OMG – so much fun! I've jet-skiied twice before, but it's been a really long time (at least 10 years!), and I kinda forgot how amazing it is to fly across the water. I quickly figured out the controls on the boat – how to speed up, slow down, turn, etc. – and I just started flying. I could have driven that boat for hours. It was so much fun! I never wanted our time in the water to stop.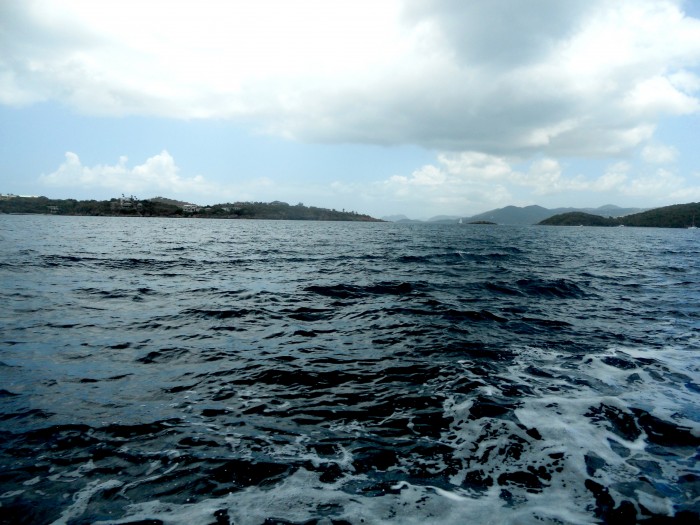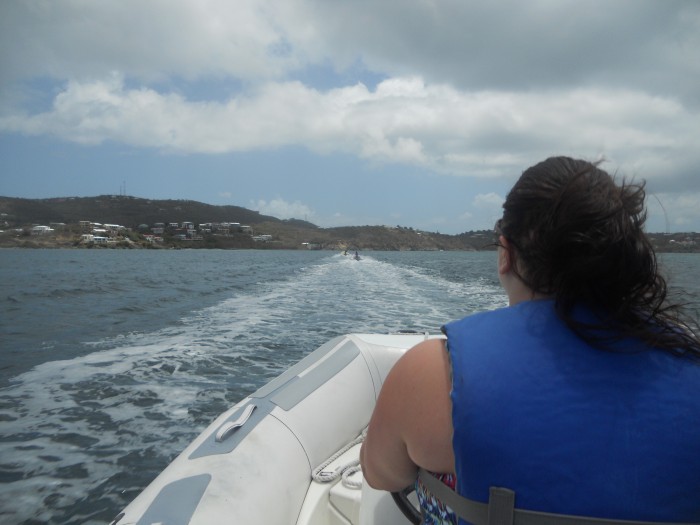 I was hollering and "woohoo"-ing the whole time because I was having such a blast and couldn't believe I was so lucky to spend a random Tuesday morning doing something like this. I felt so alive! And free! And happy!
Eventually, we wound up in Christmas Cove, which is where our snorkeling adventure would happen.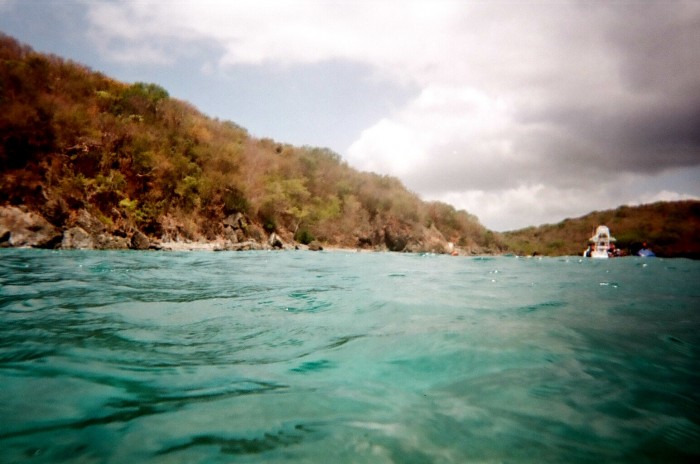 (Excuse some of the lower quality photos. I used an old-timey film camera that came in a waterproof case for the pictures at Christmas Cove.)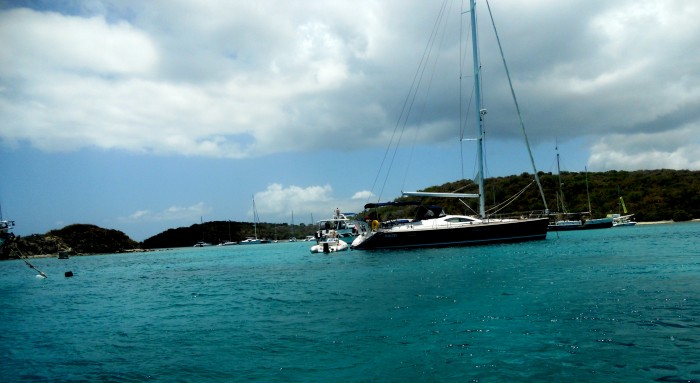 This was only my second time snorkeling, if you can believe that. The last time I went snorkeling was on my first cruise, but my mom isn't a fan so we usually opt for other excursions. But my mom was game for trying to snorkel again, and this excursion sounded too cool to pass up!
Unfortunately, my mom never mastered the process of breathing with a snorkel, so she mainly just swam around with me and would dive down deep into the ocean to take closer pictures when we found something cool.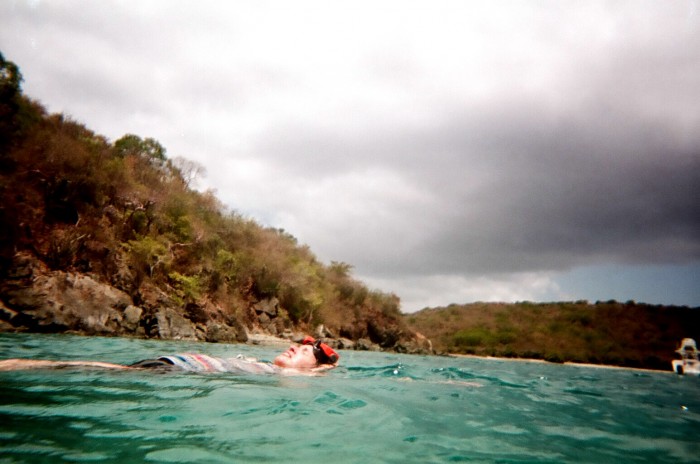 For me, the snorkeling was so much fun and it just makes me more interested in doing more of it (and scuba diving is totally on my bucket list now!) We didn't see too much interesting sea life. We saw a sea turtle, a sting ray, sea urchins, and some fish. We also saw some beautiful coral reefs, but the pictures I took do them no justice. (Darn you, film camera!)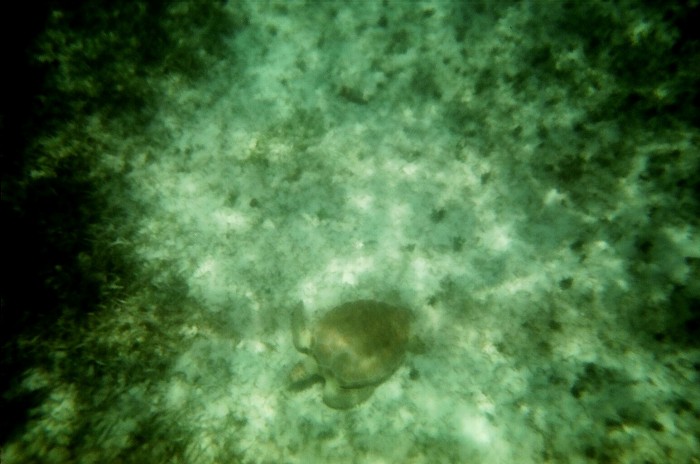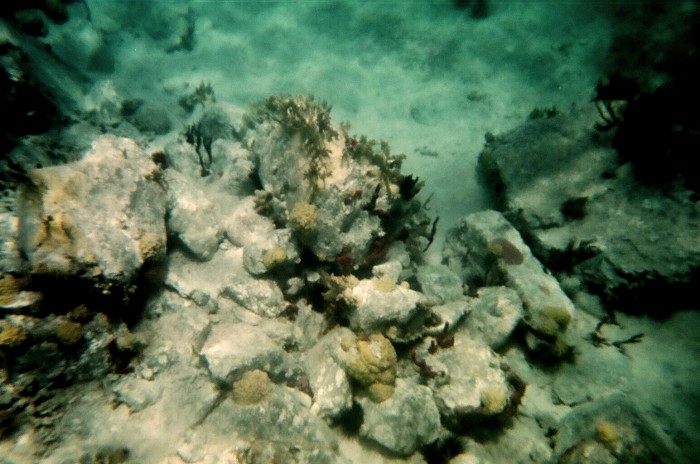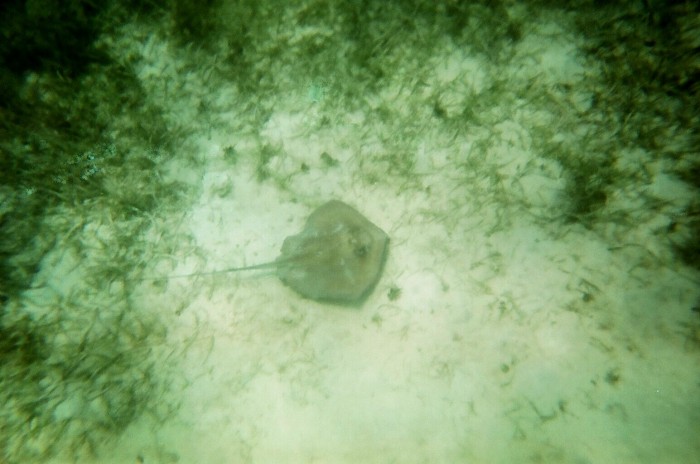 After about 45 minutes, it was time to head back to the marina, so we all climbed back into our speed boats and started the journey back. Though the guides said the waters were very calm today, it felt a little bumpy to me (and especially so for my mom, who was in the back of the speed boat, so caught much more of the movement). It was still super fun and I wish we could have done more of the boating. I was having a blast jumping over the waves and speeding through the water. AH! It makes me that much more anxious to rent a jet ski for a few hours sometime soon. (It is on my Tampa Bay Project list, after all!)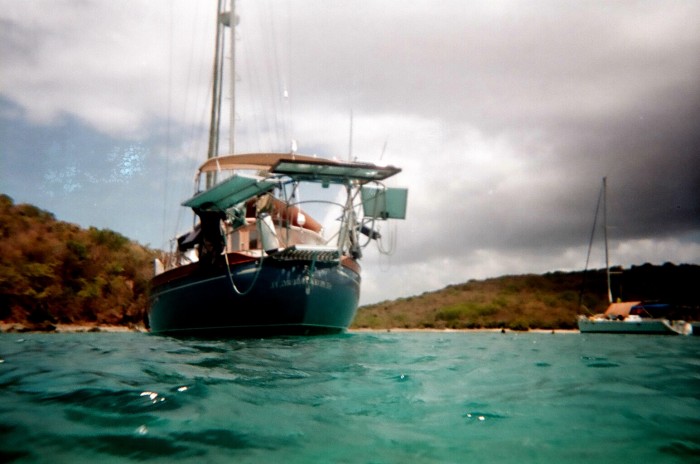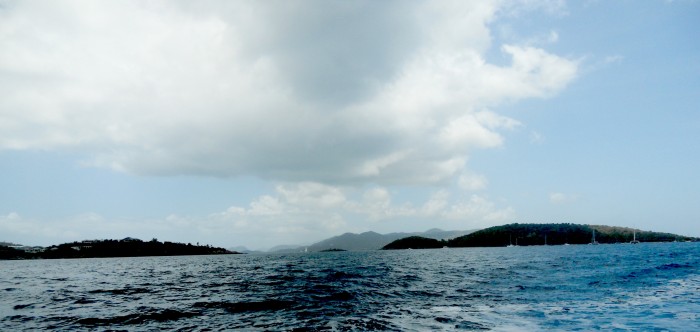 After we got back to the marina, we were given rum punches to round out the excitement of the day. I only drank half of mine and threw the rest out because I didn't particularly like it (too strong for me!) and it's probably a good thing I did because much of my excursion counterparts were a weeeee bit tipsy during the ride back to the cruise terminal. Ha!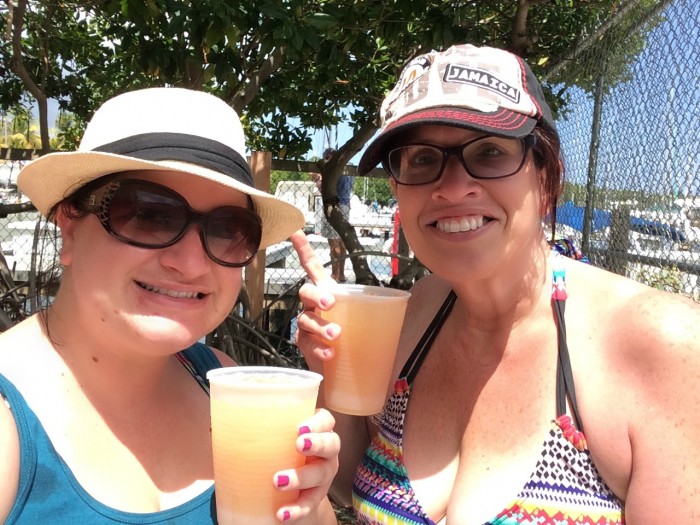 Once we were dropped off at the terminal, Mom and I decided to head back to the ship to change our clothes before heading back out to scope out the rest of St. Thomas. Unfortunately, there wasn't a whole lot to see and it started pouring down rain, so we decided to just go back after just 30 minutes.
Once back on the ship, we ate a late lunch (pizza for me, Guy's Burgers for Mom) and then played a round of mini golf on the top of the ship. We had the most amazing view for the game, and my mom just demolished me.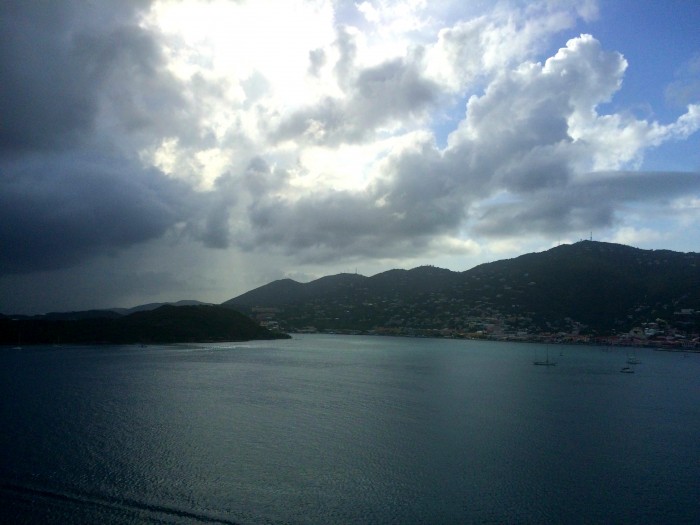 After mini golf, it was back to the room for showers and naps, which was just the most divine way to spend the rest of our afternoon, if I do say so myself!
The rest of our night was very low-key! We woke up, got ready, and went to the dining room for dinner. (Below you'll see my dessert – a s'mores parfait – which was my favorite dessert of the cruise!)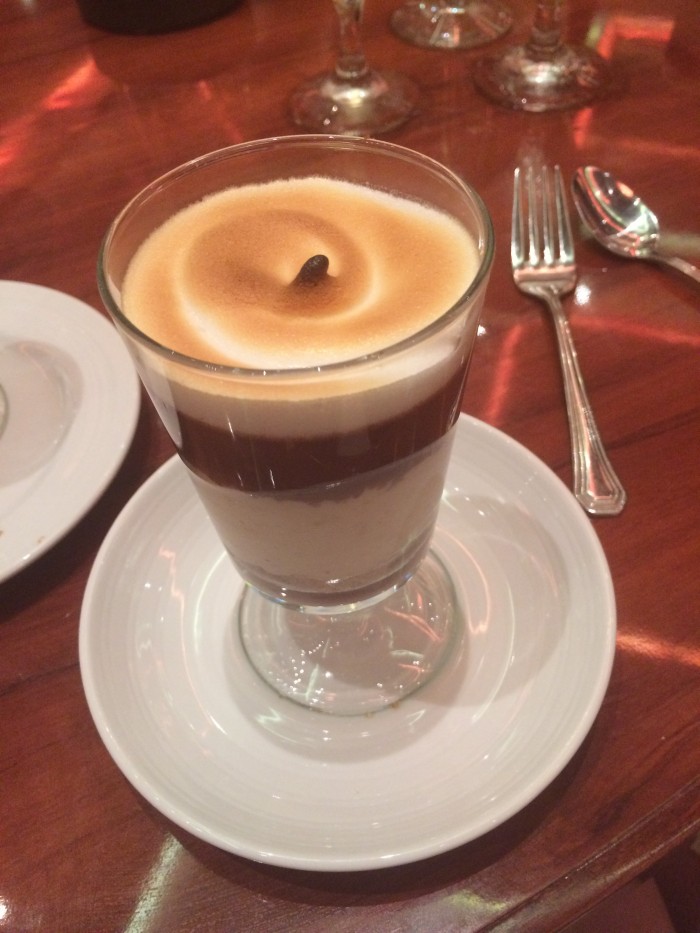 We had an early start to our day tomorrow (our excursion started at 7:45!), so we decided to forego the nightly entertainment for an early bedtime. (I'm nothing if not exciting, haha!)