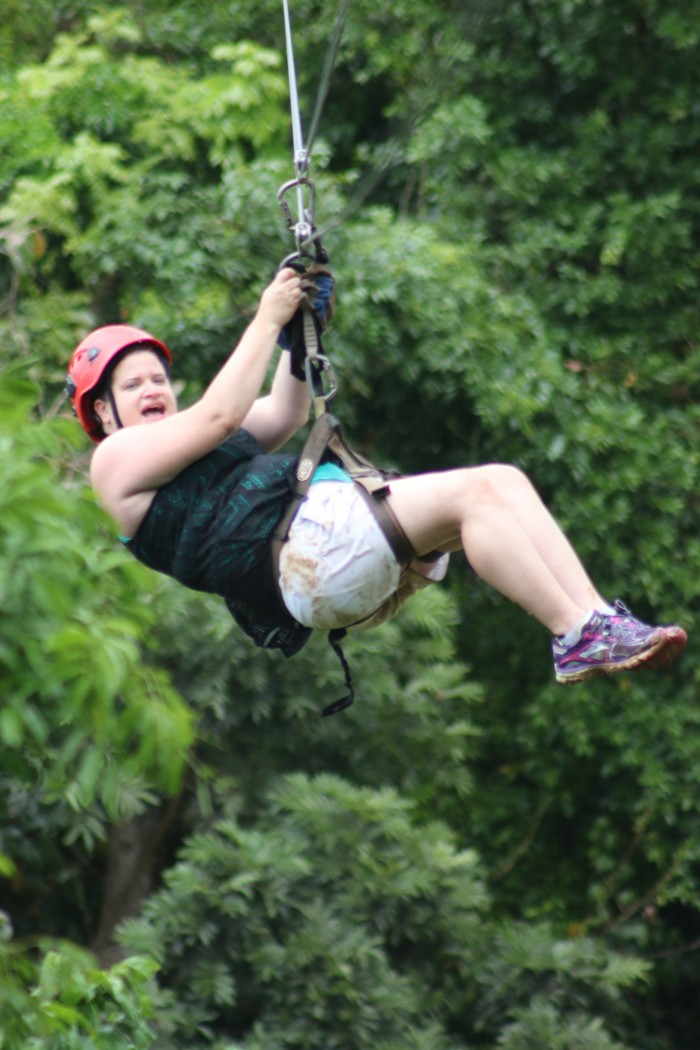 Our fifth day of the cruise was Wednesday, May 20 and we were in San Juan, Puuuuuerto Ricooooo!
I was so excited for Puerto Rico. I've wanted to visit this island for a long time (I've heard nothing but great things!) and we had a really fun excursion planned: zip lining!
Our excursion started early in the morning (7:45 a.m.), so we woke up around 5am so we had time to shower and have breakfast before meeting with our excursion guide.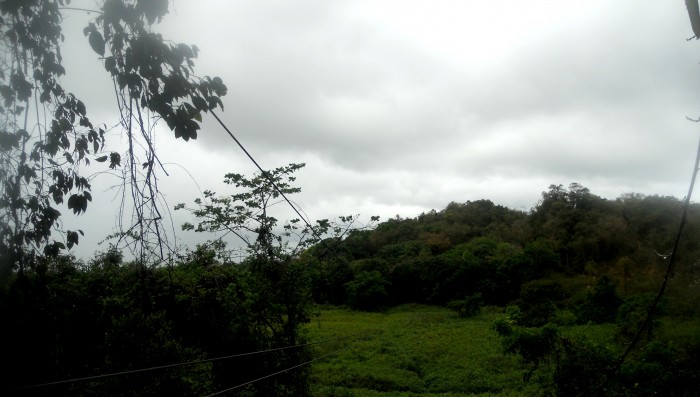 We traveled by taxi bus to Hacienda Campo Rico, where we would be zip lining. This place was gorgeous and so, so different from the hustle and bustle of San Juan. It was lush and abundant with greenery. Hacienda Campo Rico used to be an sugarcane field, but is now an adventure spot, where people can zip line, ride ATVs, or go horseback riding. It's incredibly beautiful and I felt like I was in an entirely different world!
We met with our tour guides, all of whom were super friendly and personable, and they got us suited up for the adventure. Then, we had a 15-minute safety demonstration on the correct form for zip lining before making our way up the first platform. Before I knew it, I was clipped into the line and pushed off into the air!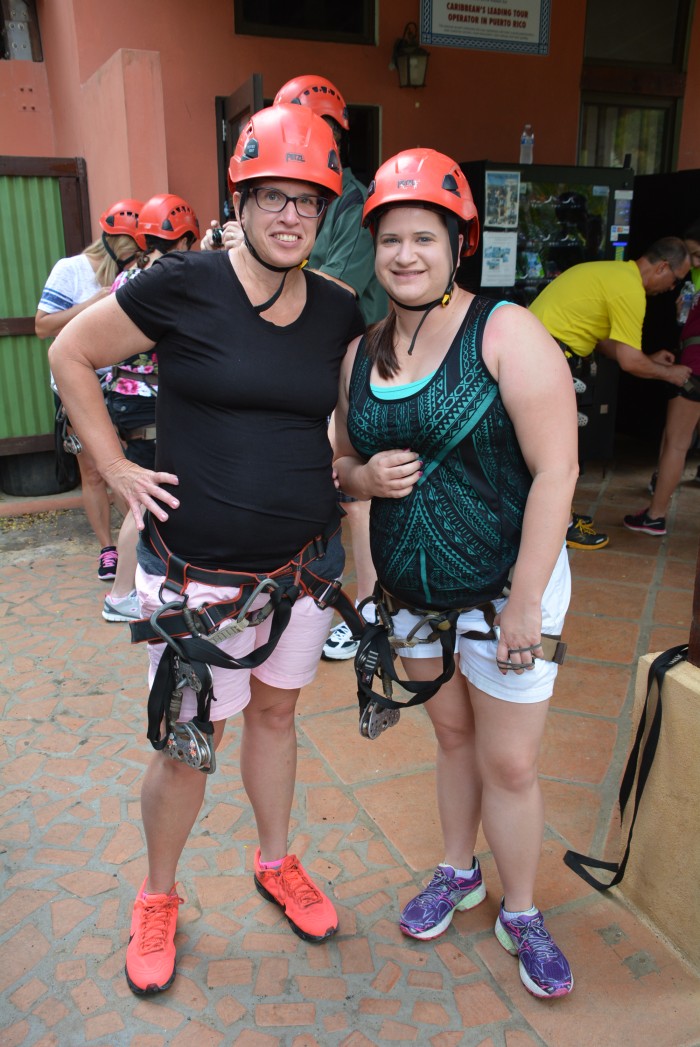 It was just. so. much. darn. fun. I felt so free and alive and happy. I was hollering the whole time, enjoying the feeling of flying through the air.
The second zip line was really cool because my mom and I could ride tandem! My mom was in the front and I wrapped my legs around her from behind and off we went! (By this time, it was pouring rain so that part wasn't so enjoyable!) But zip lining tandem was pretty fun itself!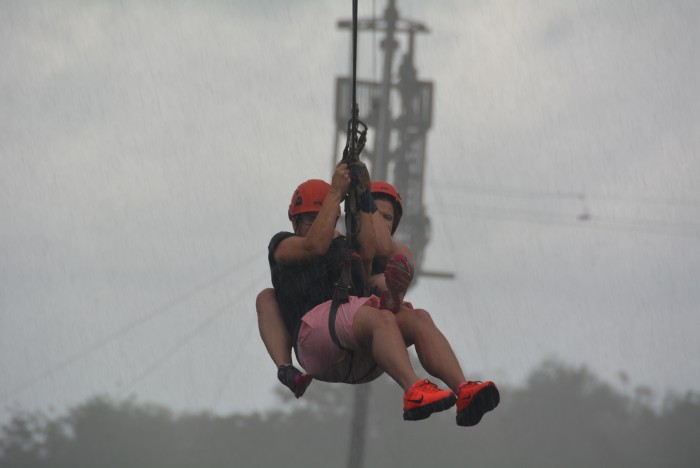 Then it was time to cross our first two rope bridges. I didn't realize how unstable these bridges were, but they were very shaky and you had to go slow with them. Thankfully, for extra safety, we clipped a part of our harness to a line above the rope bridge so if we did end up falling, we'd just hang there.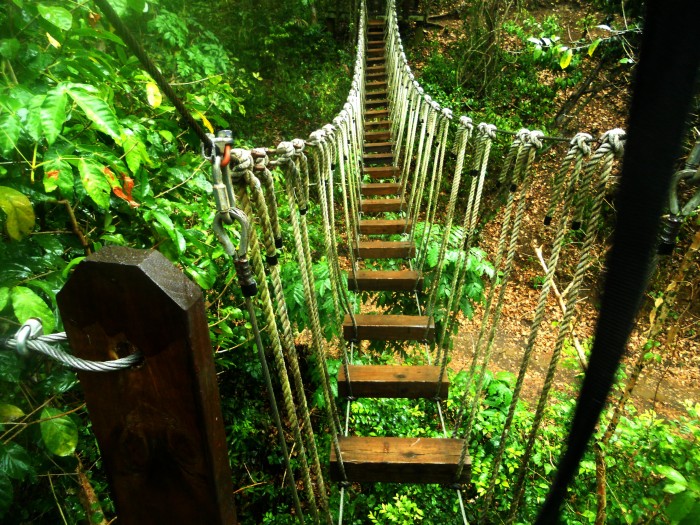 After that, it was time to hike! This was the part I was most nervous about because I had heard the terrain was very uneven, and I was hoping I was in good enough shape to keep up with everyone. I don't like hiking (the only other time I have hiked, I fell and broke my ankle, so we don't have a great relationship), so I wasn't excited for this part, especially as it was muddy and a bit slippery and just felt very dangerous.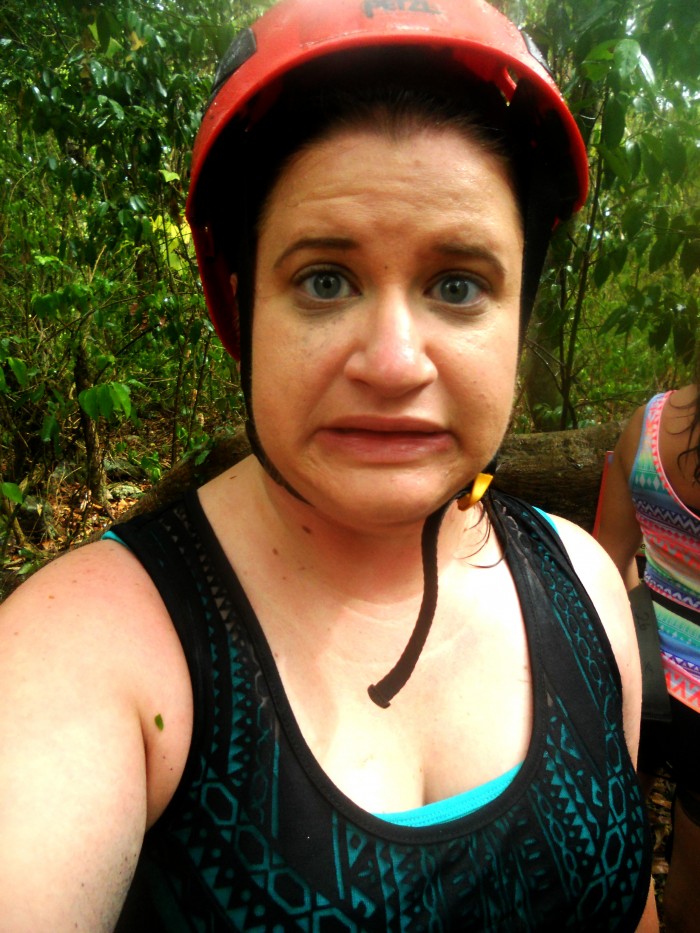 Thankfully, both Mom and I got through the first hike with relative ease and then it was back to zip lining! We went through two different lines and it was just awesome. The views were breathtaking, and flying through the air on a zip line is an experience like no other!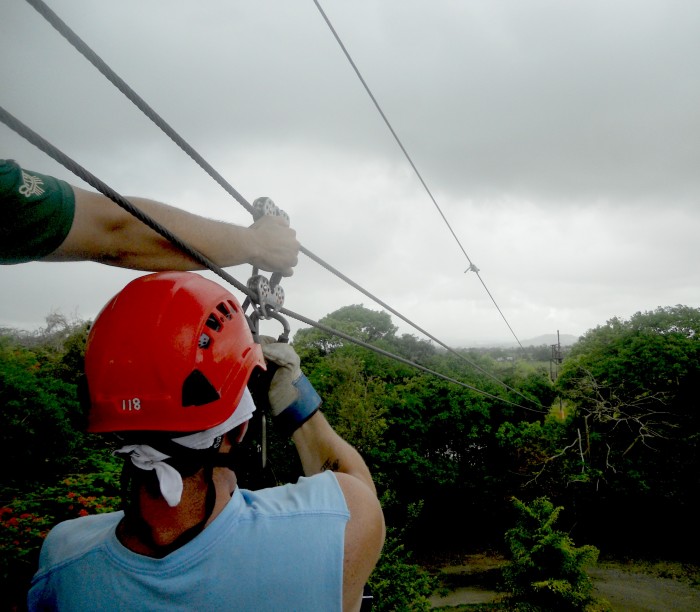 After this, we had another hike to do to get to the next zip line.
Annnd… this is where it all fell apart for me. This hiking was extremely treacherous. I'm talking climbing over big rocks and over huge tree roots. In one section, while climbing over a huge rock, I simply stepped wrong, felt my ankle turn sideways, heard it snap, and slipped. Sigh. It hurt like hell, but I convinced myself I was okay and kept going.
I didn't say anything to the tour guides at this point. I didn't want to stop the course, I didn't want the attention on me, and I just wanted to pretend everything was fine and I didn't injure myself. (I like to live in a state of denial, I guess.)
So I kept going. I made it through another zip line and two rope bridges, and nobody but my mom was the wiser. She could tell I was seriously hurting, but I kept telling myself (and her) that I was okay. That my ankle was fine.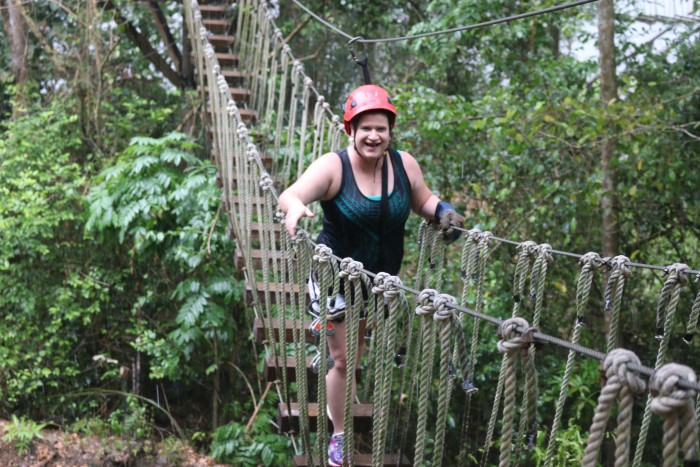 Then, it was time for another hike. NO. No, no, no, no, no, no, no, NO!
Since honesty is my policy here, I'll admit it: I had a meltdown. Thankfully, the terrain was a little more even (no rocks to climb over or tree roots to avoid stumbling on), but it was super steep. I got through the first steep climb and then when I saw we weren't even close to the next zip line, I had what could be called a tantrum or a panic attack. You decide.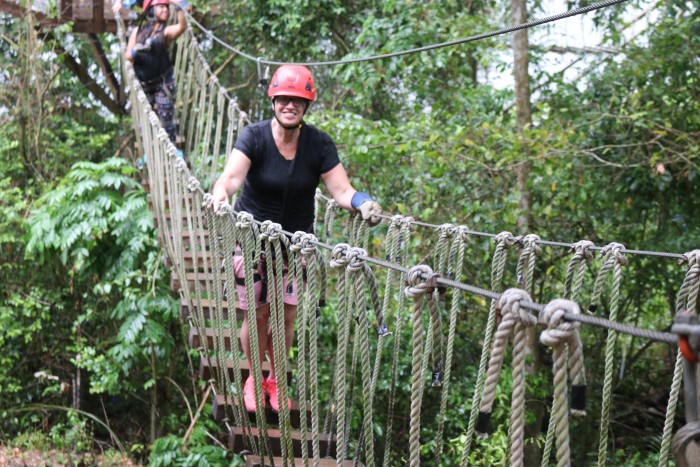 I couldn't breathe, I started crying, and I just kept saying, "I can't do this. I can't do this. I can't do this." I think I mentioned how terrible this excursion was, which I know hurt my mom's feelings because this was the one excursion she chose. (And I didn't mean it. Aside from the stupid hikes, it was an amazing excursion.) I just couldn't handle the pain and the disappointment at getting hurt any longer. And my adrenaline was beginning to wear off and my foot was throbbing. It was just so incredibly painful to put any weight at all on my right foot.
Somehow, I kept moving and we made it to the next zip line. I sat down on a bench next to the zip line, and this is when I told one of the tour guides that I had hurt my ankle. He was super, super, super nice and comforting. Honestly, I can't say enough how amazing these tour guides were when they found out about my injury. They made certain I wanted to continue and then did everything they could to make the rest of the excursion go as smoothly as possible.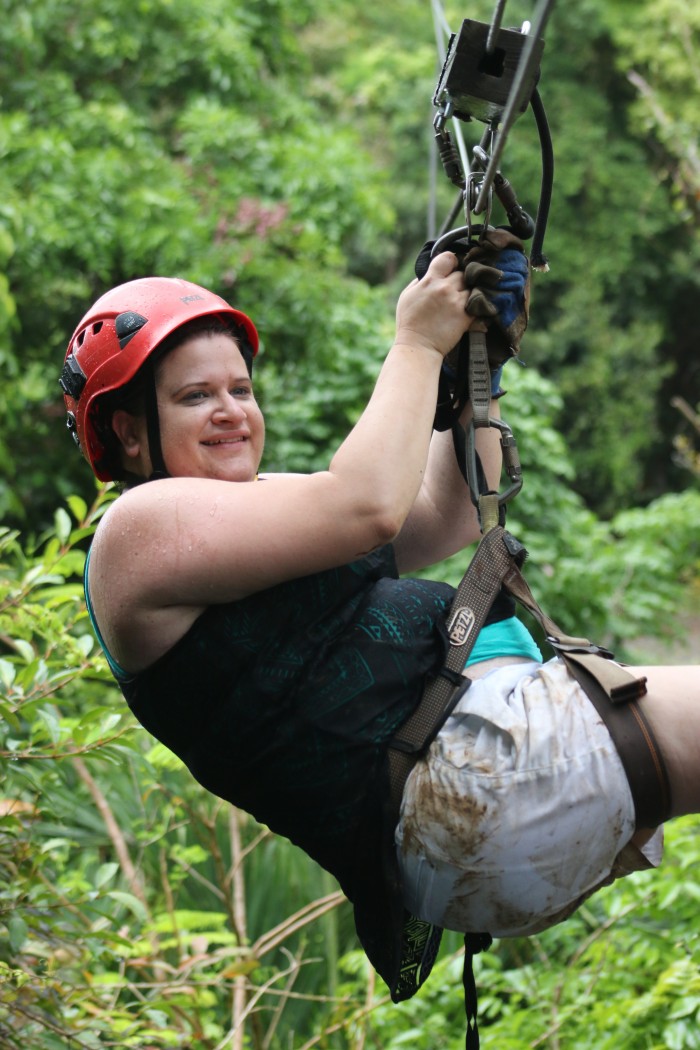 We went through another zip line (gah, so amazing. I love zip lining so much. The rush I get from it is undeniable.) and then another rope bridge (also loved these rope bridges. They were SO fun!). And then it was time for the last hike of the excursion – woohoo!
And, since the guides knew about my injury, one of the guides personally escorted me down! He held my hands, told me to grip his shoulder as hard as I needed to when I had to step downwards, and made sure my foot didn't slip when walking downhill by forming a barrier with his foot. And! He did it all backwards! Very impressive. And, um, I sorta didn't mind being escorted down. (Bow chicka wow wow)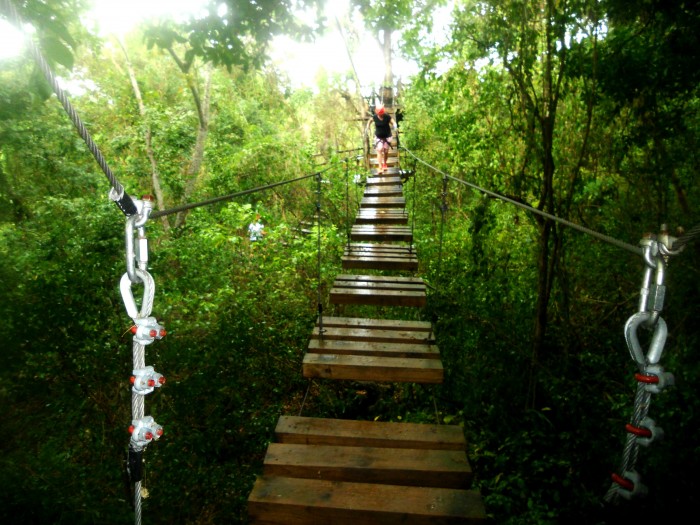 And then we were at the last zip line – the longest one at over 1,000 feet. It was a phenomenal ride, even if I did get whacked by a tree halfway through, ha.
When I came to the last platform, the guide took off all my gear and then sat me down at a table in the cantina. I elevated my foot and eventually was given an ice pack and ace bandage.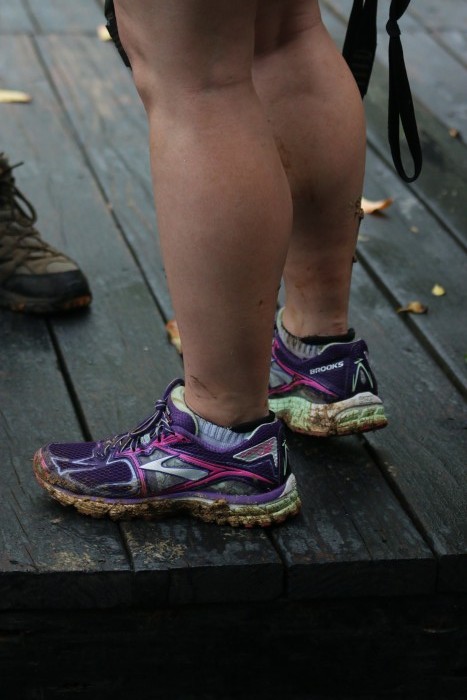 In the photo above, you can see how muddy my shoes got… and the fact that I'm putting no weight on my right foot at all. 
So, how do I feel about the excursion, treacherous hiking and sprained ankle and all? It is one I would 100% recommend! Yes, I would still recommend it, even if it was a bit of a rough one for me. You need to be in decent shape due to all the hiking, but the incredible zip lines and fun rope bridges made the experience so worthwhile.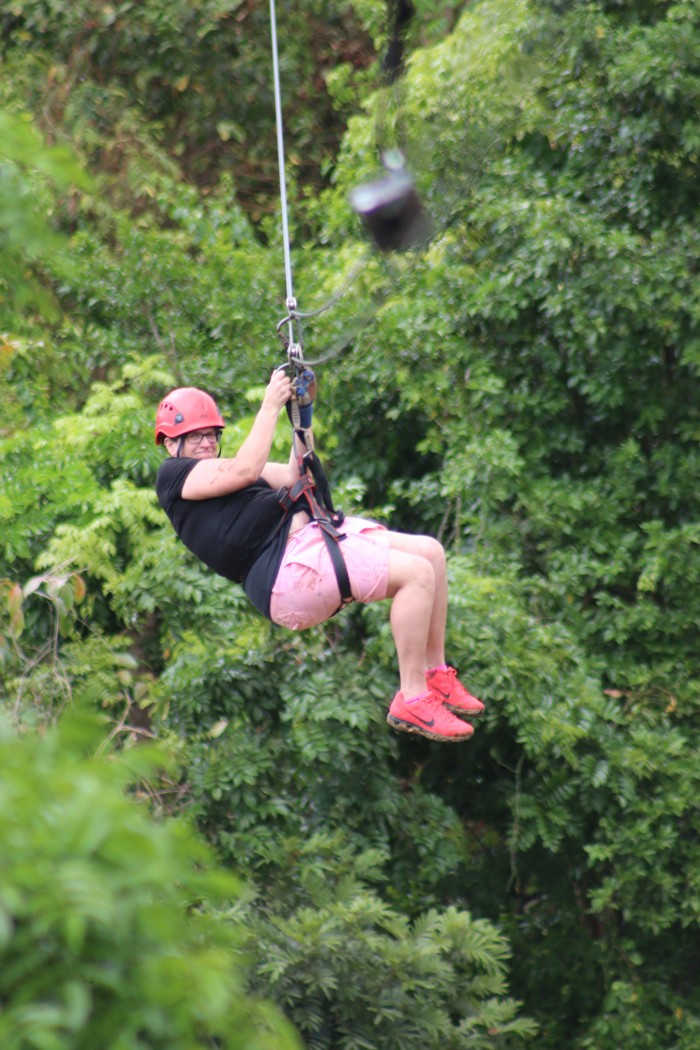 After the excursion ended, we went back to the ship to take showers (we were so muddy!) Then, because my ankle was feeling a little better, we decided to do a little exploring. First, we needed lunch (and my mom told me I needed some alcohol to numb my ankle pain, ha) so we stopped into Senor Frogs for a quick bite to eat (… and a yard of alcohol) Then, we walked around the city a bit, but didn't see as much of it as we liked because of my slow hobbling and only having a short amount of time before the boat was to leave.
We got back on the ship around 2:30 and the rest of the day was pretty low key for us, since I needed to stay off my ankle as much as possible. Our afternoon was spent napping, and then once we woke up, we had dinner in the dining room (where I proceeded to get lots of sympathy for my sprained ankle, ha!) and went to see the Love and Marriage Show (one of my favorite shows of the cruise). Afterwards, we poked around the gift shop before going back to the room for cards, reading, and bed.