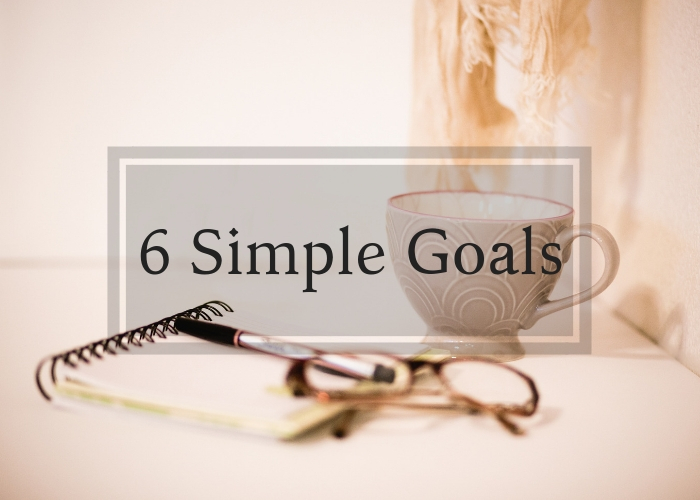 It's a shiny new month, which means it's time for shiny new goals. But first, let's take a look back on my September goals to see how well (or not well) I did:
1) No more shopping. Oh, boy, I had such a hard time with this goal and I ended up failing the last week of September. I bought a few unnecessary items at Target like a t-shirt and shower curtain, and then I caved and bought something that was sitting in my Amazon cart for weeks (a Bluetooth shower speaker so I can listen to podcasts while I shower because my obsession knows zero bounds). So, all in all, I was not successful with this goal.
2) Walk 10,000 steps every day. I did this most days, and I made the conscious decision not to on certain days. Sometimes, it was due to mental health struggles and knowing I needed rest more than I needed steps. Other times, it was just my body letting me know that I need to take a break and let my body heal. (More about that in a minute.) I love this goal, though, and my plan going forward is to walk 10k five times a week.
3) Eat three home-cooked meals a week. Nope. I made my first recipe in months this week, so I did not accomplish this goal at all in September. It's just so much easier to get takeout!
4) Schedule a facial. Complete! Unfortunately, I couldn't get in until the first week of November. (Mostly due to my schedule because there were definitely times available before then.) Oh, well. It will be a nice treat to begin my birthday month with, right?
5) Sell my sectional. Complete! It took over three weeks, but it's sold and out of my apartment. I just love being able to open my blinds and walk out to my patio without having to climb over my couch to do so.
6) Cultivate a better nighttime routine. I wrote about it, does that count? Ah, well. Why do the hours in the evening go by so fast? As I'm writing this post, it's nearing 9pm and I don't feel like I've done anything more than make dinner, watch an episode of The Office, and take a bubble bath. How did that take three whole hours? Sigh.
Three complete(ish) out of six. Not my best, not my worst. I'm holding out hope that October will be a much more successful month, and I've got some interesting plans in store:
1) Figure out what's causing all my back and foot pain. I've been having sacrum pain for weeks and weeks now (originally thought a massage would help, but it didn't), so I finally scheduled an appointment with a chiropractor to get it looked at. I'm also going to talk to the chiropractor about the foot pain I've been having for the past few weeks. Walking has started to become really uncomfortable (not so much when I'm wearing my supportive running shoes, but definitely when I'm barefoot or wearing sandals or flats), and my joints crack like crazy whenever I stand up and walk a few steps. I may need to see a podiatrist for this, but I'll start with a chiropractor and go from there. Oy vey, getting old is so much fun!
2) Prepare my home for kittens. I'm not sure if I'll be adopting kittens in October (it's a really busy month for me and I won't have a ton of time to check out animal shelters), but I do have just about everything I need. I placed a huge order on Chewy.com over the weekend and now I just need to put some of the items together so my house is kitten-ready for whenever the time comes.
3) Get ready for NaNoWriMo. Yep – I'm attempting this challenge again this year! I have been working on my plot outline for awhile now and I want to put the finishing touches on it this month, so I'm totally ready to start writing on November 1st.
4) Buy some new bras. So, confession: I've been buying my bras at Target for a long time now. I just cannot fathom spending more than $30 on a bra, even though it's something I wear daily and is a pretty important part of my wardrobe. Unfortunately, the wire in one of my bras snapped recently so I'm down to just one bra and I think I'm ready to invest in a good bra. No more Target bras! I was thinking about trying out Thirdlove, since it's raved about on every podcast I listen to, but if anyone has a recommendation for a different brand to try, I'm all ears.
5) Journal every night. I decided to do this after I had my second therapy appointment where I forgot just about everything I wanted to talk about (a fun side effect of social anxiety). Thankfully, we found plenty to talk about but I'd like to have a place to figure out what sorts of things I'd like to talk about in therapy. I've already started this process, and I'm just reflecting on my day using a series of prompts (what made me proud today? what was I grateful for? what was hard about today?). We'll see how it helps, but I'm enjoying it so far!
6) Do something politically engaging. How's that for a vague goal? I don't know what I want to do yet – maybe phone banking – but I do know that I can do something rather than complaining about everything that's happening and feeling helpless.
What's something you'd like to accomplish this month?