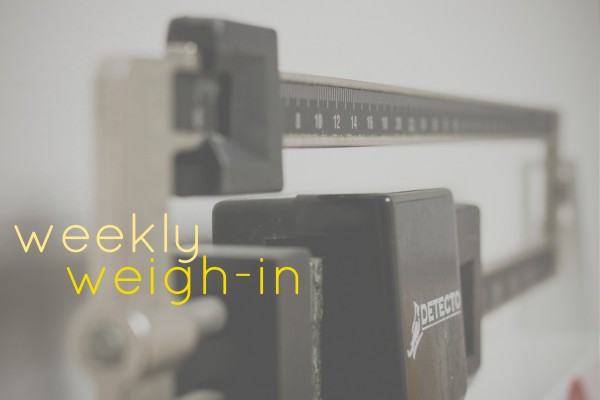 Well, last week's weigh-in post was a bit of a downer, wasn't it? It was cathartic to write a post like that, though it wasn't entirely easy to read. But it felt good to get my feelings down and sort through some of the emotions I have regarding losing weight and eating healthier. Because this ish is hard. It's really, really hard. I didn't grow up in a household that encouraged healthy living and exercise. I grew up on processed foods, sugary drinks, nightly desserts, and many a fast food visit. The only time I exercised was for P.E. or gym class, and I don't think I ever really started exercising regularly until college.
It's difficult to switch your mindset, but I know it's possible. And sometimes, things will go well and sometimes, things will be really, really hard. But that's the whole point of change: living in the uncomfortable until it starts becoming comfortable.
There's a great quote that I love that says, "If you're tired of starting over, stop giving up." And how true is that? I've been at this "beginning" of my healthy living journey for years because I keep stopping and starting, over and over again. It's not that I don't want to live healthy or that it's not the "right time," or anything like that. It's just that living in the uncomfortable is weird and difficult and annoying. And it's hard to sit in that uncomfortableness all the time.
So I spent a lot of time thinking this past week about what I want my healthy living journey to look like. What do I need to do to help me succeed? I was writing an article for work on habits and came across this amazing article from Zen Habits called "The Four Habits that Form Habits." It talks about the four habits we need to put into place in order to actually form habits. There was one sentence that stuck out to me and it said, actually doing the habit is much more important than how you do it.
He suggests we start as small as possible. For example, if you want to get into a regular habit of exercise, simply exercise for two minutes a day. It's sounds silly, doesn't it? You're not going to get any results from that! But the point is not results, the point is building a habit. And building a habit means building a foundation. And because exercising for two minutes a day is so laughably easy, we can do it without any issue. Then, you gradually work your way up as the weeks progress to where 30 minutes of exercise a day is a natural habit in your life.
Another important point the article brought up was to enjoy forming your habit. Have fun with it! "Your new habit isn't some sort of sacrifice, some sort of chore you need to get through to get to a better life. Your new habit is your better life."
Powerful.
In this vein, I decided that I needed to stop worrying so much about the scale and getting things perfect and losing x amount of weight in x amount of time. Instead, I need to focus on building healthy habits. Sure, it might mean it takes me muuuuch longer to lose weight, but it's not like the way I've been doing currently is helping me see results. There's no time limit on my goal. I want to take small steps to build healthy habits, starting small and savoring the journey.
So I made a decision on three habits I want to incorporate into my life. Sure, this isn't starting as small as the article states but I do have a base for my healthy living and fitness, and this feels right for me. My goals are to exercise for 30 minutes five days a week, to drink at least 32 oz of water a day, and to only have dessert once a day.
I started implementing these habits this week and I didn't do as awesome as I hoped, but I'm not kicking myself for failing. Every day is a new day to get it right. I did manage to drink 32 oz of water every day, which I'm very happy about because drinking more water has been a goal I've been trying to achieve for a long time. It may not seem like much, but it's enough that it feels a bit challenging but still doable. (The real achievement came from doing this on the weekends since I rarely even drink an ounce of water on the weekends!)
I only managed three days of exercise, but I do have a good excuse for that. On Friday, I actually twisted my ankle (the same ankle I've broken twice before) and I spent Friday and Saturday resting, icing, and elevating my ankle. Luckily, it's healing fine and I was able to work out on Sunday without any pain.
As for dessert, weeeellll. That's been a bit of an issue so far. I know the easiest thing would be to not buy anything dessert-like when I buy my groceries, which was something I was doing. But then I started buying a bag of Dove chocolates and bringing a handful to work, then having a handful after dinner, and it just hasn't been great. This is a major work in progress.
I've also decided to change from weighing myself once a week to weighing myself once a month. This will be a challenge, but I think it will be good for me. It allows me to simply focus on building healthy habits without worrying about how it affects my weight. I want to do this for the overall health and wellness aspect, not on my results on the scale. (Well, I am also doing it to lose weight, of course, but I don't want that to be my sole reason for building healthy habits.)
This means I'm also not sure what to do about these weigh-in posts, though I do like the accountability of them. And I like talking about health and fitness. I think I am going to continue to do them, as long as I have things to write about. We'll see how it goes.
In any event, I am feeling much better about this new plan and more motivated to succeed because I'm doing it for me, to build stronger habits, and to find my healthy living happy place.
Are you working on any healthy living goals currently?