We're less than two weeks away from Christmas! I can't believe how fast this month is flying by. Last week, I finally decorated my apartment, although I don't really have room for a tree. (My sectional takes up the majority of my living room!) I have a tabletop one, but there's something about a big, full tree surrounded by presents that makes my heart full. Ah, well. Maybe next year!
Every year, I like to write out my wishlist for Christmas. It's slightly narcissistic, I know, but it's so fun! Of course, Christmas isn't about the gifts, and I am looking forward to the traditions this season brings, like making Christmas cookies, watching holiday movies, and celebrating Christmas with my family on Christmas Eve. Oh, and drinking as many peppermint mochas as my body will tolerate. 😉 But presents are fun! And I like imagining what will be waiting for me under the tree.
Here's what I'm wishing for this Christmas season…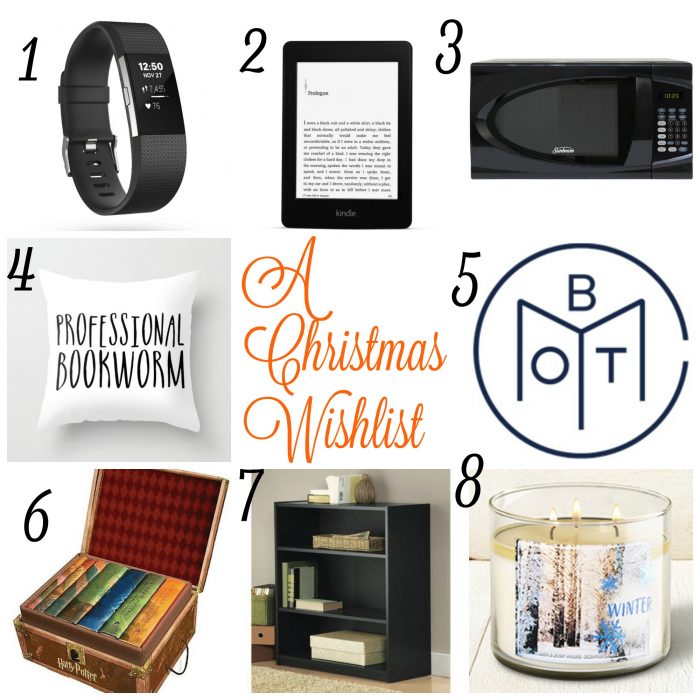 1) A FitBit
I've wanted a FitBit for a while now, but I'm hesitant to invest in one because I worry I'll only use it for a few months and then get tired of it. But maybe not? Well, I put it on my Christmas list this year, so I guess we'll see what I do with it if it's under the tree for me this year.
2) Kindle Paperwhite
I've been using my iPad Mini as my Kindle reader for the past few years now, and it works well, but it's basically impossible to read when I'm outside in the sunshine due to the glare on the screen. I'm ready to go back to a lightweight Kindle again. I miss it!
3) A microwave
Haha, what an adult-y wish! My new apartment didn't come with a microwave and I haven't bought one myself, even though I desperately need one. It's one of the reasons I'm not meal prepping right now – I don't have a way to heat up food! Santa…?
4) Bookish throw pillows
I love the Instagram feed of Bookworm Boutique and would like to own all of the things she sells, but I'll settle for some cute bookish throw pillows for my couch. It's very on brand for me. 😉
5) A subscription to Book of the Month Club
Is there any better gift for a book lover? I think not. I've wanted to join BOTM Club, but I continue to hesitate because it's not a cheap subscription service and I'm not huge on buying books (all library, all the time!). Every month, though, when I see the selections for the month, I get the itch to join because the selections are excellent.
6) The entire Harry Potter series, in hardback
I once owned the entire Harry Potter series, but in paperback, and I gave the series away to a coworker's daughter who wanted to read the series. I don't regret that decision, because I never regret giving away books, but after rereading the series this year, I find that I want to own the series, especially in beautiful hardback books. Yes, please!
7) A small bookshelf
Okay, okay. I know I've said I don't really buy books, but I've recently amassed a tiny collection of books and it's giving me the itch to add more to my collection. And I could really use a bookshelf in my bedroom to liven up the space. I doubt I'll get this for Christmas, so I'll probably end up buying this myself after the holidays.
8) Candles!
I remember when I was younger and thought getting candles as a present was soooo boring. Well, Younger Steph, the older version of you would actually be very excited to receive candles for Christmas. Adulthood is so weird.
What are you wishing for this year?