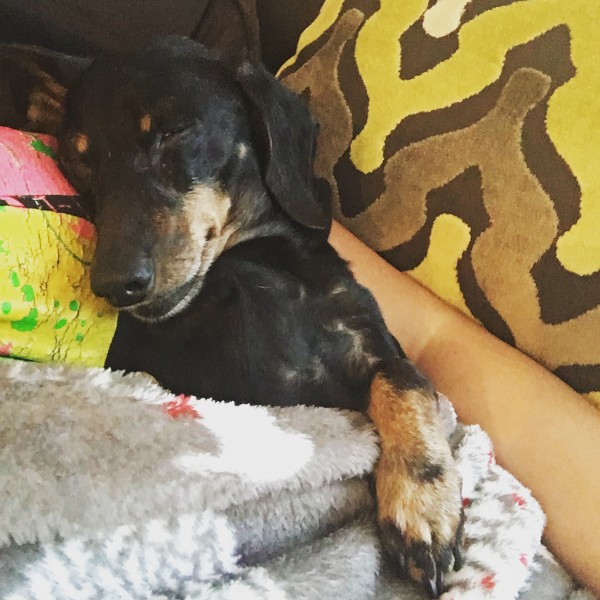 Feeling… a bit worn out from this week. Work has been crazy stressful lately with so many deadlines happening at the same time. I feel like I spend my whole day running from one task to the other, barely having time to catch my breath. (On Monday, I realized I didn't move from my desk from noon until 4:30… whoops!)
Anticipating… my upcoming weekend! I'm staying in tonight and then tomorrow starts a fantastic mom/daughter weekend. We're going to get pedicures and see a movie before enjoying our typical Saturday Night Game Night with my brother (and possibly my older nephew). Then, I'm staying over at my mom's apartment and on Sunday morning, I'm going to spectate at the 5k she's running and we'll most likely enjoy breakfast before I head back to Tampa. I am soooo excited for some good, old-fashioned "mom time."
Happy… with my roommate's decision to institute weekly "date nights." Even though we live together, I honestly don't see her all that much because she has a crazy social calendar and she's gone most weekends (I can count on one hand the number of weekends she's been in town since we moved in September!) And she's one of my favorite people to hang out with, so I'm really glad she noticed this and asked to do weekly dates. (Our date this week was to make homemade s'mores while watching The Princess Diaries, so who the heck needs a boyfriend when you have a soul sister like my roommate?)
Reading… Dumplin' by Julie Murphy. I bought a physical copy of this book to read on my cruise, but I didn't have time to start it. This is actually the first book I've bought in… well, forever, it seems. It kinda gave me this itch to buy more books… which can't be good.
Grateful… that my congestion has just about cleared up. And I have no reason for why it did! I'm trying to be mindful of dairy (cow's milk and ice cream especially seem to contribute to the congestion) and I switched over to a fragrance-free laundry detergent, but other than that, maybe the change in seasons? I am waking up in the middle of the night to a clogged nose, so it's not completely gone and I still want to see a doctor about it, but honestly, all of the praise-hand emojis to feeling better!
Using… the 1 Second Everyday app. The premise behind is app is, as its name suggests, to take a one-second video of your day so that you have this short video of these tiny, everyday moments of your life. I'm planning to post weekly videos to Instagram because it seems like such a fun – and super low-key – way to document my daily life.
Frustrated… with Dutch's middle-of-the-night wake-ups. I know he can't help it, but man, is it exhausting. I can't remember the last time he let me sleep through the night – he's usually waking me up anytime between 1-3am needing to go out. #seniordogprobz
Planning… where I want to go on my next vacation. One of my yearly goals is to visit a state I've never been to before, and I'm thinking about North Carolina. Flights to North Carolina can be super cheap and I've heard such great things about Asheville that I really want to visit!
Wanting… to get back into a regular exercise routine. I haven't been to the gym in weeks. It's just been such a struggle to wake up early to work out. I could work out after work but, honestly, the last thing I want to do after a long day at work is get my butt to the gym. Oh, the struggle!
Hoping… to take a solo adventure soon. I'm thinking a stroll through the botanical gardens is exactly what my soul needs!
What are you currently anticipating, reading, and frustrated about?