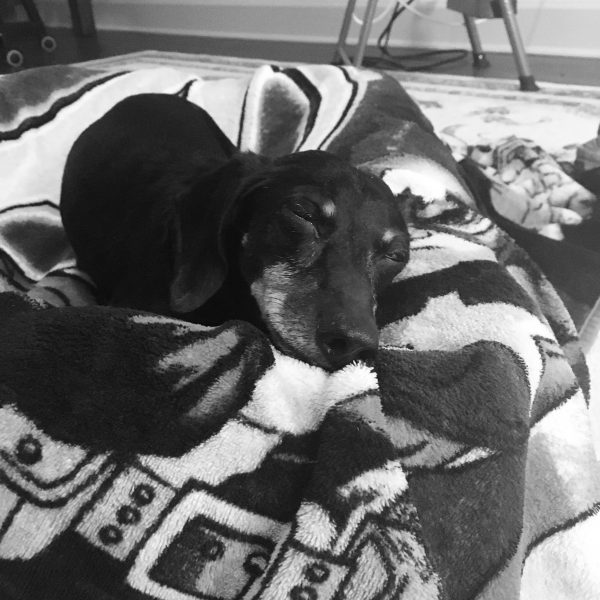 Loving… Instagram stories. Guys, I'm addicted. At first, I didn't understand the point of Stories, but then I decided use it to take videos of Dutch because who doesn't want to see videos of him?? And now I use it all the time. I'm trying to only use it a few times a week, in a "document my day" sort of way because I think it gives people a different look inside my world, which is always fun. I also love watching everyone else's Stories and seeing what they're up to. It's a less filtered look into everyone's world.
Loathing… my social anxiety. I signed up to participate in a team-building event called Sportsfest and I've been dreading the event ever since. There's only a handful of people from my work participating (maybe 20?), but I signed up because a good friend is the organizer and I wanted to show my support for her. It takes place the weekend before I leave for Puerto Rico so the timing isn't great, and I'm nervous about getting to the event and parking and how crowded it will be. Thankfully, two of my very good friends will be there and both have offered to pick me up, which eases some of my worries. And also, I don't want to turn down events just because I have social anxiety. I did that a lot in my late teens/early twenties and it led to a lot of loneliness. It may be awful, but that's okay. I don't want my social anxiety to be an excuse for not trying new things. And, truthfully, I will probably really enjoy myself! A few hours at the beach, spending time with my awesome coworkers? I think I'll end up having a ton of fun.
Reading… The Underground Railroad by Colson Whitehead. I'm moving through the book slowly because it's a book that you can't simply speed read. But it's phenomenal so far and the writing is exquisite. I actually suggested this book for my work book club and a coworker rolled her eyes at me and made a comment about how she didn't want to read anymore books about slavery "because it's over. Let's move on." Of course, I made sure to let her know that, as a white woman, she has the privilege to say that, but this is an area of history that we do not need to move on from. We need these stories, both fictional and real, to never forget what happened and how we treated black people in our country. It's despicable and horrific, and The Underground Railroad is such an incredible exploration of this time period and how black people were looked upon as no better than animals. It's a hard read, yes, but it's an important one. (And one my coworker should really, really read to better understand why "moving on" is not the answer.)
Watching… The Amazing Race. This season is unique because instead of the teams being couples or family, they are total strangers. Can you imagine trying to race around the world and do high-stress challenges with someone you've never even met?? Some of the teams work together perfectly and others are really struggling, but that's what makes it so fun. I already have a favorite team and I hope they can make it to the end!
Anticipating… my trip to Puerto Rico! My mom and I have started making plans for some of the things we want to do (we definitely want to do a walking tour of Old San Juan and explore the El Yunque Rainforest), but we also plan on spending a lot of time by the pool and at the beach, sipping fruity drinks and reading. And since we're not foodies in the least, I haven't planned out any restaurants to visit, so if you have any recommendations, let me know! I'm all ears. Every time I try to do research about where to eat in San Juan, I get overwhelmed and close my browser, ha.
Thinking about… how to be more budget conscious. I've always struggled with sticking to a budget for some reason, but I'm really trying to get better at it. It's not that I'm not paying my bills… it's more that I tend to spend more than I save. But I started implementing a cash budget system for discretionary spending – trips to Target, meals out, coffee, etc. – which has been working out great. Once my cash is depleted, that's it! If it means turning down plans, so be it. I must get better at how I spend my money. (But, nope, not going to feel ashamed that this is harder for me than it seems to be for others. It's just the way it is. I know I have more on my plate, bills-wise, than other people as I live alone and am paying on my school loans, and while I make a good-enough salary, it's definitely on the lower end of what's comfortable. I know there can be so much shame tied to how we spend our money, but can we just stop that? You can only do the best you can do, and strive every day to get better. You don't have to save half your income, you don't have to be completely debt-free, you don't have to give up coffee or trips to Target. You just have to do the best you can!)
Needing… to get back to eating healthy! I've been eating junk for the past two weeks and not really exercising. It started with being displaced for three-and-a-half days for fumigation and then I got sick and then I had a really busy week… and when stuff like that happens, healthy eating always falls to the wayside. I'd really like to lose weight this year, but I'm not really putting in the effort to make it happen.
What are you currently loathing, reading, and anticipating?