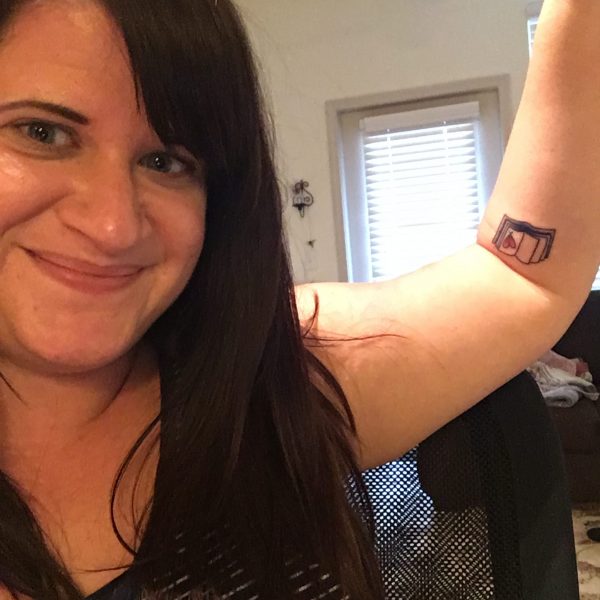 Loving… my new tattoo (pictured above). I love it so much! It honestly feels like it was always meant to be there. It already feels like a part of me. I've had this particular tattoo idea pinned to my Pinterest board for at least three years, and I'm so grateful for my friend M. who basically just said, "We're making this happen finally!" as we've been talking about getting book tattoos for a really long time. And maybe, just maybe, I've been thinking about what tattoo I'm getting next (uh-oh).
Loathing… oppressive humidity. I know that I live in Florida and it's what I have to deal with, but it is rough. We're usually sitting pretty in the low-to-mid 90s around here, but the humidity is usually above 60% (often higher), so it always feels much, much hotter than that. All I can say is that I am grateful for AC in my apartment and in my car. I couldn't survive this time of year without it!
Reading… When Dimple Met Rishi by Sandhya Menon. The writing feels a little juvenile, if I'm being honest, but it's a good palate cleanser after finishing The Nightingale, which just broke my heart in two. I love a good YA love story, and this one has such a unique premise (involving arranged marriage!) and a delightfully fun cover that I couldn't help but give it a try!
Watching… the last half of season seven of Gilmore Girls. Woohoo – I'm almost done! I'm super excited to finish the series, so I can finally watch the revival episodes. (And, um, actually move on to other shows I've never seen, like Mad Men, Friday Night Lights, and The West Wing.)
Anticipating… an upcoming four-day weekend. My company was generous enough to give us July 3rd and July 4th off for the holiday and it's basically all I can think about. I don't have any plans for the holiday, so I'm going to treat it like a little staycation. Four days of no alarms, naps, time by the pool, some Netflix binges, and plenty of reading? Sounds A-OK to me!
Thinking about… Dutch's upcoming comprehensive exam and dental cleaning. I've basically got an entire page full of notes about his recent health issues (ah, the joys of a senior dog!) I want to talk to the vet about Dutch's dementia symptoms. I also want to find out if the vet can give me any insight into Dutch's vision because he seems to be bumping into things more than usual. I also believe he's developed hip dysplasia, due to the way he walks in the morning and his "bunny hops" in the grass during his walks. Ah, buddy. He's hanging in there for such an old man, and is still a happy little doggo, but getting old is a painful process.
Needing… a break from the news. I've stopped checking Twitter as much as usual because I follow too many people who tweet about politics. Which is good when I want to be informed, not so good when I just want to go to Twitter for some funny tweets. I've felt a little overwhelmed by the news, so every now and then, I need a break and I've been taking time away. I'm still listening to political podcasts, so I'm keeping informed, just not on a daily basis right now.
What are you currently anticipating and loving?