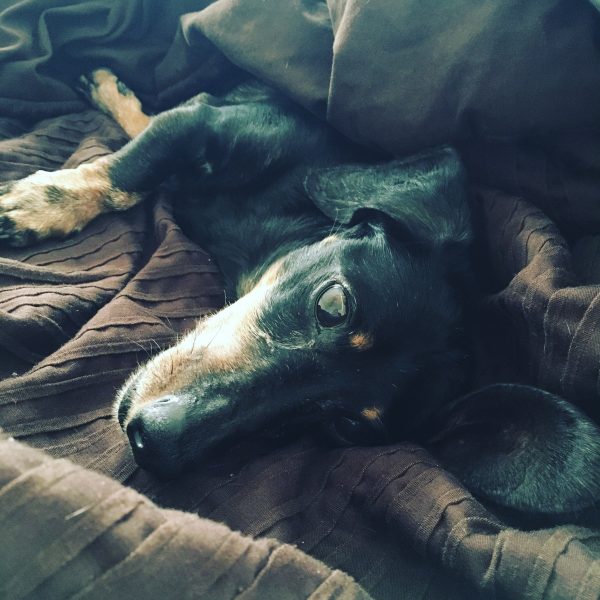 Loving… belonging to the gym again. It's what my workout routine has been missing. I'm now doing much longer and tougher workouts, and lovvvvve going to spin class again. Every time a class starts, I get this silly smile on my face, hehe. I'm trying to make it to the gym four days a week, though I hope to increase that to five or six in the coming months.
Loathing… how expensive having a dog is. I love Dutch and I would do anything for him (and I do). But these past few months have been so damn pricey with multiple vet visits, lab tests, an ultrasound, specialty food, medicine, etc. Obviously, I will swallow any sort of cost as long as he's getting the medical attention he needs, and this is honestly just life with a geriatric dog. Thankfully, he hasn't needed any expensive surgeries or further testing. It's just a bit of a hit to the wallet, that's all. I think we might be on the tail end of his medical issues (God willing), so I'm hoping for a much less expensive quarter two.
Reading… This Is How It Always Is by Laurie Frankel, and I'm already sad for the day I won't be reading this book. It is so good. The writing is incredible and the story so important. My local book club picked this for April, but I decided not to read the March pick (the subject matter seemed too heavy for me right now), so I guess I'll be a little ahead. 🙂
Watching… This Is Us, but I'm only on episode 13, so no spoilers, please! It's the kind of show where I have to be in the right mood to watch it (like, when I'm ready for a big cry, haha), so I'm very, very slowly making my way through the first season.
Anticipating… seeing Beauty & the Beast this weekend with my mom. We're going to a movie theater that has fold-out seats, so we're going to bring blankets, gorge ourselves on popcorn, and cry our hearts out. I can't wait!
Thinking about… switching my hours at work. I'm grateful that we have a few different work schedules and the flexibility to choose the one that works best for our lives. Right now, I work 7:30-5:00 Mondays-Thursdays (and Fridays I work a half-day) and I'm just finding it so difficult to get out the door by 7am so I can get to work on time. I am considering switching to 8:30-6:00, which would allow me more time in the morning (and then I could take advantage of some of the early-morning workout classes at my gym). Getting home at 6:30 (or later, depending on traffic) would kinda suck, though.
Needing… to reprioritize my book life. Currently, I belong to three different book clubs and I'm also reviewing books for TLC Book Tours about once a month. So, I tend to have a bunch of books that I "must read," which gets in the way of the books I want to read. I love being a part of so many book clubs, but something has to give. I feel like I keep reading books for other people, less reading books that I picked up myself, if that makes sense.
What are you currently reading, thinking about, and needing?