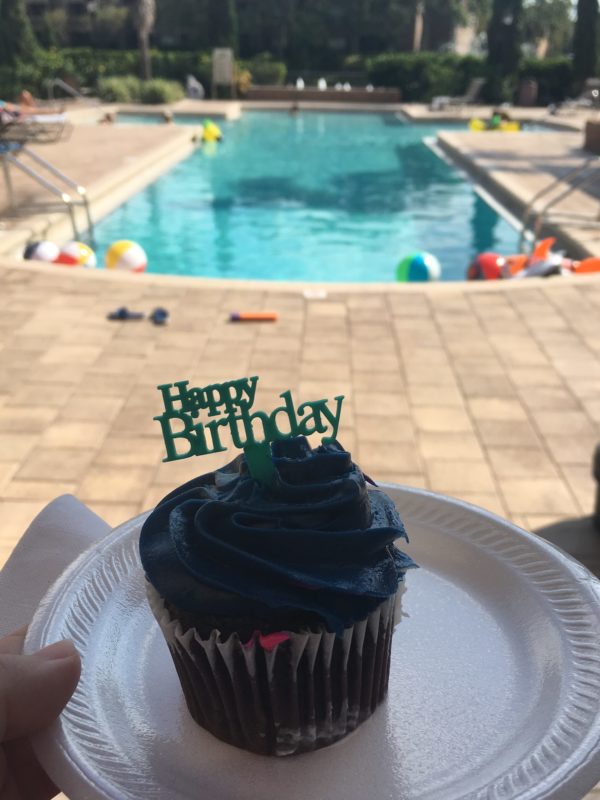 Loving… how fast my new iPhone got to me! I ordered it on the 15th and it was delivered this Wednesday. It doesn't feel different from my 6s at all, except that the camera is much better. And it's nice to not be in danger of running out of space! Wheeeee. I'm still waiting for my Otterbox case to be delivered, so I'm treating the phone like it's worth a million dollars, but I'm happy that it's here and it's fun to play with. 🙂
Loathing… Dutch's nighttime cry-barks. It's this weird thing he's started doing where he walks around my apartment and whines and then, from time to time, lets out this high-pitched part-cry, part-bark. He rarely barks anymore as it is, so it's really weird to hear it come out of him. I keep wondering if my neighbors think I beat him at night! I think it might be a way for him to say, "I'm ready for bed!" because usually when I pick him up and put him on my bed, he settles down quickly. Ugh, it's so hard seeing him get old. I feel like I'm forgetting what he used to be like – when he was super active and able to jump up and down off furniture and went to sleep easily and wasn't bumping into walls or getting stuck in corners. We're in this weird, new normal now and I'm not sure I like it, but there's nothing I can do about it. The sad reality is that our dogs get old and all we can do is have compassion for them and help them be as comfortable during this stage.
Reading… Crazy Rich Asians by Kevin Kwan, still. I'm almost finished! I'm enjoying the book a lot, but it's not a page turner (more character-based than plot-based), so it's easy to set it aside or only read a chapter or two a day. And it's 416 pages, so it's not a quick read at all. But I'm positive I'll finish it either today or tomorrow. Woohoo!
Watching… season four of Parks and Rec. This show is so wonderful and well-written, and I just watched the episode where Leslie's campaign managers quit and the rest of the Parks department steps up to help her with her campaign and ugh, my heart. I'm thoroughly enjoying my rewatch of this series.
Anticipating… Asheville in six weeks! We started planning this trip in the spring, so it always felt so far away. But it's starting to get real and I cannot wait to spend a long weekend with my best girls, exploring this gorgeous city. I'm also looking forward to experiencing cooler weather! Florida doesn't get any semblance of fall (we're still in the nineties here), so I'm ready to feel a chill in the air and warm myself by a fire. Yes, please!
Thinking about… my next cruise, which will be #10 for me. Last weekend, my mom and I ended up booking a seven-day cruise for the end of April. We even sprung for a balcony room because, hell, it's my 10th cruise and I am going all of 2016 without a cruise and I want to live it up. This cruise leaves out of Port Canaveral and sails to the Bahamas, Belize, Honduras, and Mexico. It's going to be the best week ever and I'm already counting down the days!
Needing… to make a decision about my 30th birthday party. I'm going back-and-forth on whether I want to have a full-blown traditional 30th birthday party where I invite a ton of friends and reserve a clubhouse and have food brought in… or if I want to just invite a small group of my closest gal pals and either have dinner at a fancy restaurant or meet up at a friend's for a low-key game night. Honestly, the second option is so much more my speed and will be much cheaper than the traditional route. I guess I have to dig into why I felt the need to have a traditional 30th birthday party in the first place.
What are you currently reading and anticipating?